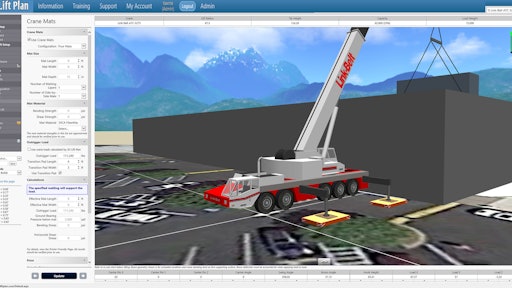 DICA announces that SafetyTech Outrigger Pads and FiberMax Crane Pads are now available in the crane mats library of the lift planning tool, 3D Lift Plan. DICA worked in collaboration with A1A Softwre LLC, developer of 3D Lift Plan, to provide engineered outrigger pad and crane pad options that would help increase the accuracy of lift planning data.
"Many of our 3D Lift Plan customers use DICA outrigger pads and crane pads because they're lighter than wood or steel alternatives, making them easily deployed. The addition of DICA outrigger pad and crane pad specifications makes it possible for 3D Lift Plan to generate more accurate lift planning data," said Tawnia Weiss, President of A1A Software.
"Now 3D Lift Plan users can select the best possible load distribution option based on the projected ground bearing pressures and lift specifications," said Kris Koberg, CEO of DICA. "As regulatory agencies continue to put increased focus on evaluating ground condtions and using proper supporting materials, the ability to demonstrate this in a professionally-produced lift plan is becoming an essential part of the due diligence performed by many crane rental companies."
"We are excited to partner with an industry-leading safety and technology company to expand options for 3D Lift Plan users who are planning lifts in a variety of ground conditions," said Koberg.
SafetyTech Outrigger Pads are available in two categories for crane users; Heavy Duty (2.0″ thick) and Super Duty (3.0″ and 4.0″ thick) and are designed for equipment typically up to 100 tons in capacity. FiberMax crane pads are typically used when setting up mobile cranes with lifting capacities from 80 to 600 tons. Maximum rated capacities range from 175,000 lbs to 375,000 lbs.