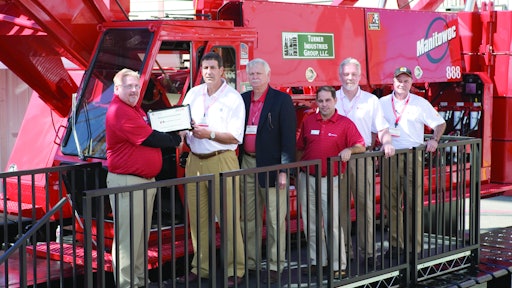 The Model 888 was the first completely remanufactured crane under the new EnCORE Partners program.
Bob Hund, executive vice president of Manitowoc Crane Care, said that the EnCORE Partners program is a financially attractive option for customers to have their cranes rebuilt or remanufactured by OEM-approved technicians.
"This program offers Manitowoc and Grove crane owners extremely competitive remanufacture and repair options from several Manitowoc dealers, with highly qualified factory-trained technicians using repair procedures developed in collaboration with factory engineers," he said. "When using one of our EnCORE Partners, the customer can rest assured that all work is performed to exact factory specifications and the original load chart remains valid."
The Model 888, owned by Turner Industries Group LLC, was originally manufactured in 1996 and had been working along the U.S. Gulf Coast region on general construction, as well as chemical and petrochemical projects.
Mike Morain, vice president of equipment for Turner Industries, said that refurbishing this crane made the most sense when looking at the overall composition of its crane fleet.
"We own a full arsenal of lift enhancement attachments for this crane, including a fixed jib, luffing jib, and heavy-lift RINGER attachment," he said.  "The investment in these attachments was one of the deciding factors when considering whether to remanufacture this crane."
Tom Fox, service manager for H&E Birmingham, said the crane was completely overhauled and remanufactured following Manitowoc Crane Care specifications and guidance.
"The crane was disassembled to its bare frames, weldments were inspected, new parts and components were installed and finally the entire crane received a 'show quality' paint finish," he said. "Every component and structure on this crane was thoroughly inspected and refurbished from front to back and boom top to crawler pad."
The process began in November 2010, and H&E was able to completely overhaul the crane for approximately half the cost of a new crane.
Gilberto Ferreira, EnCORE Partners director, said by choosing to overhaul the crane, Turner Industries kept the overall cost to the company down.
"By refurbishing this crane, Turner can continue using a number of attachments the company already owns, both on this crane and on other cranes in the fleet."
All parts used to remanufacture this Model 888 were genuine Manitowoc Crane Care parts, and the technicians and certified welders working on the crane underwent extensive factory-certified training. These processes help ensure that Turner has a reliable, long-lasting remanufactured crane. The use of genuine Manitowoc certified and supplied parts is not only essential on remanufactured cranes, but for all cranes in daily operation around the world.