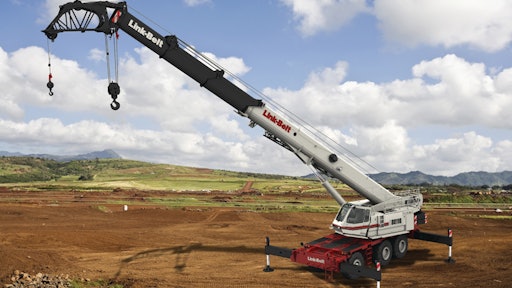 ALL Erection & Crane Rental Corp. has added 18 new Link-Belt models, including six RTC-80110 telescopic boom rough terrain cranes and eight 238 HSL lattice boom crawler cranes. The new cranes will be delivered and distributed among several of ALL's branch yards next year beginning in February and continuing through September 2012.
The 110-ton, 3-axle Link-Belt RTC-80110 Series II is Link-Belt's newest rough terrain crane. The four units will be delivered from March through July 2012. Built to class-leading standards for maneuverability and transportability, the RTC-80110 Series II features improved capacity and a five-section, full power boom (40 to 150 feet) fabricated from ultra-high-strength steel in Link-Belt's own facility. The 80110 also features a Cummins Tier 4i/Euro Stage IIIB emissions-compliant engine.
The 80110 is the only 110-ton RT that can be transported with its tires attached. It can be disassembled and ready for transport in less than one hour with no helper crane.
The 150-ton (137-mt) Link-Belt 238 HSL lattice boom crawlers will arrive at ALL from February through September 2012. The 238 HSL features a 50- to 260-foot main tube boom and offers a 230 + 80 foot maximum boom and jib combination. The 150-ton class of crawlers will help support the general construction market, from bridge construction to steel erection.
Rounding out the 18-crane Link-Belt purchase are three 75-ton TCC-750 telescopic crawler cranes, and one HTC-3140 LB (long boom) truck crane. The TCC-750s have 115 feet of main boom, 58 feet of swingaway jib and capacity that makes them indispensable for wind turbine erection. The HTC-3140 LB is newly redesigned for 2012 with a host of new features and the latest emissions technology.
Companies in this article