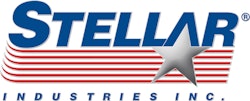 Stellar Industries, Inc. has introduced the Model 6521 telescopic crane, which will be on display along with the TMAX 30K Aluminum service body, at the NTEA Work Truck Show in Indianapolis, IN, in booth #5639. 
This Model 6521 offers a maximum lifting capacity of 6,000 lbs. and fits on the TMAX 30K steel and aluminum service bodies. It is designed to the same standards, looks and feel as Stellar's Heavy-Duty Crane Line.
The new crane comes with the CDT (Crane Dynamics Technology) system. CDT-equipped cranes will engage and communicate with the crane operator by using multiple sensory indicators when approaching maximum capacity. The main features of this control system include the use of colored LED lights and pulsating vibrations transmitted thru the handheld remote handle. Some CDT systems will also allow the operator to go into a Boost Mode and operate at 118% of its normal operating capacity for a short period of time when at maximum capacity. In addition, the system provides the ability to function in safety mode when a safety feature is damaged or malfunctions.    
The 6521 has a boom articulation of -10° to +80°. This allows the operator easy reach to stow the snatch block as well as maximum ability to load items into the load bed. The quick-release snatch block stow hook can be found on the underside of the boom and allows the operator to easily un-stow and stow the snatch block. When the boom is raised to 60°, this design allows the snatch block to gently release, ensuring a safe and orderly deployment. 
Request More Information
Fill out the form below to request more information about
Stellar Displays New 6521 Telescopic Crane at The Work Truck Show