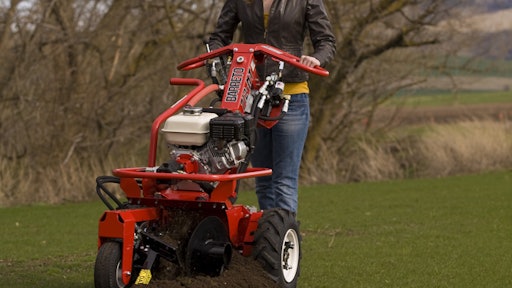 These days, everyone is doing more with less, and that's especially true of homeowners. Where once they might have hired a contractor to connect a gas line from the shed to the house, or install a new sprinkler system, many today are tackling these projects themselves, and they need the right equipment to do it. That's where you come in.
Rental businesses are their customers' primary solutions provider when it comes to DIY projects. As such, having the right mix of equipment geared specifically to your customer base is key. And if you serve homeowners, you'll want to consider adding a mini-trencher to your fleet.
Designed to replace hand labor tools such as shovels and hoes, mini-trenchers are small, walk-behind units that are typically under 8 horsepower and dig to a 12- through 18-inch depth using either a chain or a wheel with teeth. They're predominantly used for shallow applications such as installing drain lines, irrigation and sprinkler systems, underground cable, electric dog fence and gas lines, not to mention surface tree root pruning. Some units have specialized rotors that shape the borders of flower beds, defining the edges.
While they replace hand labor, operators should not be fooled into thinking these machines make the work to be done effortless. "Mini-trenchers save on manual labor, but they're still a bit labor intensive because they aren't self-propelled," explains Jon Kuyers, utility product segment manager at Vermeer Mfg. Co. To minimize the operator's effort, Vermeer's  RT60 mini-trencher features a ground drive assist pedal to provide leverage, reducing the amount of muscle the operator needs to use when pulling the machine backward.
Keep it simple
Many homeowners are complete novices when it comes to operating equipment, so it's important to offer them a model that's easy to use. Often, the sheer appearance of heavy equipment can turn homeowners off of giving it a try. But the compact dimensions of mini-trenchers make them less intimidating.
According to Greg Barreto, president of Barreto Mfg., rental businesses should provide products that offer simplicity and safety in operation. "If the customer doesn't understand the operation of the machine, they will not have a good experience," he says. "Simple operating instructions are important – both for the customer and for the rental company employee who walks them through the operating process. If the customer can finish a job efficiently and effortlessly, they will return."
Scotty Porter, director of marketing at E-Z Trench agrees, noting that E-Z Trench machines offer operation that's as simple as squeezing a throttle, turning the depth adjustment crank and pulling to dig.
Mike Hale, sales manager at Little Beaver, says the Kwik Trench line of mini-trenchers is unique in that they are pushed forward, instead of pulled backward like most traditional models. "It's easier if you can see where you're going," he states.
To make trenching easier for novice operators, manufacturers have incorporated features to help users know how deep they're trenching. Little Beaver, for example, offers a built-in depth gauge to indicate exactly how far the blade is penetrating the ground. The Vermeer RT60, for its part, comes with an adjustable boom depth control so the operator can carefully manipulate the depth of the blade between 12 and 18 inches.
Barreto is the only manufacturer to offer a hydraulic chain and wheel drive featuring a unique automatic drive system. According to Barreto, the wheel drive utilizes a load-sensing valve to adjust the wheel speed according to the load on the digging chain. When the digging chain requires more power, the valve sends less oil to the wheel drive motor and the wheel speed automatically slows down. When the load on the digging chain decreases, the valve sends more oil to the motor, increasing the wheel speed. "It eliminates the need for the operator to constantly adjust their speed, simplifying the process for the novice operator," Barreto says.
Also, Barreto's chain will not operate when the trencher is in the forward position, reducing the possibility of trenching incorrectly and causing damage to the trencher. The dig chain can also be reversed to dislodge rocks and debris without having to take the boom out of the trench and manually remove obstructions.
The right machine for the job
Sending the right equipment for the job is another important consideration. "Don't send a mini-trencher to do a large trencher job. It will frustrate the customer," Barreto advises. "Likewise, if a mini-trencher is the most efficient tool, encourage the customer to give it a try – even if they are used to a different model of trencher. They will appreciate not being up-sold on a more expensive rental."
Porter at E-Z Trench says rental businesses must "qualify" their customer and be sure they understand the proper use of the machine. "Finding out the customer's application needs and working conditions is very helpful in providing them the proper tool and therefore, a satisfying rental experience," he says.
In addition, the nature of trenching requires that rental businesses have some knowledge of the ground conditions in their geographic region, Porter says. Manufacturers typically offer different digging chains with teeth to suit various ground conditions.
Take good care
To promote a successful mini-trencher rental for your customers, make sure the machine is serviced regularly and properly. "Be proactive about eliminating the chance of problems in the field and save on expensive downtime and repair parts," says Barreto. "Nothing frustrates a customer more than having a piece of equipment break down in the middle of their project. Be sure the engine components, mechanical parts and cutting teeth are not worn."
Kuyers at Vermeer agrees, pointing out that since mini-trenchers don't pack a lot of horsepower (compared to larger trenchers), they won't cut effectively without sharp teeth. "Keep the machine in good shape," he says. "You need to pay attention to things like teeth and belt tensioning."
From Point A to Point B
One of the biggest stumbling blocks for homeowners wishing to tackle a project themselves is how to get the equipment home. Many don't own a pickup or trailer, so it's up to you to offer delivery options. If the customer has a trailer or rents one from you, be sure to explain where to find tie-down points and instruct him or her on how to turn off the gas on the engine before transporting.
Many mini-trenchers are small enough to fit in the back of some automobiles, such as the Vermeer RT60. "It's very easy to transport – the unit weighs around 200 pounds, so it can be lifted by two people," Kuyers says.
Transport issues don't end when your customer gets the machine home, however. Often, moving the unit around the yard creates enough of a challenge for homeowners. To that end, Barreto's new 712MT has the ability to be self-propelled during transportation, or easily transported manually, without needing to start the engine, by unlocking the freewheel hubs.
Select the right model
When choosing a mini-trencher for your inventory, look for safety in control and operation. "Reduce your liability and ensure the protection of your customer by having the proper safety features: easily accessed engine kill switch, fewer control knobs, protected components and accessible safety instructions," Barreto says.
Hale at Little Beaver notes that Little Beaver mini-trenchers feature a slip clutch built in, stopping the wheel and killing the engine whenever the blade hits an obstruction, a feature that can bring much comfort to DIYers who are a little uncertain when operating.
To increase revenue vs. maintenance/replacement cost, you should also look for durability in components and design. A trencher in constant need of maintenance or repair will reduce revenue and increase operating costs. "Hydraulics will provide greater longevity than mechanical components. There are far fewer wear items and hydraulic relief systems will stall the machine before breakage occurs when encountering obstructions while trenching," Barreto says.
Simple operation and maintenance will make both the customer and the mechanic happy. Look for easily accessible components that are also well protected. The less complicated, the better.
And finally, look for value. "Choose a trencher that increases ROI, not one that will need to be replaced after a few seasons," says Barreto. "Make trenchers a source of revenue, not a constant maintenance headache."
Likewise, proven performance is also a good selection criterion. "The length of time on the market says a lot," says Hale. "Everyone has something different – some of our competitors offer multi-purpose machines that trench and do bed edging. The problem is, they can do all those things pretty well but are superior at nothing. Ours is just a straight-up trencher."
No matter what machine you're considering, it's always a good idea to look for high-quality construction, Kuyers says. "How robust is the machine? Can it take the abuse of rental? Always looks for quality components, the size of the bearings and so on."
Rental satisfaction
To ensure your customers have a positive experience when renting your mini-trenchers, be sure to give them ample instruction before they leave the yard. "Go over the machine and show them all the safety features," says Hale. "Explain to them that you don't trench when you don't know what's under the ground."
Also, it's important to establish realistic expectations, Kuyers says. "If your customer is used to a larger trencher, a mini-trencher is going to be more work. It's not as effective as a big machine but it has a substantially lower rental rate. It's just important to properly set the customer's expectation for what he or she is renting."