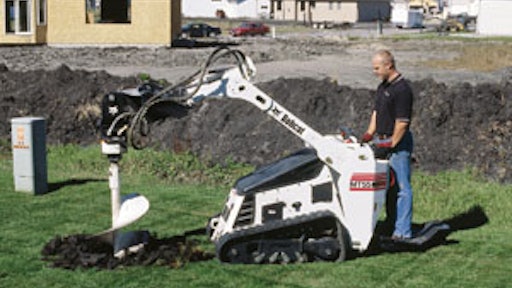 Compact utility loaders are helping Rich Edwards, a trails specialist with the International Mountain Bicycling Association (IMBA), reach the association's goal to provide more trail opportunities for mountain bikers by creating new trails and rebuilding old ones in city, county, state and national recreation areas.
Building trails used to be done by hand at a rate of about 10 linear ft. per labor hour. But with mechanized equipment, Edwards indicates the rate has more than tripled to about 30 to 35 linear ft. per labor hour. "If we can reduce the cost per foot to build a trail, there will be more miles of trail for all trail users," he says.
Edwards and the contractors he works with rely heavily on a Ditch Witch SK500 mini track loader. At 42 in. wide, the extra rubber on the ground offers added stability. It is also a nice complement to the SWECO machines (specially designed steel-tracked mini trail blazing dozers) Edwards uses for initial clearing.
"We choose machines that give us the maximum power in the smallest footprint," he says. "That's our first qualification. The machine that does that best is a SWECO. We like the power of these 5-ton machines, but they're more difficult to transport and there are places where we can't use them. So in a lot of situations, we'll use the smaller walk-behind skid steer as our primary machine. We also use the smaller machine behind the larger ones to do finish work because they don't sink into the soft ground as much, and they are more agile working on steep cross slopes."
Trails are typically only 3 to 4 ft. wide and generally are cut into slopes with a 30% to 40% grade, but may approach even 100%. "It's a pretty steep environment that's typically rocky and usually forested," says Edwards.
Because the jobsite is not the typical graded building site, it is not always conducive to equipment. That's one reason Edwards appreciates that the SK500 is a walk-behind unit, particularly on side slopes. "If the machine goes over the edge, an operator doesn't go with it," he points out.
"Overall, these machines help us build high-quality, single-track trails that don't look like a machine has been used," Edwards notes. "We want to maintain the aesthetics of a natural setting that people want to see. We try to leave the trail as natural looking as possible, and as low-impact to the environment as possible. And as the trail ages, we want it to look like an old-style hiking trail that has always been there and fits into the landscape. Our goal is to build sustainable trails that don't damage the environment and will last 100 years or more."
Bobcat MT55 Mini Track Loader
The 2,679-lb. MT55 mini track loader is just 41.5 in. wide, but its wider, turf-friendly lug tracks lower ground pressure to 4.1 psi.
550-lb. rated operating capacity
23.5-hp Kubota liquid-cooled diesel engine
12-gpm auxiliary hydraulic flow and 2,900-psi hydraulic system enable use of 18 attachments
Bob-Tach mounting system
Optional ride-on platform can be installed or removed in seconds
Kanga 7 Series Fat Track Model
The 7 Series Fat Track Model offers full-time non-marking tracks and increased ground clearance.
Gas or diesel engines up to 24 hp
Maintenance-free track system with few parts and replaceable segments
Affixed stand-on platform
Smooth fingertip controls operate direction and speed
Also features a self-leveling bucket, auto auxiliary cutout and fully sealed transmission
Ditch Witch SK500 Mini Skid Steer
The SK500 walk-behind mini skid steer has a 500-lb. lifting capacity rated at 35% of tip capacity.
24-hp Honda air-cooled engine
7- or 9-in.-wide rubber tracks powered by dual independent hydrostatic ground drives
Ground drive pilot control provides responsive steering with little or no vibration to control handles
60.5-in. maximum dump height with standard bucket
12-gpm hydraulic system provides power on demand
Compact Power Boxer Diesel
The Boxer is powered by a 26-hp Perkins diesel engine.
Variable track system allows maneuverability through gates or fences with the shift of a lever
9-in.-wide track system
850-lb. operating capacity
Dump height of almost 5 ft.
Ride-on platform
Tiger Equipment SIM Mini Skid Steer
The SIM (Stand In Middle) mini skid steer features the Stable Safe platform and simple joystick controls.
Designed to allow operator to experience only one-quarter the vertical displacement of other machines while digging
Virtually zero radial displacement when counter rotating
One stick controls all movement
Universal mounting plate accepts all standard attachments
Vermeer S600 Compact Skid Steer
The ride-on S600 compact skid steer can be mounted on rubber tires or rubber tracks over tires.
Operator Presence feature stops all functions when operator leaves the platform
25-hp Kohler Command Pro gas or 24.8-hp

Kubota

D905 diesel engine
Universal attachment mounting plate and 12-gpm hydraulic flow allow for use of various types of attachments
79.5-in. digging bucket height
Thomas 35DT Tracked Loader
The 35DT tracked mini skid-steer loader features an enclosed drive system, integrated, large-volume fuel and hydraulic oil reservoirs and a larger operator's compartment.
2,200-lb. breakout force
11.5-gpm hydraulic output
25-net-hp

Kubota

three-cylinder diesel engine
Multi-speed range capability up to 4.4 mph
Also features a universal quick-tach system, standard self-leveling and single joystick control of boom and bucket
Toro Dingo TX 425 Wide Track
The TX 425 Wide Track compact utility loader features increased horsepower and enhanced ground to track contact.
25-hp

Kohler

Command Pro Series air-cooled engine
Dingo quick-attach system
Four-pump independent hydraulic system
Dedicated auxiliary hydraulic circuit provides 11.2 gpm of flow at 3,000 psi
More than 35 quick-change attachment options
CSF Multione Loader
The ride-on CSF Multione Loader offers an alternative to walk-behind and stand-on mini loaders.
Ground speeds range up to 12 mph
Telescopic boom has a lift height of over 12 ft. with lifting capacities up to 3,500 lbs.
Gas or diesel Yanmar or Robin engines from 14 to 50 hp
Accepts front (standard) and three-point rear Category I (optional) attachments
Over 70 pro-tool attachments available, plus compatible with many attachment brands
Companies in this article