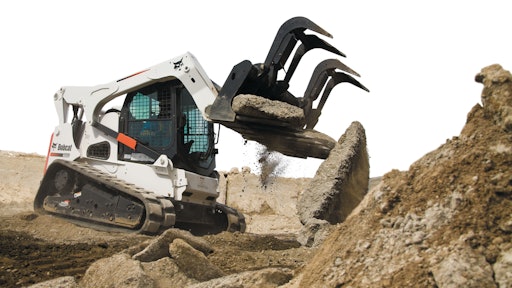 In part 1 of this series on advances in compact track loader designs, the editors at Equipment Today asked leading suppliers of compact track loaders (CTLs) to describe the biggest design changes they've seen in compact track loaders over the past 3 to 5 years, as well as the most notable advances their company has made in the designs of their machines. Here are their responses:
David Steger, product and training manager, Takeuchi: In the past three to five years, the industry has seen a number of changes in the market – most notably, an increase in creature comfort features and a tighter focus on the costs associated with the machine (operating, maintenance and owning cost).
Many customers expect to be comfortable yet productive while operating their compact track loaders. Takeuchi has responded by offering a number of class-leading features, such as the superior quality high back suspension seat with three adjustable height settings, along with adjustments for suspension feel, backrest angle and fore and aft position. The unique height settings allow better visibility to the attachment while offering better leg comfort for the operator. The retractable seatbelt keeps the belt where it is easy to reach and its comfortable fit can help promote the use of the seatbelt.
Other standard features of the Takeuchi compact track loader include both a hand throttle and foot throttle, which can be used together to improve the fuel economy of the machine while making it easier to operate when performing jobs that require a lot of precision and finesse. The proportionally controlled auxiliary hydraulics system allows easy control of the attachment and also provides a continuous mode and one-way mode on all models along with an option high-flow auxiliary hydraulic circuit (TL240 and TL250) to expand the types of attachments the machine can operate. For even more attachment versatility, all Takeuchi compact track loaders come complete with a multi-function control handle and 14-pin electrical connector for controlling attachments that require both electrical and hydraulic operation.
We have also experienced an increasing trend for customers to purchase more machines with fully enclosed cabs, so we took this one step further. If you choose the enclosed cab option at Takeuchi, you receive a fully appointed deluxe cab that includes a high capacity HVAC (Heating, Ventilation and Air Conditioning) system along with a roll-up front door and sliding side windows. To top this off we also provide a hydraulic "Quick Hitch" that allows the operator to change attachments (buckets, forks, etc.) from the comfort and safety of the cab (standard on cab machines and optional on open canopy units). All of these features are a direct result of customer requests and market demand.
One lesson everyone learned (some the hard way) is to keep close tabs on everything coming in and going out. As a result, contactors are more focused on the total cost of ownership than they have ever been before, and this is where the durability of the Takeuchi product really shines. Durability is not a specification found in the machines literature, nor can you always see the full extent of the machine's durability just by a quick glance. But once you closely evaluate all that Takeuchi has to offer, it is easy to understand when we say Takeuchi is "The Power of Product and Support" - from its superior components, to its robust frame made from thick steel and a fully welded undercarriage with integrated crossmembers.
The undercarriage is a large portion of the total operating expense on any compact track loader, so the combination of durable components and a leading design found in the Takeuchi lineup, together with the proper use and maintenance of the undercarriage by the operator, can be very rewarding to the customer's bottom line though longer life and reduced maintenance cost.
Power is also important when pushing or digging with the compact track loader, but not at the expense of excess fuel consumption. To maximize this effect, Takeuchi has closely matched the machines size and engine power levels to give you an optimum level of power to weight for each machine while also be fuel conscious. Features like the standard foot throttle previously mentioned help to further capitalize on solutions that can help improve the fuel economy.
Greg Rostberg, marketing manager, Bobcat Company: Bobcat was one of the first manufacturers to offer steel imbed tracks. In the last five years, the entire market has shifted toward this design, and away from the solid rubber design.
Industry-wise, we're seeing a huge trend to very large compact track loaders that can push heavier loads. There continues to be a strong demand for machines that can do more work (T870 compact track loader for Bobcat). In conjunction with this, you're seeing larger/heavier attachments to complement the larger machines.
One of Bobcat's biggest design changes has been its roller suspension system for compact track loaders. It is the first suspension system for compact track loaders that uses an all-steel design with steel imbed tracks for increased durability.
A comfortable ride is achieved by the durable steel leaf springs which greatly reduce the feedback from the ground. The smooth ride coupled with easier turning, less vibration and noise, works to keep operators more comfortable throughout the day.
The roller suspension system features an enclosed steel undercarriage with very few moving parts, minimizing maintenance costs. Forged steel rollers and idlers are permanently sealed and lubricated, requiring no routine maintenance. Track tensioning is also very easy, requiring no special tools – just a normal grease gun.
In addition to the roller suspension system, electronics have become more sophisticated in machines, and Bobcat's Deluxe Instrumentation Panel option offers contractors the ability to monitor various attachments, machine management, security and system protection, as well as troubleshoot issues.
Gregg Zupancic, product marketing manager, skid steers and compact track loaders, John Deere: John Deere introduced its first compact track loaders to the industry in 2005 with the introduction of two models. Since then, it has added three more CTL models (for a total of five) and has continually worked to improve in the areas of uptime, productivity and at a lower daily operating cost for customers.
Deere has made a name for itself in the business by providing units that are designed by listening to customers' likes and dislikes. Key attributes Deere customers voiced were increased track and undercarriage durability, a smoother ride in a rigid frame and increased machine performance.
In early 2011, the John Deere D series CTLs introduced a second generation undercarriage that provides 10% more tractive effort/pushing power and a new planetary drive motor that is proving to be one of the most robust and durable in the industry. The Generation 2 undercarriage is a true value improvement to the customer, with more productivity and increased uptime characteristics specifically designed for the CTL application.
John Deere track loaders use all steel rollers, idlers, sprockets and steel imbedded rubber tracks on its units, which makes the undercarriage more robust and durable compared to competitive models on the market. John Deere CTLs utilize similar technology to their larger crawler lines by including durable metal face seals and journal bearings in all rollers and idlers to provide superior performance and durability without leaks or wear under shock loading conditions. And with the help of double flange rollers and idlers, the track loaders are some of the smoothest operating units in the industry.
Erik Ouwersloot, product manager, Construction Equipment, Kubota: Kubota Tractor Corporation entered the compact track loader market with the new SVL75 and SVL90, both available with enclosed cab. The new compact track loaders are Kubota designed, engineered and manufactured.
The machines offer best-in-class bucket breakout force and exceptional lifting capacity, providing outstanding performance and productivity. The 74.3-gross-hp SVL75 boasts a 6,204-lb. bucket breakout force and a 4,881-lb. lifting capacity. The 90-gross-hp SVL90 has a bucket breakout force of 7,961 lbs. and a lifting capacity of 5,869 lbs. Both models are powered by a four-cylinder, direct injection, turbo-charged Kubota diesel engine.
Companies in this article