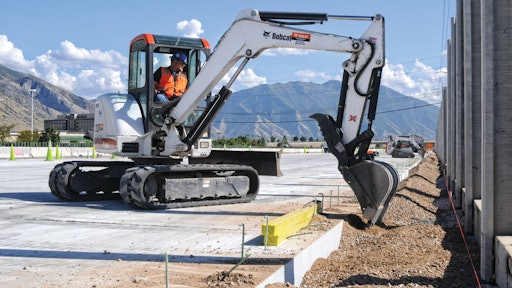 The ongoing weakness in construction activity, and uncertain prospects for future work, are making for tough choices when it comes to acquiring equipment. The investment in even a smaller machine such as a compact excavator is now a major decision. Is it more practical to buy it and have it on hand when and where it's needed? Or are you better of renting until the market comes back and you know you have the backlog of projects to justify the purchase?
"The construction industry today is going through a tough time, and while certain areas of the country are experiencing above-average activity, most areas are not," says Garry Bartecki, managing member of GB Financial Services LLP and vice president, finance, for the Associated Equipment Distributors. "Government work is down and using shorter projects. Commercial activity is not making up the difference. Almost all planning from a contractor's point of view has to be short term in nature."
Construction itself is also changing. "In the old days, we used to go by a jobsite and it would go six to nine months. Today, they build a Home Depot in four months," notes Steve Michaels, vice president of fleet operations, Neff Rentals, which counts IHI compact excavators among its rental fleet. "Today, projects are getting shorter and everybody is scrutinizing their equipment costs. They're trying to get more out of their dollars in rental."
Rental's Rewards
Compact excavators are already a high-volume rental item. Yet, Mike Bierschbach, director of corporate fleet, United Rentals, believes demand for rental is still ramping up, particularly for models in the 4- to 6-ton range. A number of factors are driving this trend.
"One is the fact that capital is tight. There is a tremendous opportunity cost to the ineffective use of capital, particularly when the pace of projects is still uneven," says Bierschbach. "It's important to maintain some fluidity and rental provides that."
As a generalization, a longer term rental over multiple months will typically run 4% to 5% of the cost to purchase. "With that, there is no maintenance cost to the user. There is no real storage cost. If he wants to transport it, he just pays a small transportation fee," Michaels points out. "You don't have the overhead like if you bought it. You don't have to pay the sales tax on this $50,000 purchase."
There are other "bookkeeping" benefits. "If you own a piece of equipment, you have to keep records on everything that happens to that machine," says Michaels. When you rent, that's the rental company's responsibility. "You get a rental bill, you pay it, charge it to the job and the government lets you take it as a cost of doing business. You don't have to worry about depreciation. You don't have to worry about what interest was allocated. You don't have to worry about the insurance or maintenance. It's all in one bill."
There are further advantages, as well. "Rental allows you the ultimate in flexibility on when you return a piece of equipment," says Ryan Strand, dealer profitability manager for Doosan Infracore Construction Equipment, Bobcat's parent company. "Rental allows you to use a specific machine or an attachment to complete a job without making a long-term commitment."
In addition, you aren't tied to a specific size of machine. "You can determine the best piece of equipment for each specific job," says Strand. "It may be a 1.5-ton machine this week, but next month, you may need a larger machine for a job."
Rental can decrease the cost of maintenance, repairs and equipment downtime. "You limit your exposure to maintenance costs, and if the rental equipment fails to work, you can return it and obtain another piece of equipment," Strand notes.
A further benefit is the ability to delay upgrading to newer technology. According to Michaels, the transition to Tier 3 and Tier 4 emissions technologies, coupled with increased international demand, have driven up new equipment prices. "That is accelerating the shift from ownership to rental just as a natural course, because equipment costs are going up at a higher rate than rental rates," he asserts.
Uncertainty over how emissions technology will affect productivity and operating costs is compounding this shift. "Contractors are rightfully being very cautious about committing resources to a technology they may feel is still unproven in terms of applications," Bierschbach states. "In addition, the tougher standards are often addressed with aftertreatment exhaust systems. To a contractor, that's a maintenance hurdle in unfamiliar territory. Many contractors prefer to shift that responsibility to the rental provider when it comes to compact excavators."
A Matter of Utilization
Of course, rental is not a one-size-fits-all solution. It's important to look at all of the factors that can influence the most cost-effective way to obtain a compact excavator. According to Strand, they include:
the number of hours put on the machine annually;
how long you intend to keep the equipment;
maintenance costs required for the equipment each year;
financing programs available when purchasing the machine;
and the type of cash flow you are looking to obtain.
Of these, expected utilization typically tops the list. "The 'buy' conclusion has to be based on future utilization," Bartecki states. "Because you are committing to at least a 60- to 72-month financing payment cycle, you had better be sure you have the work over this time period to cover cash flow requirements."
He recommends purchasing the machine if you expect an annual time utilization of 60% or more, based on 22 days of use per month. "From 40% to 60%, you are in middle ground, but you had better be sure you are going to hit the higher end of the spectrum. If you are not really, really sure about time utilization, then rent until you have a clearer picture," he advises. "Lower than 40% is a rent situation.
"And let's not forget transportation costs. If you own the trucks and trailers to move the equipment, you have another costly investment with zero time utilization when the construction equipment is in the field," he adds.
The length of time you need to hold onto the machine is another key consideration. "Are your needs short term or are they long term? Obviously, if your needs are long term, if you look at the stream of rental payments you're going to pay, they become closer to a purchase," says Michaels. "If you have multiple projects that would get you to the point where you will spend 50% to 70% [of the purchase price] in rentals anyway, maybe you should own it."
Even lower hour usage machines kept for longer terms may be more cost effective to purchase, says Strand. He cautions, however, that you should understand your tax situation and current tax laws in effect for purchasing equipment. "The customer should always check with their tax accountant prior to obtaining equipment to achieve the best benefit," he advises.
A Lesson in Leasing
Leasing agreements offer another means to acquire equipment without making a substantial capital investment. They provide a fixed budget amount for an extended term, typically 12 to 36 months.
"This works great for the customer who does not want to tie up working capital," says Strand. "It also allows the customer to rotate their equipment on planned replacement cycles, which can potentially reduce maintenance and costly downtime."
Leasing may also reduce the amount of tax paid to acquire the equipment. To illustrate, Michaels notes that in California, there is a 10% sales tax on new car purchases. With a lease, you pay 10% of the lease rate. "So instead of buying a $40,000 car and paying $4,000 in fees up front, you may lease it for $400 a month and only pay $40 a month," he explains. "So it's fractional because you're only paying for a portion of it." A similar principle often applies to leased equipment.
Again, utilization typically determines whether a lease is the most cost-effective option. "Customers who are consistently renting the same size machine for their work for four to five months a year should consider rent-to-own or a lease to acquire the equipment," says Strand. "The cost of usage will decrease even more if they find other usages for the equipment, and it will be cheaper than renting.
"The potential downsides," he continues, "are maintenance costs, not needing the equipment as long as you thought or needing different equipment for different jobs. Once you buy or lease you are locked in for a fixed time period."
Leasing is a long-term, fixed financial commitment. "With rental, you can walk in and say I'm going to keep it two months. If your job gets cancelled in two weeks, you can turn it in and there's virtually no penalty," Michaels comments. But if you sign a lease agreement, you're on the hook for the payments for the duration of the lease, whether you have the work to cover the cost or not.
Cost Comparisons
Comparing costs between a rental, purchase or lease can be a challenge.
"Rental rates can and do vary largely by market, so an accurate comparison is difficult," says Strand. He cites the following scenario, noting that the rates shown are for example purposes only.
Say you rent a 3.5-ton excavator at a rental rate of $250 a day or $2,250 per month. Now compare this to the payment rates for a loan or a lease, based on a sales price of $42,000 at 0% for 36 months. The payment would be $1,166.67 per month. For a lease, the payment would be approximately $779 per month.
However, Strand points out, "With a purchased or leased piece of equipment, you have an annual cost tied to it. For example, your annual payments on the loan would be roughly $14,000 or $9,348 with the lease. This cost is incurred if you use the machine or not. With a rental piece of equipment, you can return it any time you are not using the equipment."
Owning and operating costs must be factored into your calculations. Unfortunately, not all contractors understand the true cost of owning equipment.
"Ownership cost is the realistic depreciation of the unit over the time you plan to keep it," Bartecki explains. "The residual should be based on the expected wholesale value at the end of the period, taking into account the number of hours you expect to put on the machine."
For easy figuring, he uses a $100,000 piece of equipment as an example. "A $100,000 machine used for 2,000 hours a year for five years, with a 25% residual (of cost), generates $75,000 of depreciation or $7.50 per hour," he points out. "Interest comes out to approximately $3.70. So if you use the unit for 2,000 hours annually, it is costing you $11.20 an hour. Use it less than the 2,000 hours and the hourly rate increases.
"At 1,000 hours, the $100,000 unit will cost about the same as a rental," he says. "And if that's the case, I would rather rent because it provides a lot more flexibility."
Next, calculate the cost to operate the machine. "These costs include normal wear and tear, inspections, preventive maintenance," says Bartecki. "Obviously, the older the unit gets, the higher the costs become. It would not be unusual for the operating costs to double the hourly ownership cost over the five-year period." This would equate to an operating cost of $22 an hour, with a combined owning and operating cost of $33.20 per hour. Add in a couple dollars for administrative costs and the overall cost would be $35.20 per hour.
Now, let's look at how this compares to renting the $100,000 machine. Bartecki estimates rental companies in today's market are basing monthly rental rates on about 3.5% to 4.0% of acquisition cost, or $3,500 to $4,000 per month in our example. The weekly rate is based on roughly a third of the monthly rate, and the daily rate on a third of the weekly rate, or $4,000 monthly, $1,350 weekly and $475 daily.
"To compare, if you rent a unit for the full year, it will cost you $52,000 (or a negotiated rate for a full-year rental) compared to 2,000 hours times $35.20 per hour, or $70,400, to own and operate," Bartecki points out. "Obviously, a new unit will experience lower operating costs that reduce the annual cost to somewhere close to the rental number. Lower time utilization also lowers your total cost to own and operate. Cost to own remains the same, but the hourly operating costs are lower only if you hit that 60% to 80% time utilization." At 75% time utilization, the total cost should be similar to rental.
"Even if the cost to rent is similar to the cost to own and operate, you have to consider the other costs of ownership," Bartecki states, "namely the balance sheet effect and the flexibility rental provides to expand your business or go into new lines of work. Rental also frees up your borrowing and bonding capability."
All options should be carefully examined given the ongoing weakness in the construction outlook. "In many cases, rental is the way to go for contractors to protect their cash flow and capital base," says Bartecki, "and dealers have to be prepared to support their customer base whether they need to own or rent equipment."