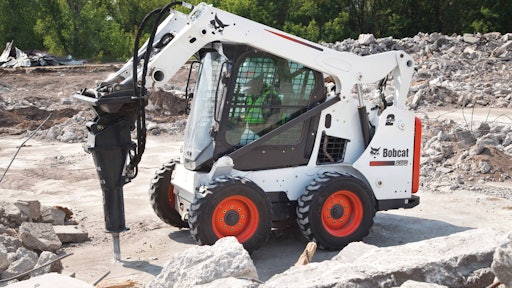 "There is a direct correlation between safety and productivity with regard to skid steer loaders on a construction site," explains Shawn Warkenthien, product safety manager, Bobcat Company.
"Safety-trained skid steer operators are not only better operators from a safety perspective, but they also operate more efficiently and achieve the best performance from their machines," he says.
Skid steers' size and versatility make them one of the most common pieces of equipment on construction sites, so productivity is vital. Failing to follow specific safety practices can lead not only to reduced efficiency, but also to serious personal injury and property damage.
Safe skid-steer operation is the operator's reasonability.
Start with training
All manufacturers offer an operation and maintenance manual with every skid steer. Many offer training programs through dealers, and some have expanded services that include online safety training through sites like Bobcat's www.training.bobcat.com, John Deere's www.deere.com/productsafety or Caterpillar's www.safety.cat.com. Regardless of how the training is received by the operator, the No. 1 safety tip all manufacturers stress is the importance of familiarizing yourself with the manual.
"Even if you've been operating a skid steer for 20 years and are an expert operator, it's always a good idea to read the manual to make sure you understand the controls, switches and instrumentation for that specific model," says Warkenthien. Controls for skid steers vary and an operator may not be familiar with every control configuration.
Supplementing the skid-steer model's operation and maintenance manual is the Association of Equipment Manufacturers' (AEM) Skid-Steer Safety Manual. This industry publication points out potentially unsafe situations that may be encountered during normal skid-steer operation and maintenance, and suggests safe ways of dealing with them. It is available in English, Spanish, or an English/Spanish dual language version, and can be ordered at www.aem.org.
Machine safeguards
Across the industry, manufacturers continually update their skid-steer safety features. Common ones include seat belts, interlocked controls, lift-arm supports and ROPS (Roll Over Protection Structures).
Seat belts (both lap- and three-point-shoulder) restrain the operator in case of a rollover and when crossing rough terrain, and they keep the operator from reaching out of the cab. Seat bars (standard on most skid steers) are a secondary restraint system and should never be used in place of a seat belt.
Interlocked controls require an operator to be properly positioned in the seat before the skid steer can be used. Some types require the seat belt to be connected; some require a safety lap bar; some detect when an operator leaves the seat and/or shuts down the machine.
John Deere, for example, applies a combination of interlocked control safety features in its skid steers. "Seat sensors detect if the operator is restrained and sitting correctly," explains Gregg Zupancic, product marketing manager for John Deere skid steer loaders. "The John Deere Triple-Interlock Operator-Presence System automatically applies the brakes when the lap bar is raised, the operator leaves the seat, or the engine is shut down."
ROPS and side screens protect the operator from being thrown from and crushed by the machine during a rollover. Usually the ROPS is part of the enclosed cab design and contains metal side screens to prevent the operator from extending into the area between the lift arms and frame.
Case Construction Equipment maximizes operator visibility with thinner-wire side screens. "The skid steer side screens are not structural so they are not part of the integrity of the ROPS," explains Tim O'Brien, brand marketing manager for skid steers and compact track loaders at Case Construction Equipment. "The screens are very thin to provide much clearer visibility out the sides of the machine."
Lift arm supports are provided by each manufacturer for situations when people choose to work or move around the machine with the lift arms raised. Some models are equipped with pin-type supports or strut-type supports that can be engaged while sitting in the operator's cab.
Operate with caution
The nature of any construction site brings with it unique skid-steer safety concerns. Utilizing manufacturers' machine safeguards is one aspect of safe skid steer operation. However, many safety measures fall onto operators and how they use and service the machines.
The most common safety concerns include operating in congested areas and areas with variable stability.
"Know what's around you when operating a skid steer," says Zupancic. "Crowded construction sites are full of objects and people. Operating a skid steer while raising and lowering a bucket, moving and turning, an operator needs to understand and be aware of their surroundings."
Stability on slopes
To operate safely around a jobsite, skid steers need to be stable. As with any self-propelled machine, a skid steer is most stable when its center of gravity is kept within its base of stability. To avoid tipping on steep terrain, while hauling unbalanced loads and making abrupt turns, it's important to understand the grade, ground and site conditions, as well as the abilities of the machine.
"To reduce potential risks when operating uphill, downhill or across a slope, operators should always keep their bucket as low as possible when traveling on any surface," says Jamie Wright, product manager, Terex Construction. "If steep angles must be traversed, operators should travel up and down the slope directly; never across it at an angle. Also, speed and weight will have an effect on the machine's stability when crossing these types of terrain so always travels at the slowest possible speed, and limit the load size when negotiating slopes and hills."
"Operators should follow the SAE standard for measuring the rated operating capacity of their skid steer," notes Zupancic. Traditionally, a skid steer's rated operating capacity is 50 percent of its tipping load. Regarding attachments, operators should closely consider the rated operating capacity of the skid steer plus the attachment.
"There is no mechanism to prohibit a skid steer's tires from coming off the ground," Zupancic stresses. "It's up to the operator to understand the rated operating capacity. Also, as operators move up and down the slopes, they should always keep the heavy end of the loader pointed uphill. With no load in the bucket, the heavy end is the rear. With a loaded bucket, the front is heavy end."
Attachment safety
Many attachments can be used on skid steer loaders to make them very versatile. However, there can be a danger associated with that versatility.
"First, only use attachments that are approved by the manufacturer for use with your skid steer loader, and follow any additional warnings and instructions pertaining to the specific attachment," says Warkenthien. In many cases, a manufacturer provides an attachment manual separate from the skid steer manual.
Also choose the appropriate attachment for the job. "Attachments are application specific," notes O'Brien, "and some applications [such as demolition] require specific attachments and skid steer options to safely perform the job." A scrap grapple used to pick up demolition debris, for example, can allow debris to fall back on the machine. Guarding should be considered to keep material out of the cab. Most manufacturers offer enclosure kits for specific applications.
"Make sure the attachment is properly connected to the coupler of the skid steer loader before operating," Warkenthien adds. "Check that the skid steer's coupler pins or wedges are fully engaged into the attachment frame."
"Many attachments are hydraulically powered," notes O'Brien. "If they have a hydraulic coupler, the operator has to get out of the cab to install the attachment." Case provides Connect Under Pressure (CUP) manifolds that release pressure into the standard case drain as auxiliary hydraulic lines are plugged in. This approach eliminates the need for any tools in connecting and disconnecting hydraulic lines.
"The most important aspect of attachment safety is matching the attachment to the skid steer's lift capabilities," says Wright. "You never want to exceed the rated operating capacity, or flow capacities, of the loader. Overloading the operating capacity or hydraulic rates can cause the unit to tip forward or cause hydraulic components to fail."
Maintenance musts
A skid steer is basically a power source which operates a front-end loader. A common safety concern arises with raised lift arms moving while performing maintenance. Most manufacturers' skid steer loaders come equipped with a lift-arm support designed to prevent the arms from falling. If the lift arms need to be raised for service or maintenance, an operator should always support the lift arms per the manufacturer's instructions, and never walk under raised lift arms unless they are properly supported.
Also, many skid steer loaders, including Terex models, are designed with a tilt-up cab for easy access to the machine's critical components. For safety purposes, this feature is also equipped with a lock-out mechanism, which should be engaged during maintenance.
As an added safety feature, John Deere skid steers include a lockout system that can be engaged from inside the cab. "If the arms need to be in the raised position, the operator can lock it out from inside the cab, then get out safely underneath the loader arms," says Zupancic.
To reduce the chance for burns, maintenance should be performed once the machine has cooled down completely; preferably at the start of a work shift.
Warkenthien summarizes safe skid-steer maintenance: "To maximize safety when servicing a skid steer, fully lower the lift arms or engage the approved lift arm support device(s). If lift arms need to be raised, make sure to engage the proper lift arm support device provided by manufacturer. Before servicing a skid steer, always stop the engine, release all hydraulic pressure and allow hot parts to cool."