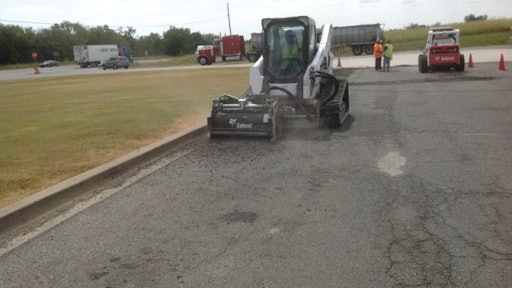 Skid steers and compact track loaders (CTLs) traditionally fall at the smaller end of the construction equipment size spectrum. They are, by design, compact units capable of fitting into tight spots and maneuvering around obstacles that can stop bigger machines in their tracks.
Yet, the perspective on size is changing as both manufacturers and contractors strive to get more performance out of these already highly productive, versatile machines. Both wheeled and track models are being introduced in larger size classes that are pushing the boundaries of the compact equipment classification.
Take Gehl's V400, for example, which the company bills as the world's largest skid loader. The unit weighs in at just over 11,000 lbs. with a 4,000-lb. rated operating capacity (ROC) and a lift height of 144 in. This model and others rated at 3,000-lb. ROC and above are targeted to meet the demand for greater productivity, while retaining the advantages only a skid steer or track loader can offer.
"As operations become larger, there is more work to be done. The higher capacities allow for more material to be moved in less time, increasing the operational efficiency," says Kelly Moore, product and training specialist, Gehl skid-steer and track loaders. "In addition, the higher performance machine also means higher productivity in utilizing high-performance attachments, leading to more work output on the jobsite."
Upwardly Mobile
Several factors contribute to the demand for larger skid-steer and CTL size classes.
"Over the last five years or so, you see customers moving up in sizes from small to medium or medium to large. What's been driving that is folks are realizing a lot of the productivity advantages," says Gregg Zupancic, product marketing manager, skid steers and compact track loaders, John Deere Construction.
Productivity is definitely a factor, agrees Mike Fitzgerald, loader product specialist at Bobcat Company. "The larger machines are still not large dimensionally," he comments. "A slightly bigger machine will have increased operating capacity, more pushing power, more lifting height and more capacity to lift heavier loads."
They also deliver power outputs ranging from roughly 80 to 100 hp. "The higher horsepower lends toward a lot of pushing power," says Zupancic. "The bigger machine sizes are highly desired for applications where you're grading or excavating because you have that power."
Longer wheelbases and more track on the ground equal added stability. "You have a more stable machine," says Zupancic. "If you're doing a lot of lifting of concrete blocks in the housing market, or pallets of sod or stone in the landscaping market, these machines are better lifters."
This makes them well-suited for projects requiring frequent movement of materials. "You regularly see a demand to unload building materials and serve as a general utility machine on site for everything from loading and unloading to grading/backfilling operations," says Warren Anderson, brand marketing manager, Case Construction Equipment. "Lifting capacity with the fork attachment is a primary driver."
The bigger machines are able to accommodate current trends in truck sizing. "In the past, you had tandem-axle gravel trucks with an 8- or 9-yd. box. Today, you have quad- or five-axle trucks that have 14-yd. boxes on them," says Fitzgerald. "They can haul more material with one driver and one machine, which is more cost effective, but you have higher sides to load. So a machine with higher lift and farther reach is better for that."
"Stretching job capacity is an increasingly important factor in securing new work," Anderson adds. "And as trucks get bigger and stronger, and require faster loading with bigger buckets and stronger skid steers, models in this operating class will help support that."
A Boost in Attachment Capability
Another benefit of large skid steers and CTLs is enhanced hydraulic capacity, which in turn optimizes attachment operation. "Skid steers in this size class allow operators to run hydraulic attachments at peak performance," says Anderson.
"The larger machines have capabilities of higher flows and higher pressures because they have more horsepower," Fitzgerald explains. While it varies based on manufacturer, standard hydraulic flow in the 3,000-lb. and above ROC class tends to range from 20 to 25 gpm, while high flow can run from 30 to 35 gpm to as high as 40+ gpm, with pressures from roughly 3,300 to 4,000 psi. "With the higher horsepower, you're capable of putting more flow out and carrying a higher pressure to run the attachment."
This allows the loaders to more efficiently run wheel saws, trenchers, mulchers, planers, etc., which require a lot of power and attachment speed. "The larger class of skid steers would have the capabilities to not only cool these hydraulic thirsty attachments, but help the attachments be more productive," says Zupancic.
West Tennessee Construction Services, Jackson, TN, has experienced this first-hand. Its four pavement repair and two sealcoating crews travel across Tennessee, Louisiana and Mississippi and parts of Kentucky, Oklahoma and Arkansas performing parking lot maintenance for large retail companies and truck stop plazas.
Most of the repair work, which includes pothole and crack repair, is completed using skid steers equipped with 4-ft. milling heads. In January, West Tennessee Construction Services acquired its first Bobcat T870 compact track loader, which has a 3,325-lb. ROC. Just three months later, it added two more to the fleet. "Once we tried one, we changed all of our models, says Gene Williams. "I still have three S770 wheeled machines, but for milling asphalt, the tracked T870 is the best."
The S770s enabled the milling heads to cut roughly 2 in. deep. "With the T870s, we've milled up to 4 in. deep at one time in asphalt. It's doubled our production," says Williams. He attributes this to the added hydraulic pressure. "The heads turn faster so we can mill more."
Jobs are completed more quickly. "Most asphalt that we're removing is going to be an average of 4 in. deep. When we were milling with the S770, we would have to mill it 2 in. and then go back and mill it again," says Williams. "Now, with the T870, we can mill it one time... An asphalt job that we used to do in three days, we can now do in two. That means we're getting more work done in a year."
As a side benefit, costs for milling teeth have dropped substantially. "There are 70 [teeth] on one milling head at $3.50 a piece," says Williams. "Because of the extra horsepower and the extra PSI on the pump, we're not buying as many milling teeth as we used to. We're probably saving a third of the cost on milling teeth. That's made a big difference."
The combination of higher productivity and reduced wear part costs has resulted in increased profit per job and a quick turnaround on the investment in the machines. According to Williams, West Tennessee Construction Services paid a premium for the T870. "But we've increased our profit margins by 10% to 11%, so it's going to pay for itself with no problem at all," he states.
Some Trade-offs Required
Of course, there are trade-offs to consider when upsizing equipment. The most obvious is cost.
"If you go from a medium-size skid steer or track loader up to the largest size [models], you're looking at an acquisition price that might be $10,000 more," says Zupancic. "Then you have to factor in the higher owning and operating costs related to things like bigger tires, which tend to be more expensive to replace. On the largest track loaders, there is a lot more rubber on the track systems, so that would be more expensive to replace.
"Higher horsepower naturally requires more fuel," he adds. "Fuel economy is going to be less on a higher horsepower machine."
You need to evaluate these costs against the potential gains in performance. "If you do not regularly need the [increased] lift capacity, the downside in operating costs and efficiency may not be worth it," says Anderson. "This includes the possibility of decreased fuel efficiency and greater tire costs, as the added weight of the machine often contributes to increased tire wear."
More weight may also impact transportation costs. "Depending on the area you're in, a lot of times you're likely to need a CDL to haul that type of weight around, which adds some cost," says Zupancic.
Anderson agrees, noting, "While our SV300 has an operating weight of 8,300 lbs., there are other units that exceed 10,000 lbs. and trigger a whole new set of commercial driving regulations. Keeping machines under 10,000 lbs. will keep your driver/transport options open."
Size also matters. Because they're physically bigger, skid steers and CTLs in the 3,000-lb. and above size class are not quite as maneuverable as their mid-size counterparts. "These big machines tend not to fit in tight places. They're wider," says Zupancic. "If you want a machine that can get through a 5- or 6-ft. gate in back of a lot, or you want to operate efficiently inside a garage, the larger machines are less 'nimble.' If you're working indoors with these big 3,000-lb.-plus machines, they could be a lot taller and you might not be able to get into some places you would with a smaller model.
"You get a lot of additional advantages in pushing power and lifting power," he continues. "But the trade-off is to get that type of performance, you need to make the machine bigger and heavier."
As with other types of equipment, the size of the machine you need is proportionate to the intended application and site conditions. "The contractor that is looking at these larger machines needs to match it to what his main job duties would be," Fitzgerald advises. "The small to medium-sized skid-steer loaders and track loaders are used in and around housing areas and in tight quarters. [They're used in] locations where there is already existing vegetation and you may have to work in between, or go through a fence. The larger machines will tend to be used on a site where it's new building construction.
"For the guys that are on a larger site... the machine is there because it's smaller than dedicated wheel loaders and other equipment, and more versatile because of the maneuverability and the attachment carrying capabilities," he adds.
A Trend to Downsize
On bigger jobsites, it's not uncommon to see a rough-terrain forklift and/or wheel loader on hand for moving materials. Large skid steers and CTLs offer the ability to change this dynamic.
"Now, contractors can bring in one large skid steer," says Fitzgerald. "This machine can take the place of a rough-terrain forklift. Or it may be capable of handling the duties for leveling and moving materials that a small wheel loader did. If you're cleaning up the site and loading out materials, larger skid-steer loaders are able to lift into higher-sided trucks.
"When lifting palletized material all day long, a rough-terrain forklift is great because that's what it's designed to do," he acknowledges. "But if you have a large skid-steer loader that can utilize a bucket and several other attachments, and with pallet forks will lift the loads that you have, then you don't need other pieces of equipment."
Universal attachment plates give skid steers and CTLs unparalleled attachment capability. "This is one of many unique benefits to skid loaders, as well as track loaders," says Moore. "In comparison to other types of machinery, they are relatively easy to operate, maintain and service, and will have a lower purchase cost than a comparable wheel loader."
They tend to be less expensive to transport, as well. "You don't need a semi-trailer or a professional truck driver to haul it around," says Zupancic. "Whereas, with some of the bigger construction equipment, you definitely are getting into weights where you can't pull it behind a pickup truck."
Purchase cost is also a factor. Small dozers and compact wheel loaders may range anywhere from $15,000 to $20,000 more than the largest skid steers or CTLs, says Zupancic. "There has been increasing cost of machine forms due to the emissions standards [as engines get more complex]," he points out. "As the costs for small crawler dozers, compact wheel loaders and other equipment types go up, contractors are turning to smaller, less complex machines that can offer comparable capabilities. They are starting to consider a skid steer that can do a lot of what those can do, but also offer some additional versatility at a lower price point."
Still, it's important to consult your equipment dealer to determine whether downsizing to a compact machine is right for your operation. "In applications where sheer lifting performance is needed, we are seeing that skid steers are replacing smaller forklifts in some [cases]," says Anderson. "We do not, however, see skid steers replacing compact wheel loaders as frequently because compact wheel loaders have become efficient. There is added cost with compact wheel loaders, but there are also advantages depending on the application.
"Talk it over with your dealer," he advises. "Go through a detailed review of your application and pick the machine that makes the most sense."