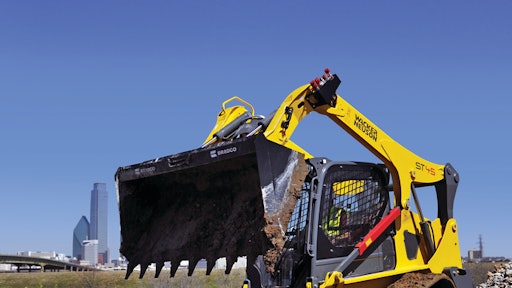 At CONEXPO-CON/AGG 2014, Wacker Neuson officially premiered the first models in its much-anticipated skid-steer and compact track loader (CTL) line for North America. The new machines were previewed to dealers in early October 2013, teased at World of Concrete in January and finally introduced to prospective customers at the big show in March.
Two skid steers (SW models) and two compact track loaders (ST models) are part of the initial offering out of what the company says will eventually be a full line consisting of small, mid-frame and large-frame models. The first four units will be available starting in mid-2014 through Wacker Neuson's distributor network.
The SW 24 radial lift skid steer has a 2,350-lb. rated operating capacity (ROC) at 50% of tip load, while the vertical lift SW 28 has a ROC of 2,800 lbs. Both offer a lift height up to 125 in. The ST 35 radial lift CTL also has a 125-in. lift height, with a ROC of 3,500 lbs. at 50% of tip load. The vertical lift ST 45, on the other hand, reaches to an impressive height of 134 in. and has a 4,500-lb. ROC. A one-way self-leveling feature on radial lift models allows for self-leveling at the flip of a switch.
Power is provided by a 74.3-hp Perkins turbocharged, Tier 4 Final diesel engine with a maintenance-free, flow-through aftertreatment design. Because Wacker Neuson controls the design and manufacturing of the loaders, it says it was able to choose the optimal engine to meet Tier 4 standards while providing the power and performance demanded by North American operators. The engine is mated to a standard two-speed transmission. 
Designed with North America in Mind
Although Wacker Neuson has more than 10 years of experience designing and manufacturing skid steers for the European market, it took a ground-up approach with this new line. "The requirements of the customers in the U.S. are different, and North America is the biggest skid-steer market in the world. That's the reason we decided to design a product line for this important market," says Martin Lehner, chief technology officer, Wacker Neuson SE.
Design responsibilities are being handled jointly between the company's facility in Hoersching, Austria, and its U.S. operations in Menomonee Falls, WI. Much of the design is being based on the ongoing feedback and advice of contractors who use skid steers and CTLs on a daily basis in their operations.
One such contractor is Shane Kaiser, owner/operator of Kaiser Skid Steer Services, Rigby, ID, who was on hand to share comments during CONEXPO-CON/AGG. Kaiser was given an opportunity to provide input during the development phase of the machines. This input was used to refine elements of the design such as the operator's environment.
"I sat in the prototypes. When you sit in a North American machine, you want to see the cutting edge. These machines are used in fine grading applications, and so your seating position relative to the bucket position is huge," Kaiser notes. "Immediately, there were some issues that I saw and Wacker has done everything they needed to do to make the visibility No. 1. You sit in these machines, you can see the cutting edge; you can see the edges of your bucket. I've been totally impressed with the manner in which they addressed the issues and just keep refining the machine."
Engineers took special care to design the cab from the operator's perspective. The large, pressurized extended cab maximizes space and provides sufficient room for the operator to move around inside. Ergonomic controls are designed to be easy to reach and operate, and H-Pattern and ISO joystick pilot controls are available to match operator preference. 
Other features were added to maximize both operator comfort and productivity. "It has an air ride seat and an adjustable lap bar, so it can accommodate any size operator," Kaiser points out. "It has an automotive-quality interior. And the [cab] position has been placed in the machine so that when you sit in there, you can see the work site immediately. It's safer and it's more productive for the operator to accomplish his goals."
Wacker Neuson also took the North American customer into account in its component selection. "What I really like is the track system on the CTL is Berco, which is pretty much a standard throughout the industry. The engines are Perkins. The drive motors are Bonfiglio," Kaiser comments. "It's all high-quality components easily attainable in the marketplace. They're not sourced solely in Europe. They did a good job of finding the very best components and using those components in the machine."
Proof is in the Performance
Differentiating a new product line in an already crowded field of suppliers is never an easy task, but it's one that Wacker Neuson seems to have faced head on. This is evident in the lift height available on the ST 45 track loader, which is a key point of difference for Kaiser.
"That 134 in. of lift [provides] excessive amounts of reach so you can dump your load into the center of that dump truck. You don't have to reposition around to fill up a truck," he states. The machine Kaiser currently uses has around a 10-ft. lift height. "This is like 11 ft. 2 in., so it's considerably more. And the reach is more, so I don't have to snuggle up as tight against that dump truck with these machines as I do with what I'm currently running."
The machines also provide a stable platform for lifting loads. "They have a cab-forward design. The machine feels very solid loading trucks even with that heavy bucket full of material at full height," says Kaiser. "They've done a great job creating stability. The loader arms are real strong. You don't get a lot of sway like you do in some machines that start to feel sort of compromised with a full load taken to max height. It's just a solid-feeling machine."