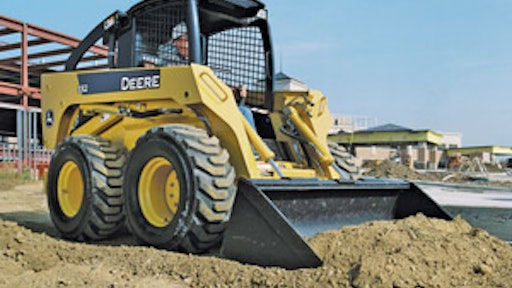 John Deere 300 Series Skid Steers
The 300 Series skid steers offer improved stability through a low center of gravity, long wheelbase, 60/40 weight distribution and larger tires.
Vertical-lift boom allows maximum reach at full lift height with a 35° rollback and a 45° dump angle
Hydraulic Quik-Tatch
61- to 91-gross-hp John Deere PowerTech 250 Series four- and five-cylinder engines
1,750- to 3,175-lb. rated operating capacities
5,500- to 11,600-lb. bucket breakout force
Doosan Plus Series Skid Steers
The Plus Series includes the 602plus and 802plus, as well as the 702plus and 902plus with vertical lifting boom.
5,578- to 7,077-lb. operating weights with rated operating capacities from 1,450 to 2,250 lbs.
Universal attachment system
Heavy-duty boom
Easy entrance and exit with new boom crossmember
Easy to see instrument and integral switch panel
Tilting cab
Mustang Joystick Control Option
A dual joystick pilot control is now available for Mustang skid steer models 2076 and 2086.
Drive functions controlled via the left joystick and loader lift/tilt functions controlled with the right joystick
Low control efforts to reduce operator fatigue
Push buttons control two-speed drive and Hydraglide Ride Control and float function
Adjustable control towers
Thumb switch controls variable-flow auxiliary hydraulic pump
Ditch Witch SK650 Mini Skid Steer
Equipped with a 31-hp Kubota turbo diesel engine, the SK650 directs 20 net hp to the attachment for greater performance capability.
Larger capacity fuel (8 gal.) and hydraulic tanks mounted on the outside of the frame
Foot pedal auxiliary control enables attachments to be driven by foot, freeing hands to control depth and ground speed
Quick-disconnect attachment ¬fittings
Attachment-level indicator mounted to the attachment lift frame
Case Pilot Controls
Pilot controls are now standard equipment on the 440CT and 450CT compact track loaders, and optional on the 430, 440, 450 and 465 skid-steer loaders.
Can be ordered from the factory with H or ISO patterns
Factory-supplied accessory kits also available through Case dealers to ¬permanently change the pattern to H or ISO
Provide a shorter throw for greater operator comfort and reduced fatigue
Mapcon Bulldog Skid Loaders
The Bulldog line of skid loaders and excavator/loaders includes 11 models ranging from 1,323- to 2,204-lb. rated capacities.
B8250T has a telescopic boom with a 156-in. height to hinge pin
B4230CS1 measures 34.7 in. wide and 60 in. tall and is powered by a 50-hp Perkins diesel engine
Models combine a rugged design and simplicity with innovation for greater versatility
Komatsu SK1026-5 Skid Steer
The 84-hp SK1026-5 vertical lift skid steer has a 2,650-lb. rated operating load with a 5,300-lb. tipping load.
Hydraulic self-leveling bucket with 5,400-lb. breakout force
HydrauMind hydraulic system standard
Standard two-speed travel with a 6.5-mph work range and 10-mph travel range
Automatic Power Control anti-stall hydraulic system
45.7-in. wheelbase
Caterpillar C-Series
The C-Series skid-steer loaders deliver added lift and tilt forces, increased drawbar pull and more power via Cat 3044C DIT 3.3-liter turbocharged engines.
82-hp 262C and 90-net-hp 272C vertical lift models offer 2,700- and 3,250-lb. rated capacities
73-hp 246C and 82-hp 256C radial lift offer 2,150- and 2,350-lb. rated capacities
Features include an electro-hydraulic hydrostatic drive system and electronic torque management system
Optional Advanced Machine Information and Control System, High Flow XPS, enclosed sealed and pressurized cab, ride control and two-speed travel
Volvo B-Series Skid Steers
The B-Series includes five models ranging from 1,500- to 2,250-lb. operating capacities.
45.3- to 80.5-net-hp engines
114- to 121-in. height to hinge pin
Super-comfort, high-back seat
Traditional hand and foot controls or pilot-operated joystick controls
All-around visibility
Wide, tall opening into operator's area for easy entry and exit
Hydraulic release button for added operator safety
Universal quick-attach
Compact Power Boxer 530X Mini-skid
The Boxer 530X mini-skid is an update of the Boxer TL-224-34.
Tip capacity increased to 1,650 lbs.
Operating capacity improved to 825 lbs. at 50% of tip load (578 lbs. at 35%)
30-hp Kohler Command Pro air-cooled gas engine
Two-pump, 3,000-psi, 14.5-gpm hydraulic system drive
9-in.-wide tracks provide 3.3 psi of ground pressure
Integrated track system retracts from 43.5 in. to 35 in. and is controlled via a joystick lever on the control panel
New Holland Deluxe Cab
A deluxe cab design is available for New Holland Super Boom skid-steer loaders (models L150 to L190) and compact track loaders (models C175, C185 and C190).
Full-covering, noise-absorbing trim with optional added sound-suppression package for a further 3-dB noise reduction
Large convex glass door opens a full 90° for easy entry and exit
Removable side windows with detents lock into position
Removable, see-through roof panel, backlit sight-at-a-glance instrument panel and vertically positioned operator controls
JCB Upgraded Robots
The upgraded line includes five skid steers with rated capacities from 1,320 to 2,420 lbs. and three compact track loaders rated from 1,804 to 2,244 lbs.
Single loader arm with redesigned cab access for added safety
Multi-function controls within standardized servo control levers
Power Management System
83- to 91-hp JCB Dieselmax engines on the 190/190T and 1110/1110T
Redesigned hydraulic system increases breakout force up to 20%
Bobcat S100 Skid-steer Loader
The S100 skid-steer loader features a spacious cab, easy to read instrument panel and a transversely mounted engine in a frame small enough to access and work in some of the tightest jobsites.
4,110-lb. operating weight with a 1,000-lb. rated operating capacity
33.5-hp four-cylinder diesel engine
8-ft. 6-in. lifting height
Narrow width of 50 in. with bucket
6.5 mph travel speed
13.1-gpm hydraulic pump capacity
Bob-Tach attachment mounting system
Gehl 7810E Skid Loader
The 7810E is powered by a 99-hp Cummins turbocharged diesel engine with 305 ft.-lbs. of torque.
3,850-lb. SAE rated load capacity and 8,340 lbs. of bucket breakout force
Auxiliary hydraulic system offers 29-gpm adjustable flow and up to 41 gpm with optional high flow
Available two-speed drive with ground speeds up to 12.5 mph
55-in. wheelbase, optional Hydraglide ride control system and special lift arm suspension system supply a smooth ride at faster ground speeds
Toro Dingo TX 525 Wide Track
The Dingo TX 525 Wide Track compact utility loader has a 553-lb. rated operating capacity (35% of tip capacity), and is equipped with a 25-hp Kubota diesel engine.
Auxiliary hydraulics deliver 24 hydraulic hp to the attachment
Four independent hydraulic pumps supply 16.9 gpm of flow to each track, 13.8 gpm to the auxiliary and 6 gpm to the loader arm
Weighs 2,127 lbs. with standard bucket
Measures 40.5 in. wide with an overall length of 92 in. with bucket
Finn Eagle Compact Skid Steers
The key benefit of the Eagle is its hydraulic flow rate.
Parallel hydraulic system provides full power simultaneously to all functions
Standard oil cooler
Universal face plate fits any standard compact attachment
40-plus attachments available