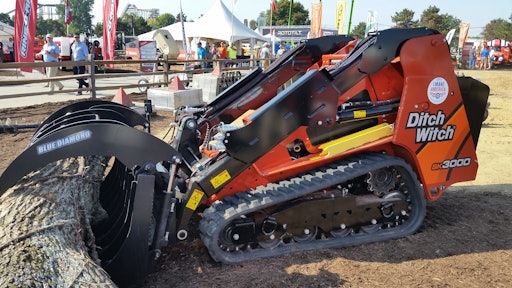 Every two years, Ditch Witch has a unique way of attracting attention to its booth at the International Construction and Utility Equipment Exposition (ICUEE). Every hour or so, it revs up the 850-hp, high-stepping, dust-churning, earsplitting Super Witch trencher and lets the roar draw crowds from all across the extensive outdoor demo area.
This past October, however, the Super Witch wasn't the only thing drawing spectators. The new SK3000 - dubbed the industry's first "full-size stand-on skid steer" – drew its own audience seeking to learn more about its unique features.
Big Power in a Cab-less Package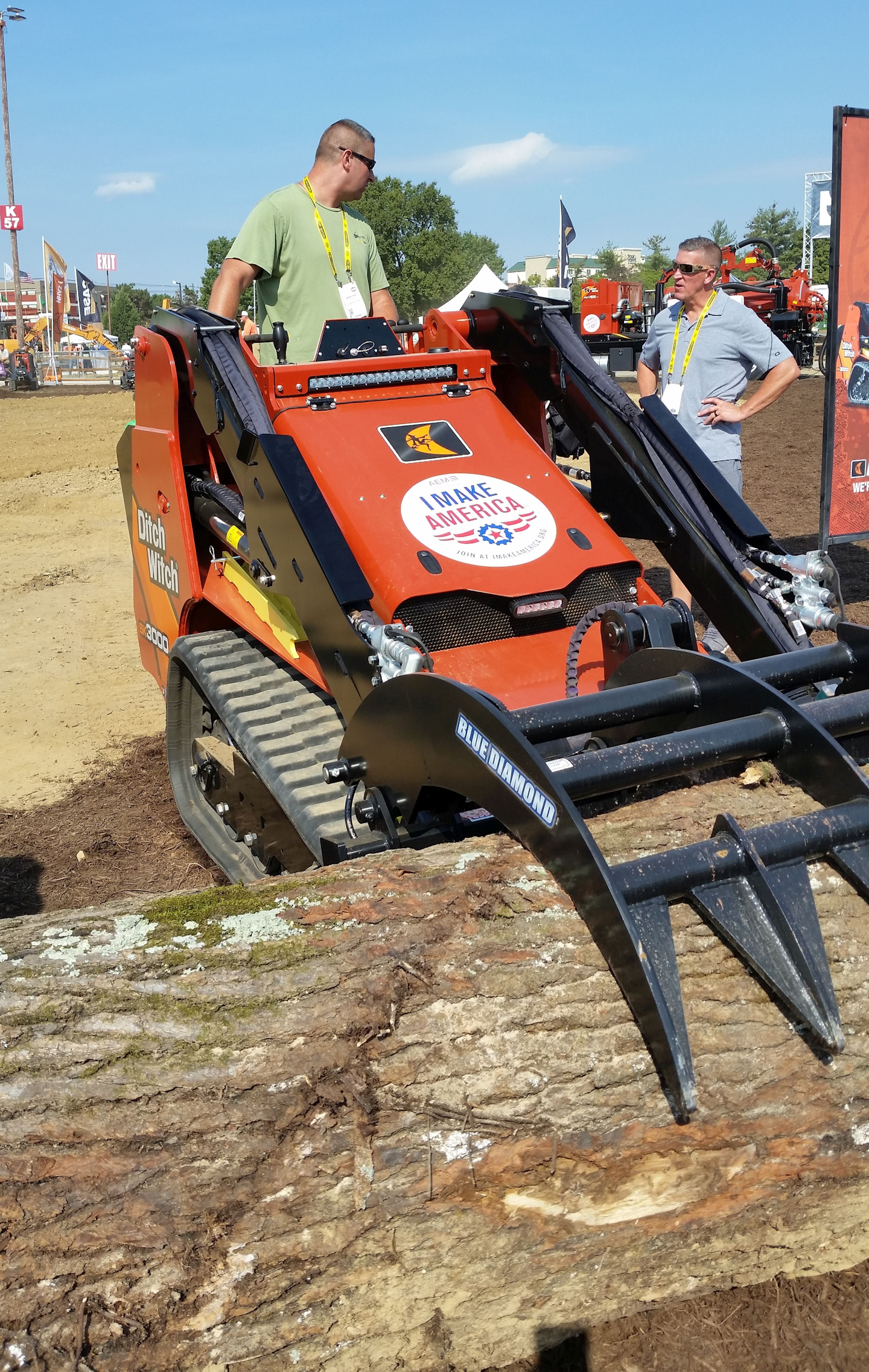 With the SK3000, all you have to do is turn your head to have full visibility around the machine.Chris Thompson, product manager – compact utility loaders, Ditch Witch, describes the SK3000 as the "melding" of two machines – a full-size skid steer and a stand-on skid steer (otherwise known as a mini loader or compact utility loader). The newest addition is the largest model in the company's stand-on skid-steer lineup.
The SK3000 is powered by a 59-hp Yanmar turbocharged diesel engine and generates a whopping 3,100-lb. lift capacity and 5,500 lbs. of breakout force. It has a 118-in. hinge pin height at full rated capacity for easy lifting of heavy materials and truck loading. Up to 51 hp is directed to attachments for enhanced efficiency and performance, with the hydraulic system supplying up to 22-gpm hydraulic flow. The unit can travel at speeds up to 5.8 mph in both forward and reverse.
"The SK3000 has the power, lift capacity and stability to complete the larger jobs that a traditional skid steer can, but it comes with the ability to easily step on and off the operator's platform and have increased visibility while operating the equipment," Thompson points out.
Many applications for skid steers or compact track loaders require an operator to climb over the attachment to enter and exit the machine multiple times over the course of a project. "[The SK3000] eliminates this. You're able to stand on and step off the machine," Thompson states.
This is especially beneficial in forestry, landscaping and hardscaping applications. "When we developed this machine, the market we were targeting was anyone who needs to get in and out of the machine a lot, but they [need] to have that full-size capacity," says Thompson.
A stand-on platform is well suited for non-professional users, as well. "When you start thinking about the rental industry… people are intimidated by the big machines with the cages and climbing in and out and the lack of visibility," Thompson points out. "This really gets them over that."
A limitation of many skid steers is it can be difficult to see to the side and behind the machine, Thompson comments. With the stand-on operator platform, all you have to do is turn your head to to have 360° visibility.
Advanced Technologies Provide Intuitive Control
The SK3000 features a 332-sq.-in. stand-on operating platform, standard dual-lever ground controls (single-lever joystick optional) and a 5-in. full-color LCD display. Advanced technologies built into the machine facilitate easy, intuitive operation.
An exclusive Smart Throttle feature quickly matches engine speed to load demand. It is combined with an operator presence function. "What that means is that it will… idle down whenever you step off the machine and immediately idle back up," Thompson explains. "That way, someone who's on and off the machine a lot doesn't have to mess with the idle [control]. It automatically does it for you."
Integrated hydraulic system controls provide the ability to control all machine functions concurrently. In other words, you have the ability to simultaneously steer the machine and control the loader arms – without removing either hand from the controls. "Previously, that was a three-hand operation," says Thompson. "This gives the customer full control the machine."
An advanced hydraulic system offers 8-, 14- and 22-gpm flow settings that enable the operator to tailor the flow to the task. Hydraulic-operated attachment pins help reduce overall effort when swapping attachments, plus operators are no longer required to get off the machine to swap non-powered attachments. The machine's universal coupler accepts any full-size skid-steer attachment.
Controllability can be further enhanced with an optional dual self-leveling kit, which keeps loads level as they are raised or lowered. Optional automatic ride control is also available.
Highly Movable Design
The SK3000 is able to perform construction-grade work while maintaining a lighter weight package for easier maneuverability and transport.
In order to achieve its rated capacity and maintain durability, engineers designed the SK3000 with more steel - including steel panels and a steel fuel tank - plus a beefed-up undercarriage. Yet, at only 7,600 lbs., it is still lighter than many compact track loaders.
"This machine… has all this power, but it only weighs 7,600 lbs.," says Thompson. "So, you're able to fit it on a 10,000-lb. trailer and haul it without a CDL."