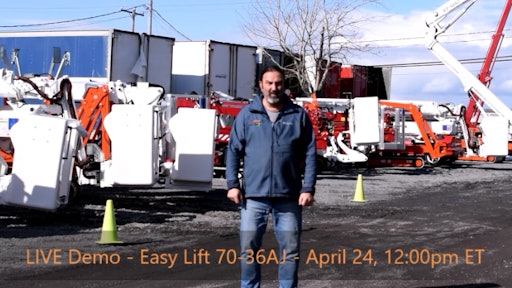 UPequip
UP Equip will demo a compact tracked lift online this week. During the broadcast, there will be a question-and-answer session. 
The company will present and demo the Easy Lift 70-36AJ on Facebook live at noon ET on Friday April 24. The event is free and available to anyone with a Facebook account. The event invite is on Facebook at: https://www.facebook.com/events/222464512365239/
Founded by aerial equipment industry veterans in 2001, the company has gradually transformed to become formally UP Equip in 2009.
Since its early beginning in training and custom made adaptations to existing lifting equipment, UP Equip has evolved in a major player within the atrium compact tracked lifts market. Long perceived like unaffordable and complicated equipment, these incredible machines were given a completely new image and perception by UP Equip. Customer all over North America are now able to simply and safely reach thee unreachable.
For many years, UP Equip has been providing customers niche aerial access equipment, knowledge and expertise for all type of access solutions and technical support for all kinds of aerial work platforms, more specifically big booms and atrium compact tracked lifts.