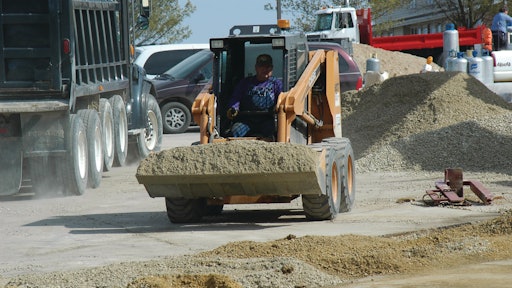 Construction routinely ranks as one of the nation's most dangerous jobs. While manufacturers continually add safety features to their equipment, many safety measures fall onto operators and how they use and service the machines.
Although skid-steer loaders aren't necessarily any more dangerous to operate than other pieces of construction equipment, their versatility makes them one of the most frequently used machines on a jobsite. As such, there are safety issues you need to be aware of.
"You don't want safety to be something you worry about after an accident has happened," notes Jim Hughes, product manager, Case Construction Equipment. "You have to stress safety all the time. You have to make it a living, breathing part of your everyday business."
Emphasize training
Skid-steer loaders are often the first piece of equipment a contractor may buy, or the first machine a novice operator may run for a contractor. "Because of this, skid-steer operators can be some of the least experienced on a jobsite," says Hughes.
That makes training critical to promoting safe operation. Many manufacturers offer training programs, and some have expanded services that include online safety training through sites such as Caterpillar's Safety.Cat.com.
Be sure to review the operator's manual - regardless of your experience level. "Whether you're an experienced or novice operator, read the manual," Hughes emphasizes. "All machines operate differently. It's important to understand the capabilities of the machine and to understand the task at hand relative to those capabilities, so you don't put yourself into a dangerous situation."
Prior to startup, engage the seat belt and lap bar and familiarize yourself with the safety features, such as rear egress windows. "Many skid steers with cabs will have a rear window that pops out," says Kirk Dilly, product training specialist at Gehl. "Familiarize yourself with how to accomplish that. In our machines, there's a cord to pull so you can escape through the back hatch."
Attachment safety
One of the reasons a skid steer is used so often is because of its versatility and the plethora of attachments that allow you to accomplish so many tasks. However, there is an inherent danger associated with that versatility.
"It's critical that any attachment is properly engaged," says Hughes. Whether using a mechanical or hydraulic coupler, always double-check to ensure the attachment is fully engaged. Pay special attention with a hydraulic coupler.
"Before you pick up a load, raise the loader arms up and look at the pins on the back side of the coupler to make sure they're engaged with the attachment," he advises. "If they aren't, and you get under load, the attachment can fall off."
Since many tasks are done with the loader arms in the up position, be aware of any overhead obstructions such as power lines and trees. Also be sure to maintain the appropriate speed for the application and conditions. "If you're operating too fast, or if you stop or start too suddenly with the load raised too high, the machine can become unstable," Hughes states.
Modern skid steers have a pressure-sensitive seat that disengages the hydraulics if the operator gets up. While you can override this feature for certain applications, such as using a backhoe attachment, make sure to reinstate it once those tasks are complete.
Before leaving the operator's seat, lower the lift arms and place attachments flat on the ground. Stop the engine and engage the parking brake. Release the seat belt, remove the key to prevent unauthorized starting and use the steps, grab handles and skid-resistant surfaces when getting on and off.
Avoid tipping
While skid steers are relatively safe to operate, tipping is one of the biggest concerns. As such, it's important to understand the grade, ground and site conditions, as well as the abilities of your machine.
"Be especially careful when operating on an incline or decline, or any surface that doesn't provide good, positive traction," says Dilly. "Identify situations where a compact track loader might be a better option, since it can operate in muddier conditions and on steeper grades."
When operating on slopes, keep the heavy end of the loader uphill, advises Gregg Zupancic, product marketing manager, John Deere. And travel directly up and down slopes instead of across them.
Also make sure you don't overload the machine, and be sure to use the correct bucket size for the type and density of material being handled, he adds.
Carry the load low to minimize tipovers. "These machines can become unstable if you lift too much weight too high," says Hughes. "When you raise the load, you change the center of gravity. The machine is most stable with most of the weight near the ground."
Watch for other equipment
"A lot of safe operating procedures are based on common sense, such as monitoring crowded jobsites, operating on a safe grade, etc.," says Dilly.
Yet, crowded sites can be especially hazardous. "The more crowded the site, the more likely you are to run into something," Dilly points out. "It's important to have experienced operators. Don't throw inexperienced skid-steer operators in where dozers, wheel loaders, etc., are also operating."
Operators need to understand the traffic flow of the jobsite, Hughes agrees. "It's important to lay out the jobsite," he adds. "Make sure you're maximizing productivity, as well as doing it safely."
Pay attention as you back up or move to the side. "The inherent nature of the skid steer is to maneuver very easily and turn quickly," says Hughes. "If you aren't fully aware of what's going on around the jobsite, you can hit something or put yourself in a dangerous situation... You don't want to have a collision with another piece of equipment or another worker."
Also watch for changing ground conditions, trenches, potholes, scaffolding, etc. "Jobsites are constantly changing," says Hughes. "Maybe some fresh dirt has been brought in, or maybe it's raining and the conditions at the jobsite deteriorate. You will want to monitor all of those situations."
Be ready for severe service
Some applications can be more hazardous than others, such as using a skid steer and a mulcher for land clearing or a hydraulic breaker for demolition.
Make sure your skid steer is equipped to handle these more severe situations, advises Zupancic. For example, many manufacturers offer specialized doors made of polycarbonate rather than glass, which can shatter when hit by flying rocks, debris, etc.
"When a machine is being used in an application such as land clearing, it requires extra protection above standard features," Zupancic states. "You don't necessarily have to stay away from those applications, but the machine needs to be equipped differently."
Many of these features are also available as retrofit packages. Be sure to ask for them if you're going to be working in severe situations.
Maintain safety
Maintaining the skid steer makes it safer to operate, so be sure to follow all daily and scheduled maintenance routines. But it's equally important to follow appropriate safety procedures when doing any type of service to the machine.
At the top of the list is ensuring the lockout system for the boom is engaged any time you lift it and leave the operator seat. "Even on the jobsite, never walk under raised loader arms without them being securely fastened," says Zupancic.
As an added safety feature, John Deere skid steers include a lockout system that can be engaged from inside the cab. "If the arms are ever raised, the operator can lock it out from inside the cab, then get out safely underneath the loader arms," says Zupancic.
Also look for a locking plate for the cab, says Dilly. "Occasionally, a mechanic will have to lift the cab to service components underneath," he notes. "Make sure [the locking plate] is in good working order."
Disconnect any power before working on the electrical system, and let the machine cool down, especially if you're doing any work on the radiator.
Depressurize components prior to service. "If you try to open a compartment that is pressurized before the pressure is released, you could have a dangerous, hot liquid blow out on you," says Hughes, "or it could just explode because of the pressure building up."
Even something as simple as filling a tire can be dangerous. During filling, stand to the side and use an automatic shutoff system.
"Safety is a conscious effort to make sure you're doing everything correctly," says Hughes. "Like any piece of construction equipment, if you follow the rules, read the operator's manual and operate in a safe and productive manner, you will help ensure a safe jobsite. When operated properly, a skid steer will be a very productive, money-making machine."