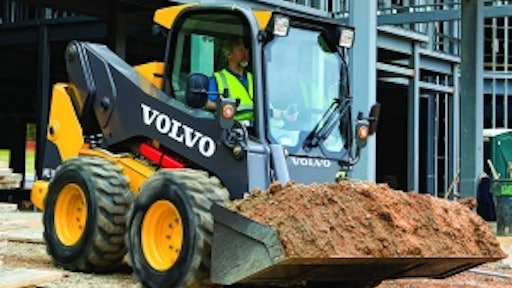 CONEXPO-CON/AGG attendees will get the first up-close look at the new Volvo Construction Equipment C-Series line of skid-steer loaders and compact track loaders. Models will be available in radial and vertical lift designs.
First to be introduced will be the MC110C wheeled skid-steer loader and the MCT135C compact track loader. The 84-hp MC110C has a radial lift configuration with a rated operating capacity of 2,250 lbs. The 92-hp MCT135C compact track loader is a vertical lift machine with a rated operating capacity of 3,000 lbs.
The units' unique single loader arm design allows for side-entry cab access and optimal visibility. The operator does not have to step or climb over an attachment in order to enter/exit the machine, enhancing safety.
The operator's environment is designed with a quiet, spacious cab that is 27% larger than the current Volvo B-Series skid-steer loaders. Features of the C-Series — such as adjustable controls, a six-vent HVAC system and a sealed/pressurized cab — also enhance the operating experience.
The cab tilts forward and locks for easy access to internal components. A heavy-duty rear compartment door provides simple ground level access to all filters and fills.
Hydraulic system pressure of up to 3,335 psi and an optional high-flow capability of 35.7 gpm provide for efficient output from attachments. A complementary range of attachments will be available for the new machines, with the addition of specialized high-flow attachments.
For more details, visit CONEXPO-CON/AGG Booth No. N-1641.
Companies in this article