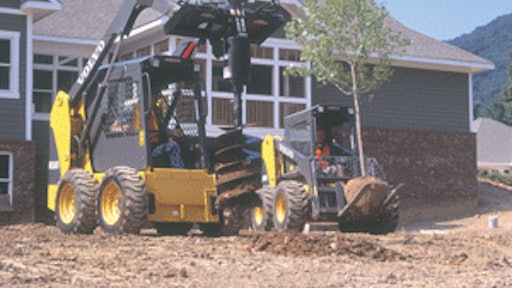 B-Series Skid Steers
Series includes five models ranging from 1,500- to 2,250-lb. operating capacities
45.3- to 80.5-net-hp engines
114- to 121-in. height to hinge pin
Super-comfort, high-back seat
Traditional hand and foot controls or pilot-operated joystick controls
All-around visibility
Universal quick-attach
Volvo Construction Equipment
7810E Skid Loader
Powered by a 99-hp Cummins turbocharged diesel engine with 305 ft.-lbs. of torque
3,850-lb. SAE rated load capacity and 8,340 lbs. of bucket breakout force
Auxiliary hydraulic system provides 29 gpm adjustable flow and up to 41 gpm with optional high flow
Available two-speed drive with ground speeds up to 12.5 mph
55-in. wheelbase, optional Hydraglide ride control system and special lift arm suspension system supply a smooth ride at faster ground speeds
Gehl Company
300 Series
Offer improved stability through a low center of gravity, long wheelbase, 60/40 weight distribution and larger tires
Vertical-lift boom allows maximum reach at full lift height with a 35° rollback and a 45° dump angle
Hydraulic Quik-Tatch
61- to 91-gross-hp John Deere PowerTech 250 Series four- and five-cylinder engines
1,750- to 3,175-lb. rated operating capacities
5,500- to 11,600-lb. bucket breakout force
John Deere Worldwide Comm.
137 Skid-Steer Loader
The 137 skid-steer loader has a rated lift capacity of 1,300 lbs. and a 3,800-lb. breakout force
43-hp Kubota diesel engine
Power transferred to engine via a direct coupling to the hydrostatic drive
Heavy No. 100 roller chain drive system delivers power to the axles
Standard auxiliary hydraulic system for attachment operation provides 16.6 gpm
Thomas Equipment
S100 Skid-Steer Loader
Features a spacious cab, easy to read instrument panel and a transversely mounted engine in a frame small enough to access and work in some of the tightest jobsites
4,110-lb. operating weight with a 1,000-lb. rated operating capacity
33.5-hp four-cylinder diesel engine
8-ft. 6-in. lifting height
Narrow width of 50 in. with bucket
13.1-gpm hydraulic pump capacity
Bobcat Co.
Bulldog Skid Loaders
Line of skid loaders and excavator loaders includes 11 models ranging from 1,323- to 2,204-lb. rated capacities
B8250T has a telescopic boom with a 156-in. height to the hinge pin
B4230CS1 measures 34.7 in. wide and 60 in. tall and is powered by a 50-hp Perkins diesel engine
Mapcon Inc.
Mustang Skid Steers
Nine skid steer models
SAE-rated operating loads from 1,050 to 3,675 lbs.
Ergonomic design
Mustang Mfg. Co., Inc.
C-Series Skid Steers
Vertical lift models include the 82-hp 262C and 90-net-hp 272C with?2,700- and?3,250-lb. rated operating capacities
Radial lift models include the 73-hp 246C and 82-hp 256C with 2,150- and 2,350-lb. rated capacities
Incorporate an electro-hydraulic hydrostatic drive system and electronic torque management system
Options include the?Advanced Machine Information and Control System, High Flow XPS hydraulic system, an enclosed sealed and pressurized cab, speed sensitive ride control and two-speed travel
Caterpillar Inc.
435 Skid Steer
72-hp, Tier II certified engine
6,830-lb. operating weight
6,000-lb. bucket breakout force
Easy Tilt ROPS/Cab for easy maintenance
Servo-hydrostatic controls, spring applied hydraulic release parking brake and single-point daily service
Case Construction Equipment
HSL T Series
Series includes 11 rubber-tired skid steers with 475- to 2,525-lb. operating capacities, plus a tracked unit rated at 3,200 lbs.
Maximum dump heights range from 46 to 110.75 in.
Maximum travel speeds from 4.4 to 12.3 mph
Easy access to all controls, hydraulics and hydrostatic system components via the cab without tools
Hyundai Construction Equipment
Upgraded Robots
Upgraded line includes five skid steers with rated capacities from 1,320 to 2,420 lbs. and three compact track loaders with capacities from 1,804 to 2,244 lbs.
Single loader arm with redesigned cab access for added safety
Multi-function controls within the standardized servo control levers
Power Management System matches available engine power to the demands on the hydraulic system
83- to 91-hp JCB Dieselmax engines on the 190/190T and 1110/1110T
Redesigned hydraulic system increases breakout force up to 20%
JCB Inc.
Plus Series Skid Steers
Series includes the 602plus and 802plus, as well as the 702plus and 902plus with vertical lifting boom
5,578- to 7,077-lb. operating weights with rated operating capacities from 1,450 to 2,250 lbs.
Universal attachment system
Heavy-duty boom
Easy entrance and exit with new boom cross member
Easy to see instrument and integral switch panel
Doosan Infracore America Corp.
Super High Flow Kit
Offered for Case 450, 465 and 450CT skid steers, providing 33% more hydraulic horsepower to drive most types of attachments
Generates 34 gpm?at 4,500 psi (89 hhp)
Separate 8-gpm auxiliary for attachment control
Factory ordered as the high-flow kit
PFG kits for New Holland available
Burlington Installation Corp. BIC
SK1026-5 Skid Steer
The 84-hp SK1026-5 vertical lift skid steer has a 2,650-lb. rated operating load with a 5,300-lb. tipping load
Hydraulic self-leveling bucket with 5,400-lb. breakout force
HydrauMind hydraulic system standard
Standard two-speed travel with a 6.5-mph work range and 10-mph travel range
Automatic Power Control anti-stall hydraulic system
45.7-in. wheelbase
Komatsu America Corp.
L175 Skid Steer
Features a 60-gross-hp New Holland turbocharged engine, and has an SAE-rated operating capacity of 2,000 lbs.
4,300-lb. bucket breakout force
6,230-lb. operating weight
Super Boom vertical lift linkage
Full 10-ft. lift height and 29 in. of forward reach
Long wheelbase, fast ground speeds and no rear towers to impair visibility
CNH-New Holland
SK650 Mini Skid Steer
Larger capacity fuel (8 gal.) and hydraulic tanks mounted on the outside of the frame
Foot pedal auxiliary control enables attachments to be driven by foot
Directs 20 net hp to the attachment for greater performance capability
31-hp Kubota turbo diesel engine
Quick-disconnect attachment fittings
Ditch Witch