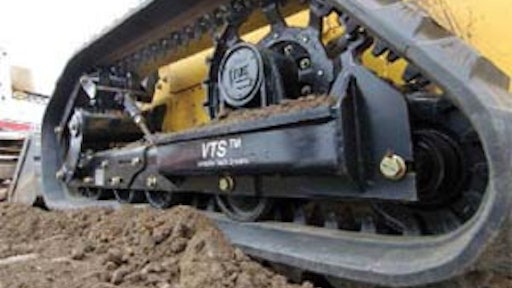 Loegering Manufacturing has introduced a new, smaller model of its Versatile Track System (VTS) which is ideal for skid steers with wheelbases under 42 inches and engines in the 45- to 65-hp range. The VTS is a complete rubber-track undercarriage system that can be quickly bolted onto almost any brand skid-steer loader. No machine modifications are required.
The easy-on, easy-off design of the VTS allows the rubber-track undercarriage, available with 12- or 15-inch-wide tracks, to be bolted directly to the hubs of most skid-steer loaders in less than one hour.
"VTS is a rental business' best friend," says Del Carver, director of sales and marketing at Loegering. "This system gives a rental business more options. You can attach the VTS to your skid steer and charge the same price as a rubber-track loader. In many cases, a skid steer with VTS will out-push, out-climb and out-lift a comparable track loader."
With its adjustable components, a VTS can be utilized on multiple skid steer models, so a single VTS system can be used on several different machines within a fleet, depending on the need.
"VTS will also save your rental business money," says Carver. "Purchasing two to three VTS tracks is less expensive than buying one rubber-track loader. This can free-up cash for other needs in the rental operation. Another benefit of utilizing VTS tracks is when one of your machines retires, you can still utilize the tracks on your next machine — saving your business money."
The VTS also includes an independent bi-directional torsion suspension system that gives better operator comfort, increases traction and improves stability. With the reduced ground pressure provided by the tracks, the VTS is ideal for work on loose, wet or unstable ground conditions.
Rental businesses will find VTS to be a positive addition to their fleets because it can decrease expenses, increase utilization and satisfy their customer base.