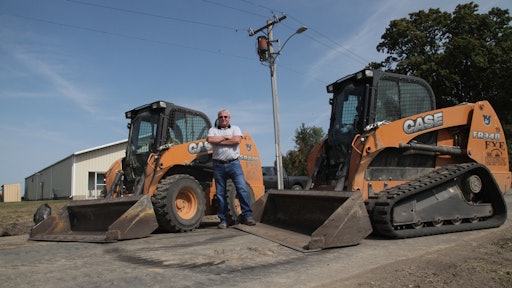 It's official. Compact track loaders have overtaken wheeled skid-steer loaders in volume of sales. This may not come as a surprise to many given the track machines' versatility and the advantages in flotation that keep them working in less than ideal ground conditions — often critical to get jobs done regardless of what Mother Nature decides to unleash on any given day.
Yet, manufacturers aren't anticipating, or predicting, the demise of the skid steer any time soon. "We don't see as many skid-steer loaders being sold in North America, but there's still very much a need for the machine," says Randy Tinley, product marketing manager for skid-steer loaders/compact track loaders, JCB. "We have customers who are loyal to track machines. But in the same sense, we have customers who operate wheel machines. They know what to expect and they know the machine's capabilities, so when the new model comes out with upgrades and advances in technology, they want that new model wheel machine.
"We're not steering away from wheels," he adds. "We still have a great concentration on the wheel market and wheeled machines are still preferred in Europe, India and elsewhere."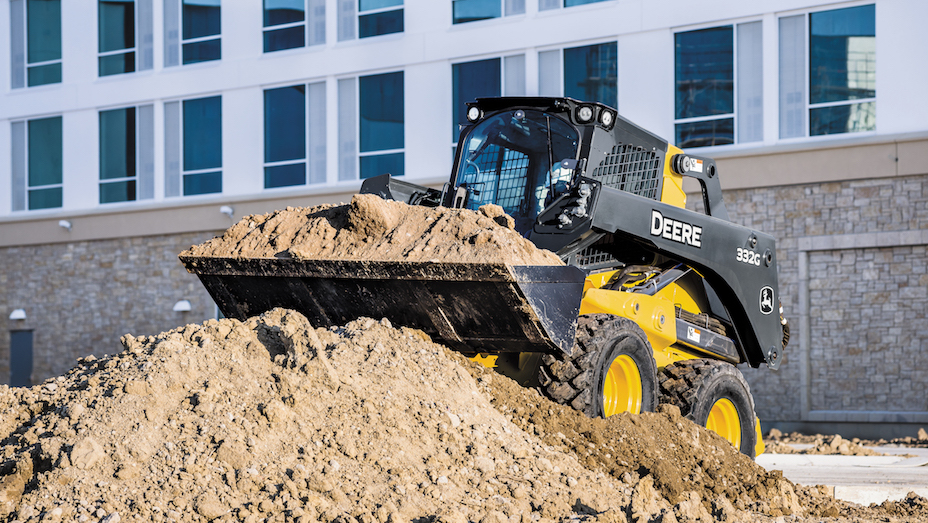 Gregg Zupancic, product marketing manager, John Deere, agrees. Although he acknowledges sales of wheeled models now trail tracked models, the market for the former is still going strong. "If you look at sales for the past 12 months, wheeled skid-steer loaders are up about 5%," he says, noting compact track loader sales are up about 12% for the same time period. "I don't think skid steers are a dying market, but contractors are definitely realizing a lot of benefits of the compact track loader."
"Skid-steer loader sales haven't necessarily fallen off," says Eric Dahl, Bobcat product specialist. "It's just that track loaders have seen such significant growth year over year since coming out of the recession."
There is a continued need for wheeled models. "Skid-steer loaders remain popular in many markets and applications," states Dahl. "There is definitely a place for them, and there always will be. I don't see a day where it's compact track loaders only. Skid-steer loaders still excel at certain jobs, and they still make sense for a lot of customers."
"Skid-steer loaders certainly aren't going away," assures John Dotto, brand marketing manager for skid steers, Case Construction Equipment. "While the prevailing trend is definitely moving toward compact track loaders, there are still many applications where a skid-steer loader makes better sense."
Conditions Where Wheels Shine
Ground conditions are often a determining factor when choosing between wheels and tracks. Applications better suited to skid steers are often those where work is done on hard surfaces, especially concrete and asphalt.
"Skid-steer loaders are a great choice for hard surfaces because tracks can wear faster, which can increase operating costs," says Dahl.
While compact track loaders have gained ground in asphalt/pavement grinding due to the stability they can provide and their ability to hold grade, a wheeled unit can still have the upper hand in this application.
"Tracked machines have more rubber that meets the road. That means they have a lower ground pressure, but it can also mean more wear to the tracks," Tinley points out. "Wheeled machines fare well in these environments because they have four wheels instead of a solid track."
Zupancic concurs, noting, "A loader with a cold planer attachment will be working on hard surfaces all the time, so a better value might be a skid-steer loader because of increased wear to tracks."
Skid steers also have the advantage when it comes to travel speed. "When talking about similarly sized and spec'd machines, one thing you will never get from a tracked machine that you will get from a skid-steer loader is ground speed," says Dotto. "The way a track drive system works and the way it turns make it better suited for torque and power rather than speed. Turning the chain drive on a skid-steer loader through the axles doesn't require the same type of torque, so you can get more speed.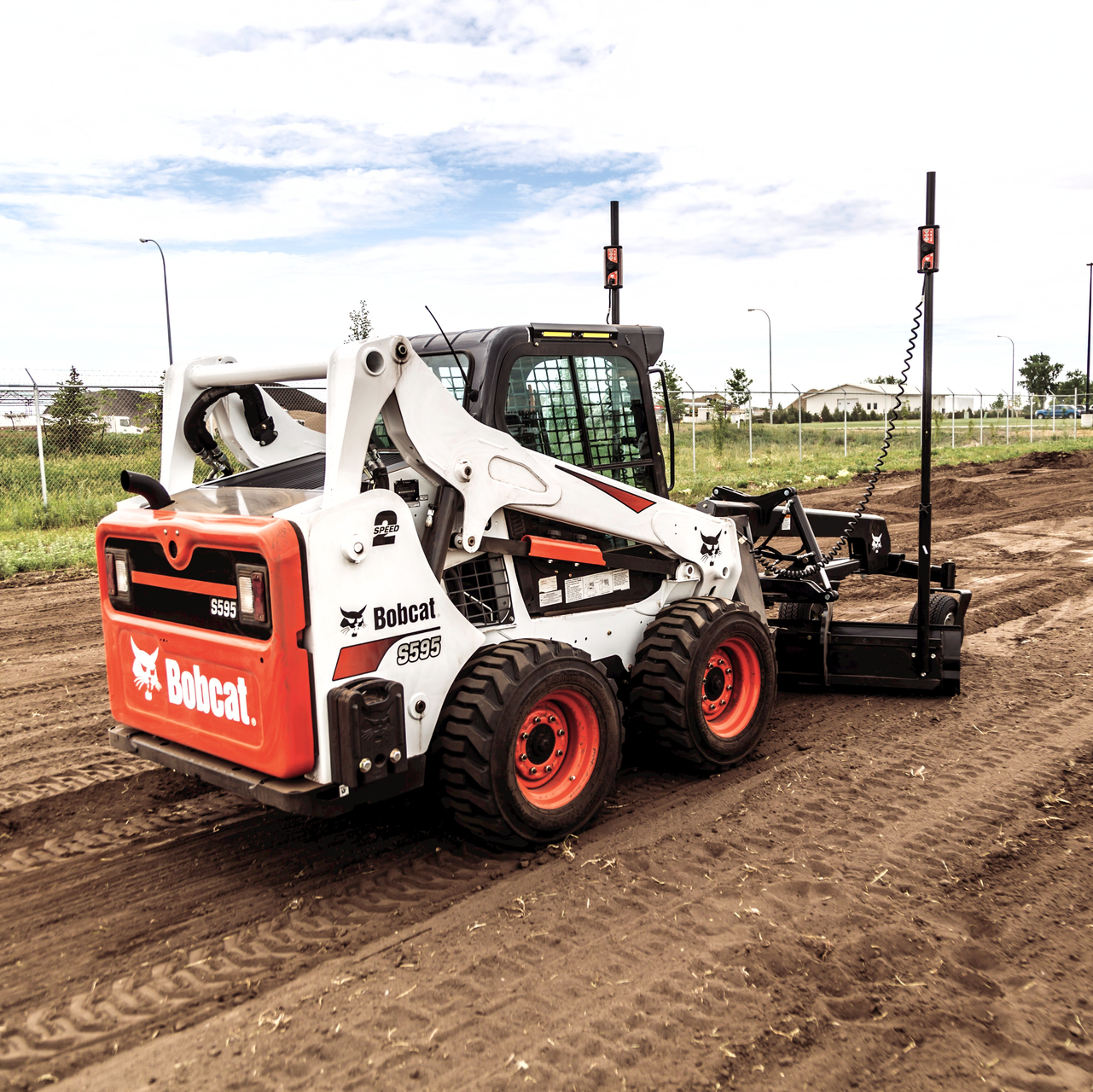 The higher ground pressure associated with tires can be an advantage in dirt work requiring more surface compaction."That's why we still see a number of wheeled machines doing road work," he states. "They can be equipped with pallet forks in the morning, then a bucket or broom for cleanup at the end of the day. They are a good choice for moving around a jobsite quickly, and for being the utilitarian tool they are built to be."
Higher travel speeds make wheeled loaders a good choice for snow removal, as well. "When clearing parking lots, you want to move as fast as possible to get from job to job, so the advantage goes to the skid steer," Dotto says. For maximum efficiency, he advises equipping the machine with aggressive, tractor-style tires rather than tires with larger lugs and more surface area, which can struggle to find grip in slippery situations.
The higher ground pressure associated with tires is another plus in snow removal. "With only four points on the ground, a skid steer has a higher downward pressure, which is better for pushing snow," Zupancic explains. "A skid-steer loader may have 30 to 35 lbs. of pressure, while a track loader might have only 4 to 5. That higher ground pressure can also be beneficial if you're doing dirt work and need to compact the ground to make sure it doesn't settle."
Skid steers are often the preferred machine in demolition and scrap/recycling, where debris can more readily damage rubber tracks. Higher travel speeds and paved surfaces can also come into play.
"If you have a machine equipped with a grapple bucket in a metal recycling yard, you're moving pretty quickly sorting material from pile to pile, or bringing material from a different area of the yard," says Dotto. "You're likely also moving across construction debris. That's where a machine with solid or foam-filled tires can be a better choice. If you cut a track, you're probably in worse shape than if you have a flat tire in terms of the amount of time spent to get back up and running."
Wheels can also be more favorable in tasks involving gravel, since gravel can get pinched in between the track and rollers and idlers. "It can chunk out the track and wear it out quicker," Zupancic indicates. "Having wheels in a gravel environment might be a better choice."
Lift and carry applications are often suited to wheels, as well. "A lot of times, you'll be working on harder surfaces," Dahl says, noting that turning with a load in a compact track loader can quickly wear tracks. "With skid steers, we promote a 70% weight distribution in the rear with an empty bucket, which makes it easier to turn, reducing tire wear. When carrying a load,  the weight distribution shifts to the front, providing the same benefits.
"Another benefit of wheels in lift and carry applications is that you generally don't need a lot of power," he states. Cost then becomes more of a factor. "Skid-steer loaders and track loaders have similar operating capacities so a skid steer can be a more economical choice because it is a lower-priced machine."
Specification Advantages
If you look past the wheels and tracks, a skid steer and a compact track loader look virtually the same, and both are available with essentially the same features and options, although the popularity of certain options can vary.
However, a loader with wheels tends to be more compact, which can be important when working inside buildings and in tight spaces. "There are some key dimensional attributes that allow a skid-steer loader to fit into tighter places," says Zupancic. "A similar-size compact track loader, by nature of having an undercarriage, will be wider so contractors who are dimension restricted may opt for a skid-steer loader."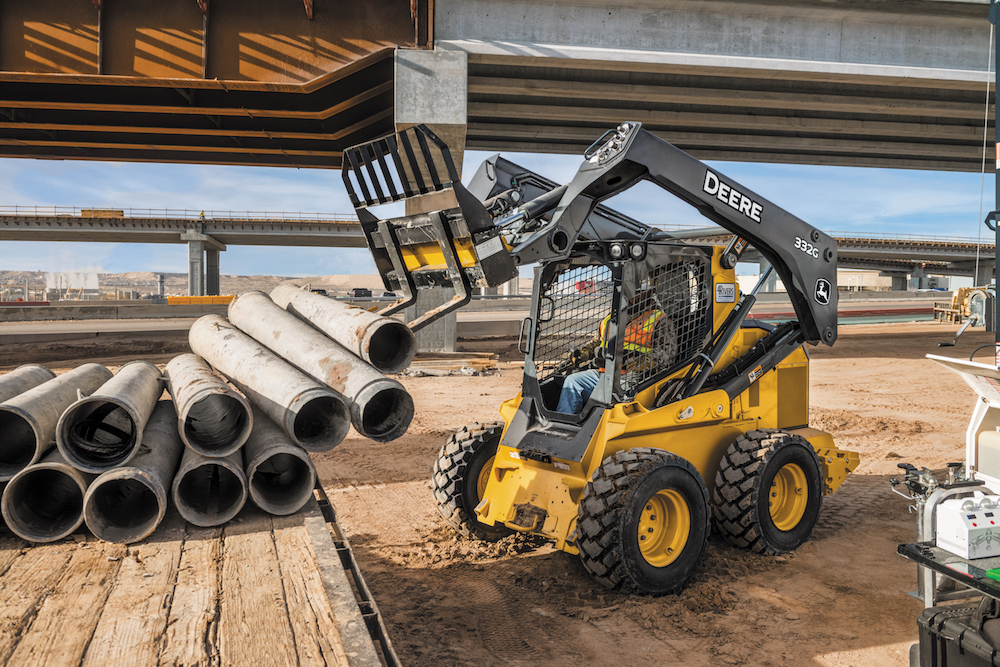 Lift and carry applications tend to favor wheeled machines due to a more balanced weight distribution when carrying loads."In construction, skid steers are definitely being used in small paving jobs, driveways and in sewer drainage," says Tinley. Their smaller size makes them a good fit for small neighborhoods and tight work areas.
Skid steers will also be lighter in weight, due in large part to the absence of heavier tracks, undercarriage and related components. That can be both a benefit and a detriment.
"Typically, a wheeled machine will be less gross vehicle weight," says Tinley. For example, if a track loader weighs 12,000 lbs., the comparable wheeled machine will be around 10,800 lbs. "Weight can become important when you consider trailering and the need to be under a certain weight."
Yet, a higher operating weight can provide better stability and tractive effort for pushing and digging. "It also improves breakout force," says Dahl. "But for some contractors, that weight can be a downside, especially if they are trailering their machines a lot. They may have to move up to a larger trailer. That additional weight can also push them into a class where drivers are required to have a CDL."
Weight influences rated operating capacity, as well, which may or may not impact the desired task. According to Dotto, compact track loaders have a higher rated operating capacity given the weight of the undercarriage and components when compared to a similarly sized skid steer. "That can become important when considering the type of material you are moving and how high you are lifting it," he says. "If you're lifting full buckets of concrete debris over the sides of dump trucks in a roadside application, you'll want a higher operating capacity vs. a machine that you're putting into snow service where you're pushing snow."
Investment and Operational Differences
While the cost difference in the initial purchase price of a compact track loader and similarly sized skid steer is beginning to narrow, Dotto indicates that skid-steer loaders still cost about 5% to 10% less than a comparable tracked unit.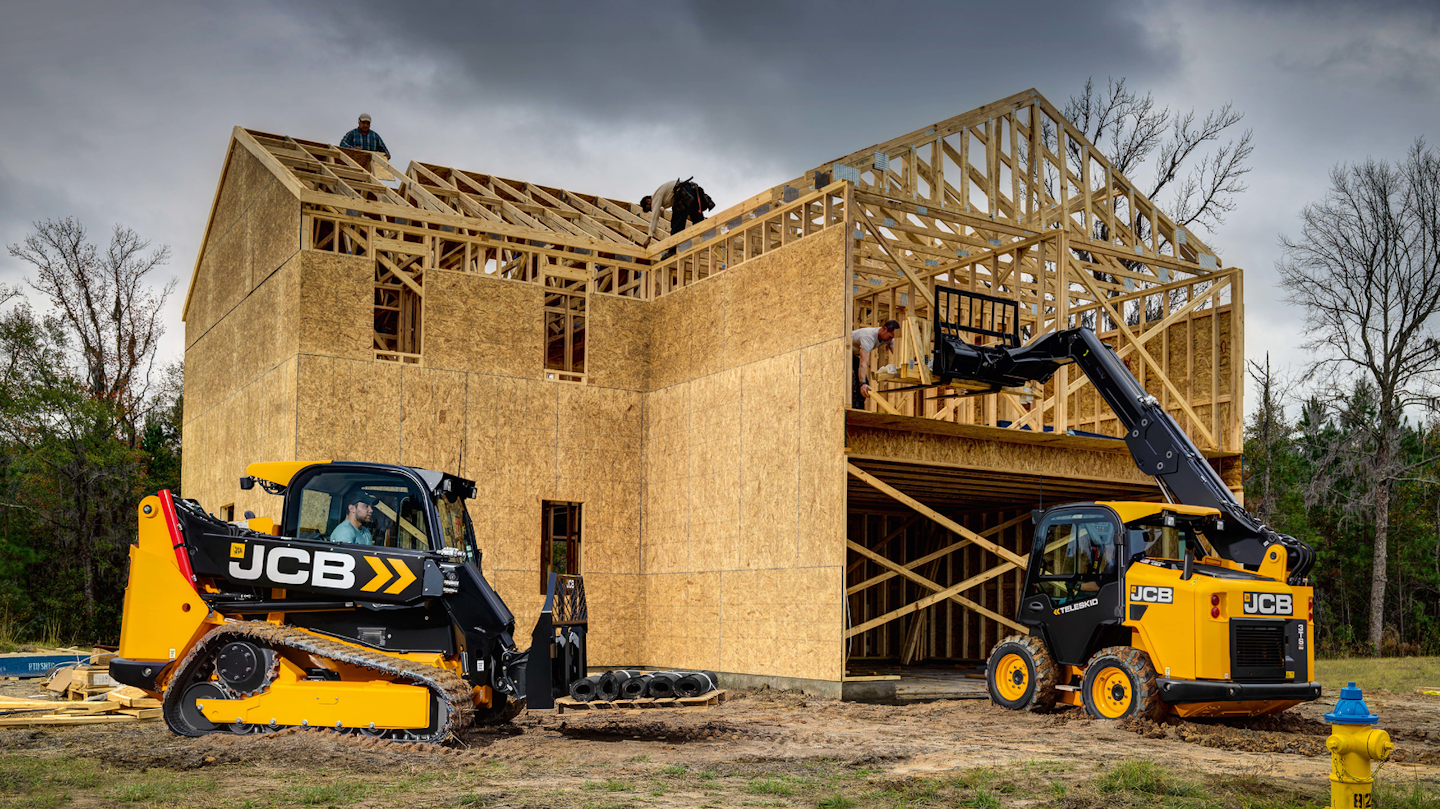 That can make wheeled models a more attractive investment, especially for first-time buyers, says Dahl. "Compact track loaders cost more in terms of up-front purchase price, which can intimidate some customers," he comments. "So for a lot of first-time owners, a skid-steer loader might make more sense."
Skid steers can also be less expensive to maintain and operate, in large part because tracks are more expensive than tires to replace, although that is changing as well. "The price of replacement tracks for a compact track loader has come down significantly in the past few years," says Dotto. "There are more suppliers that are doing higher volume, thereby driving down the price. There are also more players in the game in terms of aftermarket track solutions.
"If you consider that a contractor may replace tires every 500 hours and tracks every 1,500 to 2,000 hours, in general, that replacement cost prior to 2016 and 2017 used to weigh heavily in favor of tires," he continues. "But now that gap has shortened."
That said, the undercarriage can still be more expensive to maintain. "An undercarriage is pretty complex," says Zupancic. "It will have rollers, idlers and a drive sprocket. It has a drivetrain that drives the sprocket that turns the tracks. All of those components can wear, and rollers and idlers need to be lubricated. You will also need to rebuild the rollers and idlers and replace the drive sprocket about halfway through the track loader's life. With skid steers, you only have to worry about the tires, since axles are generally designed to handle the life of the machine."
A track loader will consume more fuel, as well, notes Dahl. "You will likely see higher costs per hour with a compact track loader," he states. "However, a compact track loader will be more productive in many applications, so the cost per job may be much more comparable or actually less than a skid steer.
"It just depends on how you evaluate your costs," he continues. "For example, let's say that the cost of operation is 10% higher for a compact track loader, but a lot of times you may see a productivity increase of maybe 15% or more. This will lead to an overall cost per job that will likely be lower than a skid-steer loader because you can get it done quicker so you can move on to other jobs."
Mixed Fleets
Because each machine offers benefits depending on the jobsite task and ground conditions, contractors will often have both wheeled and tracked models in their fleet.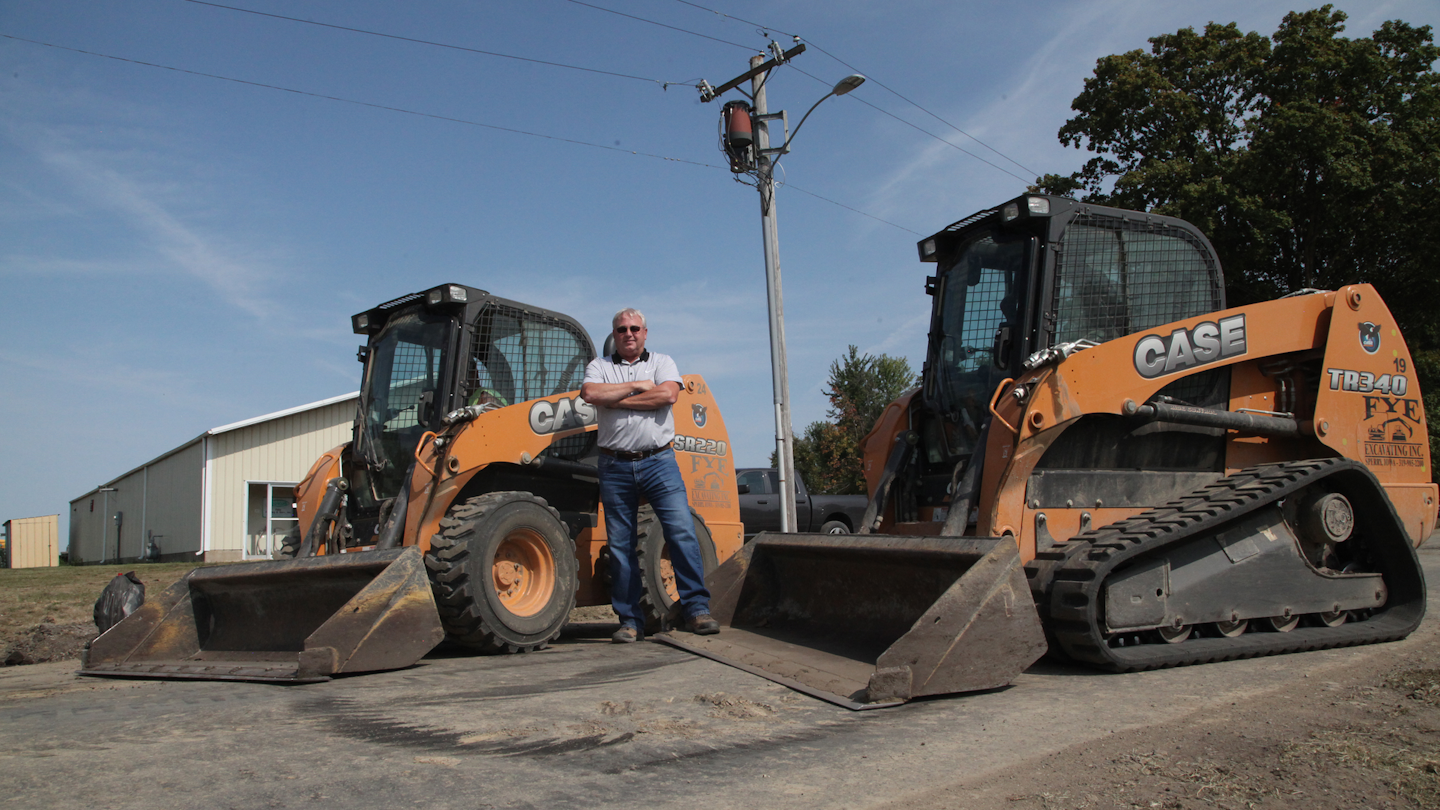 Jon Fye, Fye Excavating, finds having a mix of Case skid-steer and compact track loaders beneficial for his commercial utility site prep business."There are applications where each shines," says Dotto. "Having a mixed fleet gives contractors the advantage of being able to select the right machine for the job they are doing."
Jon Fye, owner, Fye Excavating, Sperry, IA, finds a mix of Case skid-steer and compact track loaders is well suited to his commercial utility site prep business, which serves Iowa, Illinois and Missouri. "We've run the gamut from not having any skid-steer loaders early on in the business to having four of them today, along with seven compact track loaders," he says.
The company's first purchases were Case 1845 loaders. "We built up to six of those in a small fleet that we used to pack product in the hole," says Fye. "They were the 'rock' and were very dependable."
Fye has since traded those units and now uses four SR220 skid steers and four TR340 and three TV380 compact track loaders. One skid steer stays at the shop and serves as a support vehicle for the maintenance crew, while the others are dispersed to jobsites.
"Typically, we use the wheeled machines when we're on pavement, such as a sewer job through a parking lot that is already paved — anywhere where we don't need the flotation of the tracks," says Fye. "Anytime the conditions get too wet, that's when the compact track loaders dominate."
Fye says having both options offers economic benefits. "From performance standards, when conditions are ideal, they both perform very well," he states. "But it's much cheaper to buy a wheeled machine over a tracked model when you compare size and horsepower per dollar. A wheeled loader is still economical to purchase and to run, especially considering maintenance, because it's cheaper to buy four tires than it is to buy a set of tracks. For yard applications and on pavement and gravel, I don't see any reason to spend the extra money on tracks when you don't need the low ground pressure."
Fye intends to keep wheeled loaders in his fleet, although he does see a trend toward tracked models. "In the past 10 years, I've gone from all skid-steer loaders to a 60/40 tracks-to-wheels mix," he says. "I could even see that moving to 80/20 because more operators are requesting the track machines. However, in all fairness, operators have gotten a bit spoiled by the track loaders when a lot of times a wheeled machine does a fine job."