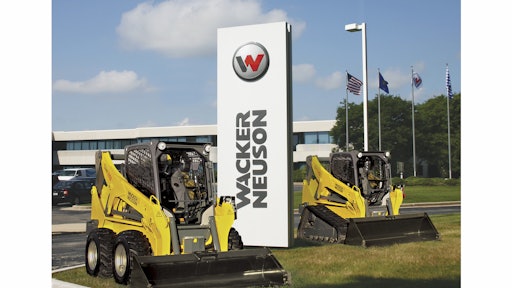 The Wacker Neuson Group is building a production line for skid steer and compact track loaders at its U.S. facility in Menomonee Falls, Wis. The facility will go on stream in the first quarter of 2015, initially manufacturing four models.
The U.S. is the largest market for skid-steer loaders. "Our strategy is 'in the region for the region'. So it makes sense for us to build skid-steer loaders in the region where demand is strongest – North America," explains Cem Peksaglam, CEO of Wacker Neuson SE. "We unveiled four loader models tailored to the needs of the North American market at the start of the year and received positive feedback from dealers and customers alike. Producing these products in North America will speed up time-to-market and enable us to adapt these high-quality, powerful machines more rapidly to the specific customer requirements of this core market."
From 2015 on, Menomonee Falls will be producing the skid-steer loaders SW24 and SW28 with payloads of 2,400 and 2,800 pounds respectively (around 1.1 and 1.4 tons) while the compact track loaders ST35 and ST45 will have payloads of 3,500 and 4,500 pounds respectively (around 1.6 and 2.1 tons). Concurrently, a local development team is working on further models to broaden the line. The four models will initially only be distributed via the U.S. and Canadian dealer network.
Up until now, Wacker Neuson produced skid-steer loaders at its Hörsching site in Austria. "Demand for our dumpers and excavators is growing worldwide. We will be using the free capacity at Hörsching from 2015 on to expand our dumper and excavator production capabilities here. Thus, there will be no layoffs at the site," adds Peksaglam. "Our current skid-steer loader models for North America were jointly developed by teams in Austria and the U.S. So we will also have access to in-depth expertise and a wealth of experience in the development and production of skid-steer loaders at the new site."