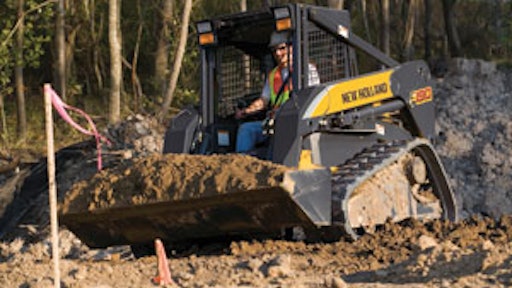 The versatility of compact track loaders is increasing their popularity and helping to make them an essential part of many rental inventories. Contractors like these machines for their utility, while rental business operators are fans because they offer high utilization.
Performance plus
These machines can be used in almost any weather conditions. "Compact track loaders extend working seasons, enabling contractors to get onto jobsites earlier in the year and work later when ground conditions become worse," explains Greg Rostberg, Bobcat marketing manager.
Because their tracks put less pressure per square inch on the work surface than a rubber-tired skid steer, compact track loaders can work in very muddy surroundings and also on sand. "The rubber tracks allow contractors to work in all types of conditions, even when it's been raining a lot and the soil conditions are soft and eroded," notes Mike Ross, national product and training manager at Takeuchi.
"It allows them to work 24/7 as opposed to using a skid steer where you'd have to wait until [the soil] dries. It also allows them to work on steep slopes up to 30 degrees."
Because compact track loaders are heavier machines than skid steers, it takes more to tip them forward, so they can lift more, and, with more track on the ground, they can push more. "The pushing power and the tractive effort are much better with a compact track loader because you've got more contact with the ground," Ross says. "It gives you flotation when working in soft and muddy conditions. If you put a skid steer in that same environment, you would rut up the yard and the tires would simply spin. You'd have to come back and fix that." Avoiding damage to the ground's surface makes a compact track loader a good choice for use in landscape work.
"If the operation includes moving a lot of dirt, contouring ground, pushing and backfilling, where a machine is on dirt most of the time, it's best suited for a compact track loader," Rostberg says. "In those applications, a track machine will do the work well and get more done in a shorter period of time. Machines like compact track loaders regularly work on jobsites where larger machines cannot fit, such as in between homes or buildings or in residential backyards. Since a considerable percentage of rental customers are do-it-yourselfers or homeowners, this is a critical benefit to the rental industry."
Safety and comfort for the operator are also benefits offered by compact track loaders. "They're very stable machines because you have all that track on the ground so the machine doesn't bounce as much as a skid steer," says Gregg Zupancic, John Deere product marketing manager. "A weekend operator would have better control. Rental customers are generally not advanced operators, so having a machine that is easier to control is desirable."
Initial cost vs. ROI
The utility and performance of compact track loaders do come at a price. A typical machine costs about 30 percent more than a comparably sized skid steer. Ross estimates his company's machines have a useful life of about 5,000 hours, assuming they are properly maintained. He says the machines pay for themselves in approximately 18 months. "Most companies are renting compact track loaders for at least 40 percent more than they get for a skid steer, plus utilization and productivity go up," he says. "A short-term compact track loader rental will turn into long term quickly because the customer will discover it's the most versatile machine on the jobsite."
While the rubber tracks last about two and a half times as long as a set of tires, they might cost two to three times as much to replace. "The rubber tracks will wear faster when working on hard surfaces like concrete and asphalt," says Ross. "In that situation, a skid steer would be the machine of choice." He recommends pre-screening customers to determine how they plan to use the equipment so they will rent the product that best meets their needs.
Things to consider
The type of customer a rental business serves is an important factor in deciding whether or not to buy a compact track loader, Ross notes. "Are they working with a lot of residential contractors who will be working in the dirt doing rough grades, final grades and landscaping?" he asks. "These are applications that compact track loaders excel in."
Regional climate is another relevant issue, says David Daniels, New Holland brand marketing manager. Areas where long rainy periods are normal will have a greater demand for compact track loaders than places where it is usually dry, he notes.
In selecting compact track loaders, rental store owners should look for durability, reliability and ease of maintenance. "Pay particular attention to the roller and idlers for durability," Rostberg emphasizes. "Damaging one of these parts can cost thousands of dollars in repairs and take the machine out of the rental inventory until it can be fixed."
Equipment transport is another factor to think about when deciding whether or not to add a compact track loader to your fleet.Because these machines weigh more than skid steers, a rental company or its customer might need a larger trailer than what is used for skid steers. In some states, towing more than 10,000 pounds requires a driver with a commercial drivers license, Zupancic notes.
The height and width of the machines should also be considered. While still compact in size, track loaders are bigger than skid steers and therefore, not as nimble in very tight quarters.
Also, choose a compact track loader with the control pattern that best reflects the preferences of your customers. Some models today offer pilot-operated joystick controls, some use a combination of foot and hand controls and still others use strictly hand controls.
Maintenance essential
One of the most important maintenance requirements for compact track loaders is checking the track tension. If the tension is too tight, the undercarriage will be worn or damaged, and if it is too loose, the track will fall off, Zupancic explains. He recommends checking track tension before every rental and teaching customers how to check it, reminding them to do it daily.
Rostberg points out the importance of keeping the tracks and undercarriage clean. To do this, hose down these parts of the machine at the end of each day.
High expectations, big rewards
Compact track loaders work well for many kinds of customers, which puts money in the bank for rental businesses. With compact track loaders, rental store operators benefit both from a higher rental rate as well as more constant usage. "The payoff comes from higher financial utilization and greater day utilization," notes Rostberg. "Compact track loaders can be rented when rubber-tire machines are sitting idle. They also drive premium rental rates compared to the rubber-tire machines."
Ross agrees, adding, "When the rainy season hits, a lot of the rental equipment is sitting because people can't use it. Compact track loaders will still be rented then. Rental store owners need to be aware of how many rentals they're missing because they don't have a compact track loader."
Mustang Compact Track Loaders
66- to 97-hp output
Dedicated track design
Heavy-duty undercarriage system
Minimal ground disturbance
John Deere Compact Track Loaders
62-hp Deere CT 322 and 76-hp CT 332
Two-speed transmission
Hydraulic Quik-Tatch
6,400- and 9,200-lb. tipping loads
8,305- and 10,825-lb. operating weights
4,300- and 8,210-lb. breakout forces
True vertical lift boom with 115.2- and 127-in. height to hinge pin
Case Compact Track Loaders
Undercarriage incorporates a tapered design for the frame cover, steel mud scrapers, large spring mounted to the front idler, dual-cone face seals and four triple-flange rollers
74-net-hp 445CT with power reach vertical lift delivers a 3,500-lb. lift capacity
82-net-hp 450CT with power cycle radial arm configuration provides a 3,857-lb. lift capacity
JCB Robot 180T
1,800-lb. operating capacity
60-hp Tier II-compliant turbocharged engine
Track system uses a simple three-roller undercarriage design with a low number of moving parts
Servo controls govern both the loader and transmission
66-in. track width
Low-slung, single loader arm
New Holland C185
2,400-lb. rated operating capacity
Super Boom vertical lift linkage
Two-speed transmission delivers travel speeds up to 8 mph
Optional hydraulic mount plate allows operator to securely attach or remove buckets and attachments without leaving the seat
Enhanced visibility with no rear frame towers to block operator's view
Komatsu CK30-1 Compact Track Loader
84-net-hp turbocharged Tier II engine
2,380-lb. operating load at 35-percent of tipping load or 3,400 lbs. at 50-percent of tipping load
4,978-lb. bucket breakout force
Automatic Power Control allows operation at peak performance and power without risk of engine stall out
Standard two-speed transmission and 21-gpm auxiliary hydraulic circuit
Caterpillar Multi Terrain Loaders
The 267B, 277B and 287B Multi Terrain Loaders are now powered by the Cat 3044C DIT Tier II diesel engine with power ranges from 70 to 78 net hp
Suspended rubber track undercarriage
2,900-, 2,950- and 3,600-lb. operating capacities at 50-percent tipping load
Anti-stall system and pilot hydraulic joystick controls
Rayco C87L Crawler
Uses the same components found on larger steel track equipment; undercarriage contains no plastic components
High-strength steel tracks or optional rubber tracks with 4.3-psi ground pressure
87-hp Deutz turbocharged diesel engine
Standard .75-cu.-yd. bucket
121-in. lift height
Takeuchi TL140 Track Loader
81-hp Isuzu turbocharged diesel engine
2,083-lb. operating capacity at 35 percent of its 5,952-lb. tipping load
7,403-lb. bucket breakout force
Two-speed travel system with 6.4-mph high and 4.5-mph low travel speeds
Hydrostatic drive system directly coupled with planetary final drives for efficient power transfer
18-in.-wide rubber tracks
Pilot-operated joystick controls
Hyundai HSL T Series
Series includes a tracked unit rated at 3,200 lbs.
Maximum travel speeds from 4.4 to 12.3 mph
Maximum dump heights range from 46 to 110.75 in.
All controls, hydraulics and hydrostatic system components accessible in seconds through the operator's cab without tools
Bobcat T140 Track Loader
6,424-lb. T140 small-frame radius lift path loader is just 56 in. wide and 124 in. long with bucket and has a 1,400-lb. rated operating capacity
Track provides a 5-psi ground pressure
16.9-gpm auxiliary hydraulic flow
46-hp liquid-cooled diesel engine
Options include the Power
Bob-Tach system, Advanced Control System (ACS), enclosed cab with heat and deluxe instrument panel with a keyless start security system
Thomas T320 Tracked Loader
87.4-hp Kubota turbocharged diesel engine
7,000 lbs. of breakout force
Self-cleaning track design uses large-diameter front and rear open sprockets for increased track wrap
18-in.-wide track with offset, wide traction pads
 Shift-on-the-go, two-speed drive system provides up to a 12.3-mph travel range
Designed to quickly convert from tracks to a four-wheel-drive, rubber-tired machine
Gehl CTL70 Track Loader
Dedicated undercarriage and high-strength, 18-in.-wide rubber tracks
2,976-lb. rated operating load at 50 percent of tipping capacity
82-hp Isuzu turbocharged, Tier II diesel engine
Bucket breakout force of up to 7,401 lbs.
Provides nearly 20 gpm
Pilot-operated joystick controls
ASV SR-80 Track Loader
ISR-4 undercarriage, which combines a 20-in. track width with an independent, multi-level suspension
2.84-psi ground pressure and 15 in. of ground clearance
6,200-lb. tipping load with a 3,100-lb. rated operating capacity
80.5-gross-hp Perkins diesel engine
Travel speeds up to 12.5 mph (high range)
30-gpm standard hydraulic system with variable flow control