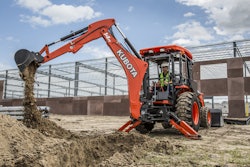 Kubota expected approximately 4,000 dealer personnel at its National Dealer Meeting in Atlanta, Oct. 11-16, where the company introduced a number of new products, including two new tractor-loader-backhoes, a compact track loader and more. 
The new L47 and M62 tractor-loader-backhoes
Kubota introduces two new 4WD loader and landscaper utility tractors, the 47-hp L47 and 63-hp M62, replacing the L39, L45 and M59 models in this line, available as either tractor-loaders or tractor-loader-backhoes. Powered by Kubota diesel engines and hydrostatic transmissions, both new models offer more horsepower than ever before, with more versatility and an improved operator experience for landscaping to construction jobs.
Optional cabs for the L47 and M62 deliver a 27% increase in space at the operator's feet while operating the backhoe. Side-positioned loader controls provide operator ease and at-a-glance information when using the loader or the backhoe. The L47's redesigned backhoe digs 10 ft. deep, and the new M62 gets a 2-ft. increase in dig depth to 14 ft., where most full-size backhoes are sold. Both models offer a larger LCD screen, added throttle-up button, and a boom lock for easy and safe onsite maintenance.
A new a 17.7-gallon fuel tank increases the L47's capacity 49% and the M62's 22%. On the M62, the newly designed quick coupler allows compatibility with certain Kubota excavator buckets, making it more economical and versatile on the jobsite.
SVL 95-2 compact track loader
The latest model in the Kubota compact track loader lineup is the SVL95-2, replacing the SVL90-2 with a 4% increase in engine power and 6% increase in rated operating capacity to 3,200 lb. The 96-hp, turbocharged, liquid-cooled diesel engine meets U.S. EPA Tier 4 Final exhaust requirements with common-rail fuel injection and diesel particulate filters. The new model also features cab comfort upgrades to keep the operator in the seat longer.
Coming soon: the SSV65 and SSV75 skid steers with pilot controls 
Officially announced late last year, Kubota builds on its skid steer offering with the anticipated launch of the SSV65 and SSV75 with pilot controls. The models are currently undergoing further testing but the company says they expect them to be available "fairly soon," despite original plans to have them ready by this summer.
Offering electronic torque management, unique to pilot-controlled skid steers and compact track loaders, Kubota's new SSV models monitor the load to prevent the unit from stalling. Kubota says the new controls are responsive, precise and ergonomically designed with intuitive multi-functionality for easy operation, better comfort and less operator fatigue. Rated operating capacities are 1,950 lb. and 2,690 lb., respectively, for the SSV65 and SSV75. Both models feature a slide-up, front-entry door that rises overhead, a side light for better visibility and safe night operation, and climate-controlled cabins.
A new utility vehicle: the K-Vertible Four-Passenger RTV-X1140
A new addition to Kubota's RTV-X Series Utility Vehicle roster, the RTV-X1140 with K-Vertible cargo conversion system transforms the vehicle easily from two passengers and a large cargo bed to four passengers and cargo bed. An array of comfort and performance features include tilt steering, simple inline shifting, secure lockable storage and a long-travel, four-wheel independent suspension for improved handling in off-road conditions. The new five-point ROPS design increases RTV-X1140's workhorse characteristics, allowing for more cargo volume and side loading. The RTV-X1140 also comes standard with hydraulic dump bed. It ships this month to Kubota dealers nationwide.