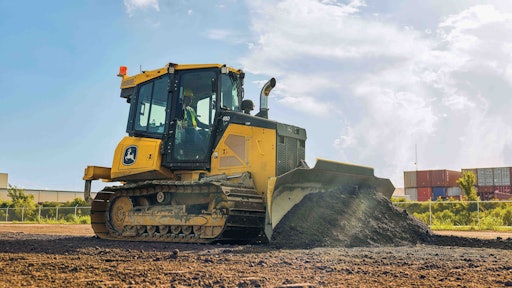 John Deere
Recent track technology and undercarriage technology innovations provide operators with more safety and comfort and extend equipment life and efficiency. These latest developments also help overcome longstanding challenges in the industry, such as operating sensors in harsh environments. Tread designs and rubber compounding define recent trends, leading to longer-lasting, smoother running tracks, said Mike Giordano, Yokohama TWS segment sales manager, rubber tracks.
Undercarriage Technology Provides ROI
While the goal to integrate into an onboard notification system on a dozer can be accomplished, the challenge is in the environment in which the components with sensors are operating, noted Tim Hansen, CASE undercarriage product marketing manager. Extreme conditions–sand, abrasive, and hard rock applications–wreak havoc on sensors for sustainability and dependability, he said. With CASE TrackCare, end users plan maintenance activities, monitor performance and make decisions to help manage undercarriage performance and costs.
"Do expensive components provide a better return than regular undercarriage wear measuring, such as what is offered via TrackCare?" Hansen noted.
The CASE TrackCare monitoring program is designed as a cloud-based system, a mobile app and Ultra Sonic tool for collecting undercarriage measurements and observations in the field for CASE machines and all makes.
Some new ideas being worked on in laboratories and jobsites have limitations, such as developing AI to help identify wear and component failure and different metal technologies such as a cryogenic process to improve longevity, which is why they are not yet standard operations, said Hansen. He suggested operators select the correct configuration for their application and partner with their local dealer to proactively monitor an undercarriage instead of being reactive in repair.
Undercarriage Improvements Multiplies Benefits
Undercarriage improvements are enhancing durability, efficiency, and overall performance, noted Matt Goedert, solutions marketing manager for John Deere. They often involve the use of high-quality, wear-resistant materials designed to withstand harsh conditions and abrasive materials, he said. Undercarriage configuration varies significantly based on material application and type.
"The standard Heavy Duty track chain uses hardened steel bushings, where our Extended and Maximum Life offerings add an SC2 coating to the hardened bushings to dramatically increase wear life," said Goedert. "The Maximum Life option also adds additional wear material to the sprockets, idlers, track chain, and rollers."
Contractors should balance undercarriage wear across all components to get maximum undercarriage life before required maintenance, Goedert said. Deere's dozer design process focuses on suitably distributing weight to properly balance the machine and distribute it more evenly to reduce component stress, premature wear, and failure. Deere constantly monitors machines in various regions to determine how different material types impact undercarriage wear.
In 2021, Deere implemented on its largest dozer, the 1050K, a suspended double-bogie undercarriage designed to minimize vibrations and shocks during operation, which can accelerate wear and lead to component failure. The front idlers and cross bar are isolated to minimize vibrations spreading across the machine. Hansen noted new undercarriage improvements focus on improving equipment life through metallurgy with material and processes providing deeper heat treat and higher hardness levels.
Additional bushings provide extended wear life. Lubricated rotating pin joints eliminate track pin turns as well as reduce chain and sprocket wear. Addressing how current technology helps with operator safety and comfort, Giordano said modern tracks use multiple methods of controlling vibrations, which cause discomfort and injuries when repetitive.
"They can also cause damage to the machines, as parts can vibrate to the point of breaking," he added. "Tread designs and guide/drive lug designs can greatly reduce vibrations."
The latest undercarriage technology innovation from Trelleborg's CRT-800 brand: the All Season tread design and a cut-resistant tread compound. Teamed with the older technology of forged steel metal pieces, track life and performance is greatly improved, Giordano said. He said a tread design with many edges, such as the Trelleborg CRT-800 All Season, can gain as much traction as possible when operating in mud or snow.
"It should also be a self-cleaning tread design, as snow and mud will quickly fill the voids in the tread and become a smooth surface unless the design allows the snow and mud to fall out during operation," he added. "Without good traction in these applications, the machine becomes productive, hard to drive, and even dangerous."
Given the difficulties finding skilled operators, many look to operator comfort throughout long shifts to retain workers, Goedert noted.
Deere recently updated its small dozer 450, 550, and 650 P-Tier models to boost productivity and operator comfort while lowering operating costs. New to its technology stack is EZ Grade, in-base on machines with electro-hydraulic controls. It monitors the machine's altitude, automatically making blade corrections to maintain a smooth grade. EZ Grade is upgradeable to Slope Control technology, which automatically controls the blade to a desired slope. Machines can be upgraded to full 3D SmartGrade when available.
"Our updated small dozers have made significant gains in forward visibility by lowering the hood and increasing the amount of cab glass, allowing operators to have more awareness of their surroundings," Goedert said.
Updated joysticks in Deere's mid-size dozer lineup are designed for improved ergonomics, incorporating proportional blade angle controls, and reducing arm movement for reduced operator fatigue.
The CASE dozer line has a smooth, one-piece track frame featuring greater structural strength and allowing for easier cleanout, noted Hansen.
"The new undercarriage developments help shed material while the machine is in operation," he added.
New rock guards and sprocket guards further protect critical components and deflect material away from them, he added.
"A new dirt relief sprocket design on the 1650M and 2050M–the two largest machines in the line–has cutouts allowing mud to be forced out from the track chain and sprocket, reducing wear and track popping."
Push beam pivot points have been relocated on those models, designed to decrease exposure to wear, improve reliability and blade stability and push performance. Rollers are placed to minimize vibration and noise based on many variables, such as chain pitch and speed. The idler wheel diameter is optimized to ensure long life while maintaining visibility to the corner of the blade. Double flange rollers help prevent mis-tracking.
With CASE Ultra Life, a wet rotating pin and bushing-style chain is designed to provide a quieter and smoother ride and offers a service life of 5,000 hours or more. Increases in width of the track rollers, carrier rollers and the idler on all CASE dozer undercarriages improve structural integrity, reduce wear, and achieve greater balance, said Hansen.
"A decrease in the diameter of the front idler improves visibility to the blade," he added.
Changes to the spacing of the carrier track and track roller reduce noise and vibration, thereby reducing chain flopping and total resonance throughout the machine, offering more ride comfort, Hansen noted. CASE's smaller dozers (models 650 to 1150) come equipped with a dry rotating bushing design.
The Max Life track is believed to extend track life by as much as 15 percent under the right conditions and applications, Hansen said. Since undercarriages make up more than 50 percent of a dozer's maintenance costs, CASE has designed undercarriages to make maintenance easier, including easy-to-reach critical pivot shaft grease points and equalizer beam joints. In addition to CASE's standard sealed and lubricated heavy duty tracks, Ultra Life and Max Life extended life options, CASE offers three different track options for each M Series dozer model.
XLT (Extra Long Track) is the narrowest track configuration available, designed for working in hard, rocky soil.
WT (Wide Track) serves as an all-purpose track for good ground penetration and improved traction on slopes.
LGP (Low Ground Pressure) is the widest pad width available, designed to provide plenty of flotation and ideal for working in muddy, swampy conditions.
Since the traction on a dozer is generated from the penetration of the cleat (grouser bar), choose the narrowest track matching the application, Hansen noted.
Track Technologies Improve Efficiency, Lifespan
Giordano noted within the last 20 years, quality brand rubber track life and efficiencies has doubled as a result of raw materials and technology used, such as in the CRT-800. Other factors include: continuous wound brass coated cables, forged metal pieces, short pitch mini-excavator tracks and cut resistant rubber compounds.
Hansen advised having a good understanding of the worksite environment and the tasks involved informs the purchase decision of using steel tracks or rubber tracks. Depending on the machine type and the need to control ground pressure or navigate debris, choose the narrowest shoe width possible to meet required flotation and outline preferred operating techniques matching the terrain, Hansen said. Knowing which track width is best for the job is an important consideration for undercarriage health, he added. Some manufacturers, like CASE Construction Equipment, offer lubricated track designs, Hansen said. The CASE Extended Life Track (CELT) works best in low-impact, highly abrasive ground conditions. Its hardened bushing placed over a standard-type track bushing results in almost twice the wear life of a standard lubricated track design, he added.
Rubber vs. Steel Tracks
Rubber tracks can have common failure points. Steel tracks expand the capability of compact track loaders into applications where rubber track life is an issue. The terrain and load type is key to the choice.
Rubber tracks:
High level of traction on a variety of surfaces
Best on grass or dirt; better for limiting damage to paved surfaces
Lower noise due to less vibration
Ideally suited for construction and agriculture
Carries the needed weights for compact applications
Smoother ride
Greater flotation, allowing operators to work in less than ideal weather conditions.
More cost effective to replace but may only last between 1,200 and 1,600 hours with standard use
Steel tracks:
Able to withstand high heat and pressure
Handles heavier loads without risk of damage or deformation
Less susceptible to corrosion from chemicals commonly found on jobsites
More dependable on jobsites with sharp debris
Great on sites with a lot of inclines
Excellent traction in tough terrain
Usually last 2.5 times longer than rubber tracks, which are more susceptible to cuts and tears
A disadvantage for one job can be an advantage at another, Hansen noted. For example, heavy steel tracks run the risk of tearing up costly paving and using more fuel, but the added weight can make them more stable for lifting heavy loads, especially on uneven or unstable terrain.
Goedert concurred the choice depends on the specific needs of the application, terrain, and equipment type. Both distribute the machine's weight over a large surface area, resulting in lower ground pressure. He said with the positive attributes of rubber tracks for compact equipment, "the market has moved extensively to rubber tracks."
Whatever the choice, proper maintenance is crucial for getting the most out of equipment and reducing the likelihood of unexpected failures, noted Goedert. The largest contributor to the costs of running a dozer is the undercarriage, he added.
"Undercarriage wear inspections on a regular interval allow planning for repair or replacement and are proactive actions leading to better control of the overall maintenance costs," said Goedert.
Configure the machine properly for the application, Goedert added.
Recessed sprocket segments and open center track shoes help extend undercarriage life by reducing packing of material and allowing a path for material to escape, he said.
Regular Maintenance Avoids Costly Repairs, Downtime
Cleaning the undercarriage daily prevents increased wear at additional contact points, such as working in material that hardens or freezes as it dries out, said Goedert.
Other tips:
In daily undercarriage inspections, Hansen advises looking for excessive or uneven wear and damaged or missing components, which can lead to additional wear and should be immediately addressed.
Monitor track tension, ideally while the machine is in actual working conditions. Steel tracks that are too tight create added load on areas of specific contact such as the bushing to the tooth at the sprocket, the chain link to the roller and the idler to the chain – all of which can accelerate component wear. It also robs the machine of its power as it takes more effort to turn the track. If a track is too loose, it can create instability and potentially cause tracks to derail while also causing wear on other undercarriage components.
For rubber tracked machines and applications, tracks that are too tight can stretch or break with additional excessive roller and idler wear. Rubber tracks that are too loose can de-track, leading to a damaged track and extensive downtime.
Adjust sag to the OEM-recommended measurement.
Check track tension as the machine settles into new working environments if conditions change during the day. Check track tension more often when working in mud, snow and sandy condition as material will pack on undercarriage parts, causing the tracks to become too tight.
At the end of a workday, clean out mud or debris from the undercarriage, especially in climates where material can freeze inside the track. Look for cuts, cracks, exposed wires, and metal imbeds.
Rinse off the track and undercarriage. Remove debris.

CASE

provides optional covers and guards to help keep undercarriages clean.
Correct track alignment prevents wear of the undercarriage components. Misalignment problems affect more of the undercarriage components than any other cause of wear.
Hansen noted TrackCare monitoring helps establish a benchmark to know where the undercarriage is in its lifespan to help tackle undercarriage costs and needs. The benchmark is based on the machine's environment.
Weekly, examine tread wear and undercarriage components such as rollers, drive sprockets and idler arms. Change out components with excessive wear to avoid adverse performance and track life, Giordano said. Conduct a total undercarriage and rubber tracks inspection monthly, he added, and use a pressure washer for complete cleaning.
Proper Operation
Proper operation is as critical as maintenance in preventing and minimizing undercarriage wear, said Hansen.
Teach new operators every machine movement needs to have a purpose for efficiency and lower operating costs, said Goedert.
The faster the speed, the faster the wear rate – wear rate is a function of speed and distance traveled, not just hours worked, Hansen said. Operators should avoid excessive use of reverse operation, a non-productive use of the machine that also accelerates bushing and sprocket wear, he added. Counter rotation or pivot turns can accelerate undercarriage wear and increase the potential for de-tracking on rubber-tracked machines, said Hansen. He advised operators make wider, more gradual turns. Work up and down on slopes, Hansen advised.
"Constant operation on hills in one direction can accelerate wear to idlers, rollers, and guide lugs by placing greater force on one side, he added.
Minimizing time spent on the slope generates reduced undercarriage wear and load, said Hansen.
Other key practices he recommends: alternating turning directions, controlling track spinning and avoiding steep edges. Operators should dig over the front idlers, which properly transfers the vertical load that can otherwise cause damage, said Hansen. Digging over the sides of the machine places additional stress on track shoes and track line assembly, he added. Hansen advised avoiding digging over the sprocket because it can cause bushings to crack or break.
Companies in this article