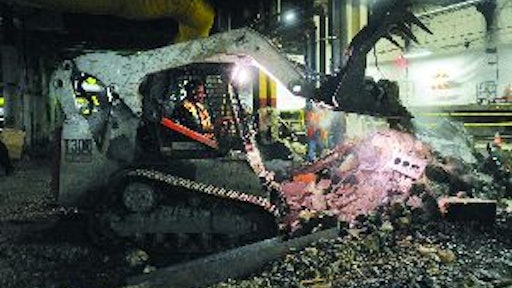 Bobcat offers steel tracks as an option to the traditional rubber tracks fitted on most of today's compact track loaders. These tracks expand the capability of compact track loaders into applications where rubber track life is an issue.
"The request came from people who were seeing premature wear or low hour life on rubber tracks," says Mike Fitzgerald. For instance, demolition contractors like how compact track loaders perform, but jagged asphalt or concrete is better suited to steel tracks. Steel is also better for use in applications with jagged rock underfoot conditions.
The performance of steel tracks can make them a better choice for many earthmoving applications, as well. "Rough site work is more conducive to steel tracks," says Fitzgerald. A rubber track machine can then be brought in for the finish work.
"The steel track is somewhat heavier, although it is shorter in length and ground contact area," says Fitzgerald. "You can push more with a steel track because you have more weight, as long as you are on a solid underfoot surface. If you are in soft underfoot conditions, there are more pounds per square inch, so the steel tracks may sink in more. A wider rubber track would allow you to float on top better.
"In order to justify the additional cost of steel tracks, you basically have to figure they are going to last about two and a half times as long as a set of rubber tracks," says Fitzgerald. "That is kind of a rule of thumb."
Companies in this article