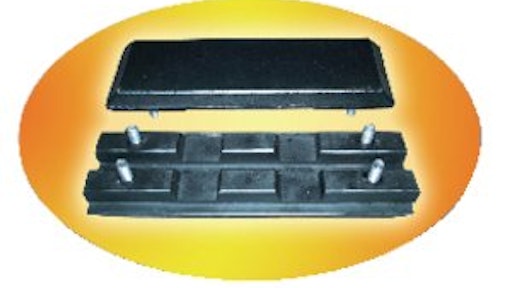 Dura-Trax
The Dura-Trax polyurethane track pads and grouser shoes fit most OEM asphalt and concrete paving and milling equipment.
Enable equipment to travel over existing pavement without damaging it
Molded using premium, liquid-cast, thermoset polyurethane
Engineered for ease of installation
Designed to deliver greater traction and maneuverability and longer service life
C.U.E. Inc.
EverPads
The Everpads premium bolt-on track pads are specially designed for road repair equipment such as asphalt milling machines, pavers and excavators.
Anti-vibration and shock absorbing
Easy installation and replacement by simply bolting down to the grouser from behind
Provide better traction and a smoother ride
Bolt-on track pads
Maximum wear life, traction, shock absorption and steering
Designed for highway planers, pavers, excavators and trenchers
Also available: premium rebber Isolators for roller and plate compactors
Booth # C-4937
Evertire, Inc.
Grip-Lug Grouser Bars
The pre-formed Grip-Lug grouser bar closely matches the wear pattern of a crawlers worn track shoes, reducing installation time thanks to minimal trimming and welding requirements.
Suitable for extreme service applications
Special alloy steel matches or exceeds OE standards
Heat treated to preserve hardness and wear resistance
Restores drawbar pull
Requires less rod per inch of weld seam for reduced rebuild costs
Allied Construction Products
Mini-excavator and CTL Tracks
Solideal offers sizes of rubber tracks designed to fit most makes and models of mini-excavators and compact track loaders on the market today.
Specific guiding to ensure the correct fit the first time
Self-cleaning tread lugs for maximum traction
Patented Triple S system offers 50% less vibration than a standard system and reduced risk of detracking
Solideal Industrial Tire, Inc.
Model 200 Series Conversion System
The Model 200 series independent rubber track conversion system adds versatility to this aerial device based on a 4x4 Ford F-550 chassis.
All-seasons operation in all types of terrain and under poor travel conditions
18-in.-wide rubber track provides added traction and low ground pressure
Mattracks
NextGen TDF Tracks
The NextGen TDF series heavy-duty rubber tracks are designed specifically for compact track loaders.
Crack and Cut Quarantine System contains small cracks and cuts to extend track service life
Proprietary rubber compound formula extends life by as much as 50%
SpoolRite Belting increases track tensile strength via a continuous belt system
Multiple lugs per pitch and a double offset tread pattern enhance ride while minimizing vibration
McLaren Industries, Inc.
Over the Tire Tracks
Grouser offers three different over-the-tire track styles featuring a patented open side plate that allows greater clean-out in the pivot area for field adjusting.
Large 1 1/4-in. hardened, replaceable wear bushings
Run loose design provides maximum performance through traction, flotation and cleaning
Bar Tracks feature an open bar design that utilizes the tire to provide maximum traction and flotation in soft, muddy and loose soil conditions
Combo Tracks (Hard Tracks and Soft Tracks) allow for either hard and aggressive or smooth and sensitive surface track
Grouser Products, Inc.
Poly bolt-on track pads
Poly Bolt-On Track Pads enable reuse of predrilled steel triple grousers by replacing only the removable polyurethane track pad.
Save 35% to 40% in replacement costs and up to 50% in labor costs
Bolt directly to the pre-drilled triple grouser
Install and remove easily
Fit all Roadtec and most other milling machines and asphalt pavers
BLS Enterprises, Inc.
Rubber Track
Aftermarket rubber tracks are available to replace the tracks on your compact equipment.
Optimize machine use by reducing ride vibration and decreasing machine wear
Non-metal core tracks available
DRB America
VTS Versatile Track System
The VTS Versatile Track System is a complete rubber track undercarriage that bolts directly to a skid steers standard hubs in under an hour.
Provides bi-directional suspension that adjusts independently from one side of the machine to the other
Suspension automatically applies the track undercarriages back to the ground to maximize track footprint, evenly distribute horsepower and improve machine stability on uneven terrain
Loegering Mfg. Co.
Companies in this article