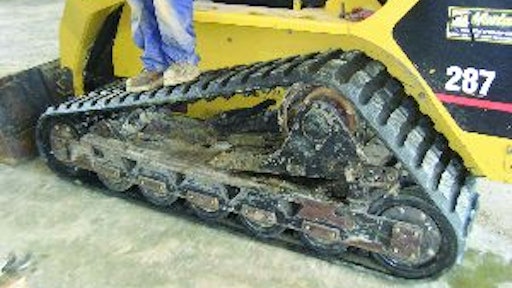 The most important factor when it comes to the life of chains and rubber belts is proper tension of the system, says Guido Bottin, Berco of America. "The recommended range of tension values provided by the manufacturer has been engineered and developed to give the system the necessary balance to obtain correct traction, while at the same time not excessively wear undercarriage components," he points out.
"Whether you have a steel chain or a rubber belt, over-tensioning your system will cause premature wear," he adds, and even early failures in some instances. "Under-tensioning leads to possible de-tracking of chains or belts with possible damage to other components or to the machine." While rubber tracks are less sensitive to such issues, they suffer the same consequences in the long run.
"Too tight, tracks may be more vulnerable to snapping as more stress is applied," says Raymond Oh, DRB America. This creates added friction and results in excessive wear. "Too loose tension can make tracks jump off the undercarriage. A usual rule of thumb is to check tension every 50 to 100 hours of machine use. Usually, tension is measured by placing dead weight on the flat area of the track and measuring sag."
Keeping the machine clean will make it easier to identify potential problems, and decrease wear due to debris lodged between components.
According to Dennis Hare, Veyance Technologies, wear and tear on guide/drive lugs due to side wear and debris ingestion -- which leads to chunking and eventual tear-off -- are common causes of rubber track failure. Carcass damage also causes cable exposure and damage, which makes them unserviceable and leads to removal.
"Any dirt accumulating on the undercarriage may lead to faster wear," says Bottin. Ideally, the machine should be pressure washed after every shift when working in certain soil conditions.
"For a paver application, the most common reason for removal is normal wear out of the tread. However, allowing asphalt to build up on the inner surface of the track will weaken and wear out the wheel path rubber," says Hare. "This will lead to reinforcement exposure and eventual track removal prior to achieving maximum wear life of the tread."
"Keep the track undercarriage clean and free from large debris to avoid inner track damage when sharp objects run between load bearing wheels and the inner surface of the track," says Hare. "Limiting debris in the undercarriage also reduces chances for cable point loading and over tensioning."
Steier recommends keeping tracks washed off, particularly when working around asphalt that has oils and things of that nature, or when working in a contaminated area with acids, bases, etc. Also keep them out of the sun and the environment as much as possible.
Companies in this article