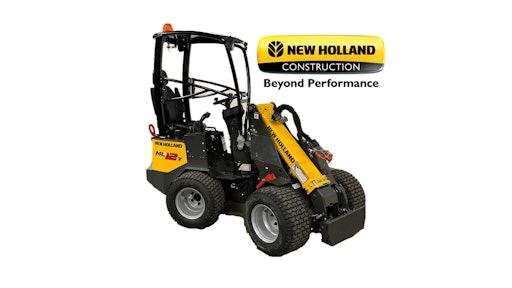 New Holland Announces ML Small Articulated Loaders

New Holland Construction has added a new equipment category to its product portfolio: small articulated loaders. This new line consists of five small articulated loader models: the ML12, ML12T, ML15, ML22X and ML23.
These small frame, powerful machines feature heavy lifting capacity and tipping load features, respective to each machine. Providing agility to maneuver in compact spaces, the ML small articulated loader series is designed for a variety of landscaping and light construction jobs, including snow and debris removal on sidewalks and in backyards, contract tree care projects, such as hauling landscaping materials and removing fallen trees, maintenance of landscaped areas and work on jobsites with sensitive surfaces.
"These new small articulated loaders are the embodiment of New Holland Construction's commitment to innovation and excellence," said Daniel Kakareka, product manager for New Holland Construction North America. "They're designed to empower our customers to accomplish more in confined spaces, with increased productivity and precision. Truly, refining the way we approach landscaping and light construction tasks."
ML12 Small Articulated Loader
The ML12 model showcases a lifting capacity of 2,425 lbs., tipping load capacity of 2,205 lbs. and lifting height of 85.4 in. The 25-hp machine has a 2,425-lb. operating weight, allowing for minimal ground disturbance when turning or hauling on soft ground like turf. With a narrow width of 36.2 in., the ML12 model is designed for landscapers focused on clearing sidewalks or fenced-in areas with limited space. Other features of the ML12 model includes an electro-hydraulic controlled differential, hydrostatic four-wheel drive, standard lift path, CII mechanical attachment coupler and more.
ML12T Telescopic Reach Small Articulated Loader
With the same horsepower and width as the ML12 model, the ML12T model features a telescopic reach arm loader and lifting height of 111 in. This extended lift allows operators to load and unload materials from large trucks, while the extended reach provides flexibility in dumping, leveling and grading tasks. The 111-in. lift height, multiple tipping load paths of up to 1,650 lbs. – depending on loader position – and 2,646-lb. operating weight works well in light construction scenarios such as moving light debris and pallets.
ML15 Small Articulated Loader
Displaying a 3,086-lb. lifting capacity and 3,307-lb. tipping load, the ML15 small articulated loader model has the ability to carry heavy materials than smaller models, including steel, lumber and concrete items. The machine fits into a variety of landscaping jobs to remove fallen trees and haul gardening materials. The 26-hp and 3,472-lb. operating weight with a cab is not the only appealing features of the ML15 model, operators can access a safety entry bar, non-suspension vinyl seat, armrests and exterior mirror features.
ML22X Small Articulated Loader
The ML22X model is New Holland Construction's first electric-powered small articulated loader. When fully charged, the 24.9-kilowatt lithium-ion battery powers the machine for five to six hours, depending on the task. Multiple charging options are available to meet the various needs of operators. The on-board charger fully charges the battery from 0 to 100% in approximately 8.7 hours, while the fast-charge connector provides a full charge in less than two hours. The lifting capacity of 4,850 lbs., tipping load of 4,528 lbs. and lifting height of 96.5 in. enables loading, moving and hauling capabilities for the operator.
ML23 Small Articulated Loader
The fifth model to join New Holland Construction's small articulated loader portfolio is the ML23 model. This loader showcases a 96.5-in. lifting height, 4,982-lb. tipping load and 4,850-lb. lifting capacity. Exhibiting 26-hp at 2,300 rpm, the ML23 can travel at a max speed of 12.4 mph, the fastest of all the New Holland Construction small articulated loader models.
"All five of these models mark a significant milestone in our journey of delivering exceptional landscaping and construction equipment," said Kakareka. "The machines exemplify our drive for ultimate efficiency and versatility to provide our customers with the tools they need to excel in their work."