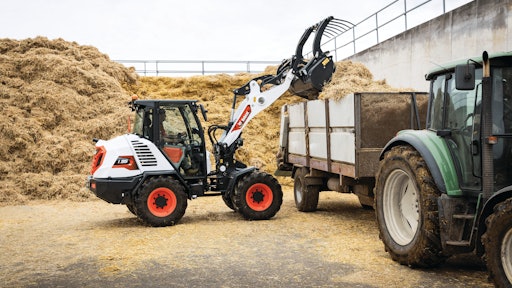 Bobcat

Bobcat offers the L95 compact wheel loader, which is designed to support heavy lifting and transporting heavy loads around jobsites. The L95 provides material-handling capabilities with large bucket capacity, lift height, responsive travel and maneuverability.
The L95's compact size, tight turning radius and Power Bob-Tach interface supports the machines' versatility for performance. This machine can be used for landscaping, nurseries, construction, agriculture, rental tasks and other applications.
"The L95 offers the largest bucket capacity, the most horsepower and the most powerful transmission within the Bobcat lineup of compact wheel loaders," said Bobcat marketing manager Drew Kolo. "The L95 will join the L65 and L85 to offer customers a range of compact wheel loader sizes that are powerful, tough and highly productive."
Performance
With a standard bucket capacity of 1.2 cu. yd. and 10.5 ft. of lift height, the L95 is capable of material handling and other jobs that require maneuverability. Its electronic hydrostatic transmission (E-HST) delivers directional changes, acceleration and speed control that helps operators tackle tough tasks on jobsites. A powerful combination of the E-HST transmission and horsepower management automatically adjusts the loader's drive system for pushing and loading power.
Standard features on the L95 include flex drive, automatic ride control, auxiliary hydraulics, attachment control mode and travel speeds reaching 24 mph.
The Tier 4, turbocharged engine delivers performance, while achieving emissions compliance without the use of a diesel particulate filter (DPF) or selective catalyst reduction (SCR). This engine provides reliable, cold weather starting and a variety of maintenance and service features.
Operation
With low noise levels in the cab, an oscillating frame, smooth turning and automatic ride control, the L95 provides reliable rides. Available with a pressurized cab, the L95 builds upon the Bobcat tradition of operator-centered design with high visibility, ergonomics, a heated, air-ride seat, HVAC system and an instrumentation panel.
Standard equipment on the L95 includes a seat-mounted joystick with adjustable armrest for comfort and controllability and a 5-in. display panel that gives operators machine interaction and monitoring capabilities. An optional rearview camera integrates with the touch display.
Attachment Versatility
Bobcat compact wheel loaders come standard with the Power Bob-Tach System. Buckets and pallet forks designed specifically for Bobcat compact wheel loaders are available. Thanks to the Bob-Tach mounting system, operators can share select attachments with other Bobcat equipment for versatility. Compatible attachments include buckets, forks, angle brooms, snow pushers, grapples, snow blowers and augers.