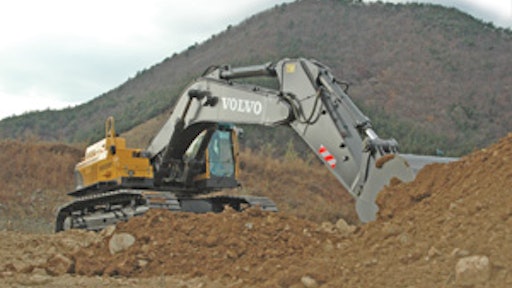 With Tier III regulations now in effect for many sizes of off-road engines, manufacturers are introducing new earthmovers incorporating updated engine technology. Not only do these designs offer improved emissions control, in many cases, they also provide greater fuel efficiency and improved overall operating performance.
Following is a look at some of the newest earthmovers available, including several featuring the latest engine designs.
Delivering a 70-ton digger
During a press tour of its Changwon, South Korea manufacturing facility, Volvo CE announced the start of deliveries of its 70-ton EC700B LC crawler excavator. According to the company, the 70-ton EC700B LC is designed from the ground up with input from customers worldwide. Intensive field testing and evaluation was conducted globally in a range of extreme conditions and environments.
The EC700B LC is designed for extreme use in heavy applications, including civil engineering, mass excavation and quarry loading. It comes equipped with the Volvo D16E EAE3 engine rated at 464 gross hp at 1,800 rpm. This Tier III-compliant Volvo Advanced Combustion Technology (V-ACT) power system is matched to the Volvo hydraulic system to provide maximum output at minimum fuel consumption.
The EC700B LC comes in standard and mass excavation (ME) versions with operating weights from 150,600 to 155,600 lbs. Maximum digging reach is 43.21 ft. with a maximum digging depth of 27.56 ft. The standard version has a 4.97-cu.-yd. bucket capacity, 25.26-ft. boom and 11.65-ft. arm. The ME version has a 5.88-cu.-yd. bucket capacity, 21.65-ft. boom and 9.51-ft. arm. Both feature a large counterweight and long, wide-gauge tracks to ensure balance and stability during operation.
The operator station features clear visibility, a nine-way adjustable seat, ergonomic controls, sound and vibration protection and a high-capacity climate-control system. Easy all-around access is provided by wide access steps and an access ladder to the top of the machine behind the cab. Hydraulic noise is reduced with the use of dampened pipe clamps.
Service is simplified through easy access to the engine oil, fuel and air filters, etc., via wide steps, a catwalk and ladders. The undercarriage of the machine is retractable for easier transport.
A big machine for big jobs
Komatsu America has developed the PC600LC-8 hydraulic excavator, an upgraded machine with increased speed and stability, an improved Tier III-compliant engine and enhanced serviceability. The unit has a 126,320- to 132,280-lb. operating weight, and is suited for large-scale earthmoving and utility applications, pit and quarry work, mining and other high-production tasks.
The PC600LC-8 is equipped with Komtrax technology, which sends machine operating information to a secure web site utilizing wireless technology. Data such as operating hours, location, cautions and maintenance alerts are relayed to the web application for analysis. It also reduces theft risk and allows for remote diagnostics by the distributor.
The Komatsu SAA6D140E-5 engine, rated at 386 flywheel hp, adopts a cooled EGR system, ensuring compliance with Tier III emissions regulations. A hydraulically driven, variable-speed cooling fan provides quieter operation and improved fuel economy.
The excavator is equipped with Power, Economy and Lifting working modes, two boom mode settings and a Power Max control. The Economy mode now features four level settings, which allow the operator to achieve required production at the lowest possible fuel consumption.
A spacious cab includes a high-capacity automatic climate control system, clear visibility, multi-position PPC (pressure proportional control) levers and a multi-adjustable suspension seat. The sound-absorbing cab is mounted to a highly rigid deck and uses a multi-layer viscous cab mounting system.
The EMMS (Equipment Management Monitoring System) monitors all critical systems, tracks the preventive maintenance schedule and provides error codes and troubleshooting assistance to mechanics.
Tractor-scraper gets ACERT-ive
The tandem-powered Cat 657G wheel tractor-scraper features the Cat C18 engine for the tractor and the Cat C15 engine for the scraper. These Tier III engines utilize ACERT Technology, which reduces emissions during the combustion process by using advanced technology in the fuel and air systems. Both engines feature Mechanically-actuated Electronically Controlled Unit Injection (MEUI). Dual horsepower capabilities enable more power in higher gear ranges for improved gradeability and reduced cycle times. The C18 is rated at 600/564 hp, and the C15 is rated at 451/410 hp.
The 657G can be equipped with a standard bowl or an auger for improved self loading and a broad material appetite. Heaped bowl capacity is 44 cu. yds. A high-volume coal bowl will be available in 2007. The unit can be push loaded by a D10 or D11 track-type tractor, self loaded or loaded in push-pull configuration.
Additional features include a single-lever implement control, electronic transmission controller, Next Generation Modular Radiator (NGMR) and comfort seat with air suspension.
Pull scraper gets more dirt moving
The John Deere 2112E fixed-blade ejector scraper can move up to 42 cu. yds. of material per cycle when combined with a John Deere 9020 Series scraper tractor. The unit can be pulled as a single unit or in tandem.
The 2112E provides improved styling and rear visibility, as well as an industrial-strength yoke-type cast hitch. Its low tongue weight ratio reduces drawbar weight and lessens the load on the tractor's rear axle for reduced wear and tear on the equipment. High front transport clearance provides easier unloading and transportation. The scraper can be direct loaded or top loaded if needed.
Additional features include a box-welded tongue design with round, high-clearance torque cross-tube; a built-in rear bumper; fixed blade, front-pivot design; and a single-cylinder, six-roller, jam-free ejection system. Its offset wheel design and large radial tires maintain maximum flotation. A hydraulic accumulator removes hydraulic pressure spikes created while traveling over rough haul roads.
Precision control in a compact design
The Flannegan Western FW 865 Motor Grader weighs 6,050 lbs. and measures just over 15 ft. long and 8 ft. high, allowing for easy transport on a 12,000-lb. GVWR trailer pulled by most pickup trucks.
Power is supplied by a 65-hp John Deere water-cooled diesel engine. The drive system is a servo-controlled hydrostatic transmission with a heavy-duty, off-road, two-speed hydraulic motor. The final drive axles have limited-slip capabilities.
The 865's hydraulic tilting /leaning wheels coupled with hydraulic steering allow for precision grading without sideways slippage during angle cuts. The heavy-duty 8-, 10- or 12-ft. moldboards are reinforced with a replaceable cutting edge. Hydraulic blade movements include up/down, angular tilt and side-shift adjustments.
Volvo EC700B LC
Maximum digging reach 43.21 ft.
Maximum digging depth 27.56 ft.
Operating weight 150,600 to 155,600 lbs.
Recommended bucket sizes 4.97 to 5.88 cu. yds.
Komatsu PC600LC-8
Operating weight 126,320 to 132,280 lbs.
Engine Komatsu SAA6D140E-5
Power rating 386 flywheel hp
Caterpillar 657G
Heaped capacity 44 cu. yds.
Rated load 104,058 lbs.
Maximum cut depth 16.7 in.
Maximum spread depth 26.8 in.
Maximum travel speed 36.0 mph
John Deere 2112E
Struck capacity 15.0 cu. yds.
Heaped capacity 21.0 cu. yds.
Cut width 12 ft.
Horsepower requirement 450 hp
Companies in this article