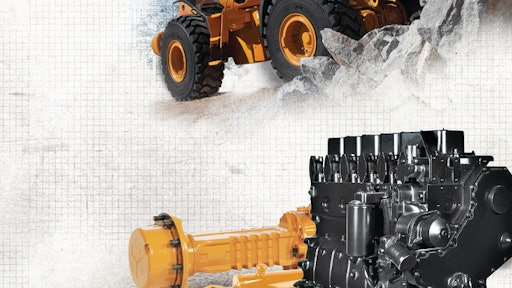 The current economy coupled with the increased price of Tier 4 technology has many considering the feasibility of refurbishing their wheel loaders. "Re-building a wheel loader vs. buying a new unit may well be the best answer for him at this time," says Bill Metzgar, service trainer, Hyundai Construction Equipment. "As more manufacturers develop stronger re-man programs along with offering warranty on this product, contractors tend to look more closely at re-building wheel loaders vs. replacing due to the savings re-building a unit may afford them."
Chad Ellis, Doosan, adds, "You have a lower investment cost in refurbishing with remanufactured parts into a wheel loader that you already own versus the price of a new machine."
"Remanufacturing is about lowering customers' owning and operating costs and increasing uptime," says Eric Metzger, product marketing manager, parts & service, Case Construction Equipment. "Case remanufactured components provide a drop-in replacement option that meets the OEM specifications. That's because some parts may have been updated to reflect the latest engineering enhancements or new testing procedures."
The savings can be substantial. "You can normally refurbish a large wheel loader for about 50 percent of the cost of a new machine," says Kevin Stock, product specialist, Volvo Construction Equipment. "That is going through it from top to bottom."
But the decision to re-furbish can get complicated. "When deciding to rebuild a wheel loader vs. purchase new the decision has to be made on how far the rebuild will go and what remanufactured parts are available," says Metzgar. "In some cases a new machine purchase would be the best choice due to the severity of wear a machine may have. Also warranty has to be taken into consideration according to the contractor's needs."
The process of rebuilding can be quite extensive and you can either have your own components rebuilt or you can use factory re-man components. "Re-man components can be very cost effective when rebuilding a wheel loader if the parts are available," notes Metzgar. "In most cases warranty is available on most major components such as engines, hydraulic pumps, transmissions, etc. We suggest that when available re-man parts be used."
"Remanufactured parts cost 20 to 40 percent less than new parts, offering excellent value while ensuring proper machine performance," says Metzger. "And when it's time to sell the machine, the presence of OEM parts helps sustain strong resale values."
CNH REMAN is a joint venture between the Springfield Remanufacturing Corp and CNH Parts and Service that began in 2009. It offers a full line of remanufactured parts. "Case remanufactured parts are remanufactured to their original like-new condition," says Metzger. "Unlike 'rebuilt' parts, each Case remanufactured part is disassembled, cleaned and inspected. All cores are updated to the latest specifications, and components are checked, refurbished and replaced where necessary. Finally, the remanufactured parts are tested to meet the original OEM specifications. We inspect and remanufacture critical machine assemblies in facilities that are solely dedicated to remanufacturing, using sophisticated processes to assure consistent quality from all components that carry the CNH REMAN designation and warranty. The CNH REMAN joint venture allows Case to offer its customers an expanded mix of remanufactured products that can help equipment owners lower their operating costs."
In many cases the reman parts perform better than the parts they replace. "Most Case reman parts are engineered to meet the latest OEM specs, and can be used to substantially improve the performance of refurbished equipment," says Metzger.
Volvo Construction Equipment explains that factory supplied re-man parts ensure quality. "It is done in a factory environment so there is repeatability," says Stock. Volvo performs all remanufacturing in an ISO 9001 certified facility and provides a warranty.
Size up the decision
Whayne Supply claims to be the world leader in certified rebuilds for Caterpillar – approaching 400 complete certified rebuilds. "You can save somewhere close to 40 to 50 percent depending upon the size of the machine," says Dan Frailly, who has headed up the certified rebuild business since 1989. "It just depends on the model." Of course a complete rebuild only makes sense for larger machines. The 980 is probably the smallest loader where it feasible for the customer. "When you get below that the parts and labor that goes into it approaches 90 percent of what a new machine costs. Then you add in the core value and it makes no sense. But definitely in the larger machines it is a viable option."
Size makes a big difference because you pay for iron when you buy a piece of equipment. "The larger the machine, the more iron you already paid for," notes Stock. "So if you watch the percentage of new for a refurbish, the larger the machine, the lower that percentage becomes."
Kawasaki explains, "The labor to do a full rebuild is roughly the same for a small machine as for a larger machine, so as a percentage of the value, labor is too high for machines under 5 to 6 yds. It also depends on the usage before and after rebuilding. We rebuild hot slag machines because their machines have very low resale value, even at low hours. So it is often more economical to rebuild a machine with 10,000 plus hours for a second or even third life than it is to try and trade it in for a low value and buy new."
Quarries often rebuild machines also. "This has to do with how they depreciate their equipment," explains Kawasaki. "Once they get through the initial depreciation period they can operate at a lower internal cost. So they often want to continue to operate a machine that has been fully depreciated. Also capital budgets often are harder to get than maintenance budgets and rebuilds are often handled by maintenance budgets, not capital."
As good as new
"Generally, the properly rebuilt unit will be as productive as it was originally," says Kawasaki. "Most rebuilds happen when the machine is over five years old, which is the normal spread between new models. Often new models have performance, reliability or operational features that may make them more desirable than a rebuild on that basis."
"A well-built re-furbished wheel loader can provide the same performance and uptime as a new unit," says Metzgar. "The remanufactured parts and warranty that are available now lend to a very good product after a rebuild."
Caterpillar has a carefully designed and audited certified rebuild program. The machine is completely disassembled. "Every last bolt and nut is taken off," says Frailly. "There is nothing left intact. All of the glass is taken out. The complete machine is sandblasted. Any cracks are fixed and repaired. Every bore in that frame or anywhere else is brought back to new standards. It is very close to a new machine running off the assembly line."
Machine availability versus scheduled hours is a common measurement. "You may get a new machine and the availability could be 85 to 90 percent," says Frailly. "When you remanufacture one of these certified machines we see availability jump to 98 or 99 percent." The reason for the increase is due to the product updates incorporated into the rebuild. Cat mandates that any certified rebuilds incorporate all of the product updates that have been made to that particular model. "So it has very high reliability. Because it is a Caterpillar program, it will carry a standard machine warranty, just like new. And there are extended service programs available." The machine even gets a new serial number. But an important consideration is that you cannot perform a certified rebuild more than once in the machine's life cycle.
A certified rebuild is a rather involved process. "It could take a week to do an inspection and put together the quote," says Frailly. "It is not a two hour inspection. I will have two mechanics on that machine at least a whole day. Then they will actually go through the customer records of their maintenance and we will look in our history. We pull oil samples. It is a very intense process." The quote for the rebuild largely depends on the overall machine condition.
Once the rebuild starts it can take from 12 to 14 weeks. "If you are a small branch and you are trying to do it all in house, it will take longer," says Frailly. Whayne Supply rebuilds the majority of the components in-house. "We like to keep the same iron that came with that original machine," says Frailly. "Owners do like to have their own iron."
But what if you need the lower emissions levels offered by Tier 3 engines? "We are repowering some machines," says Frailly. "We incorporate that into the rebuild at the same time. We work closely with Caterpillar engineering on that, especially if it is the first one that is going to be done. They will make pieces to make it fit."
Consider partial rebuilds
Various levels of rebuilding are possible. "Normally, the powertrain components are rebuilt, but also the hydraulic system can be refurbished, the electrical system can be redone and even the structures can be reinforced or repaired," says Kawasaki. "These are all issues that are determined based on budget and application."
Volvo Construction advocates matching the level of rebuild to your unique circumstances. "We have found over a period of time, every machine is different when it hits the dealership," says Stock. The climate, application and operator all play a part in which components wear and at what rate. "If you are driving into a wall of stone or moving mulch, it is a different wear and tear on the machine." Similarly, a machine in the desert Southwest is subjected to a different type of wear than a machine operated in severe cold.
"Rather than taking a one-size-fits-all approach, we have tried to customize it so the machine and owner have a little more input to what the end result is going to be," says Stock. They are not paying for something that is not needed."
Of course this approach starts with a very thorough inspection. "We go through a machine top to bottom," says Stock. "Then we sit down with the customer and make recommendations." The owner can decide whether to follow all of the recommendations or if he would rather assume some of the risk and skip certain components or repairs.
Volvo starts with a driveline specific refurbish – changing out the engine and transmission with a re-man engine and transmission. Then the customer has the option to add final drives, differentials, axles and trunnions. Often axles, differentials, final drives and brakes simply are not needed. "They are just in such good condition after 12,000, 14,000 or 16,000 hours."
Caterpillar also offers certified powertrains. Frailly explains that it often makes more sense for the owner to extend the life of the machine initially with a certified powertrain and after that certified powertrain is used up to then move on to a certified rebuild. "If he has done great maintenance and kept it up, he can get by with a certified powertrain. But I always caution the customer because a certified powertrain is just the powertrain." Electrical components, such as switches, and other components will be the same and can be more likely to fail. Your downtime cost per hour will be the same whether the downtime is cause by a major powertrain component or an electrical switch. "You have to weigh that factor."
Determine the re-build interval
"You would normally use a combination of operating hours and oil sampling results to determine the rebuild timing," says Kawasaki. "More sophisticated customers track overall operational costs closely and make a decision when they see operational costs increasing. This is more of an art than a science."
Kawasaki notes, "Normally hydraulics would need rebuilding before most powertrain components. Transmissions then engines, then axles would be the normal progression for powertrain, but the customer may rebuild everything at once if that is more efficient."
Ellis notes that while most major components – engine, transmission and axles – are on a similar life cycle, that can vary by the application. "Some applications may be harder on the axle or transmission. Really take a look at where your application gives the most wear and tear. There has to be some homework done on the contractor's side to answer those questions."
Swapping critical components with reman components can also provide an alternative to component repairs and overhauls. Consider the example of a remanufactured engine. "Compared to an out-of-frame overhaul, installation time can be reduced by up to 70 percent for a replacement level engine and 50 percent for a long block engine," says Metzger. "Because many of our remanufactured parts come ready to install, technicians can spend less time completing repairs or shop installs. The result is quicker turnaround and a higher level of equipment uptime for the customer."