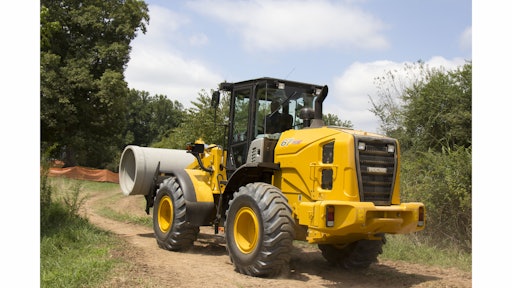 Wheel loaders in the lower half of the mid-size class — commonly referred to as "utility size" or "utility class" models — have become highly prevalent in the construction industry. According to KCMA Corp., which manufactures Kawasaki brand loaders, models from 120 to 174 hp accounted for 53% of all wheel loaders sold in the U.S. in 2013.
While the "utility" designation derives from the size loader traditionally used to install utilities such as water and sewer lines, it now refers more to their utilitarian nature.
"Typically, a 'utility size' wheel loader is a unit that has great versatility through the use of attachments, and is small enough to be easily transported," says Lew Batchelor, group manager dealer service support, Liebherr Construction Equipment Co. "In my opinion, the term 'utility size loader' is used to describe a wheel loader that will be used in a multitude of different applications throughout its service life."
Changing with the Times
The utility class splits the "small" and "medium" size classes, notes KCMA, and typically ranges from a bucket capacity of 2 to 4 cu. yds. While larger than compact models, these loaders are smaller, lighter weight and more maneuverable than full-size, production-oriented models.
"Models in this size class are ideally suited for busy and often congested jobsites," says Mike Stark, wheel loader product specialist, Doosan Infracore Construction Equipment. "Their smaller size makes them an ideal solution for efficiently loading, hauling and dumping dirt and other materials. These models are also easier to transport from jobsite to jobsite due to the size and weight." In most cases, no special permits are required for transport.
While utility loaders have been a common fixture on jobsites for years, the models themselves have changed. "The common size of a utility loader was 38,000 lbs. and below, but we have seen the size increase in recent years," says Batchelor. "Some customers are trying to purchase loaders that can be used in the handling and loading of bulk materials, as well as in applications that require the use of forks, brooms or other attachments. This has increased the range of utility loaders to the 50,000-lb. and, in some cases, the 55,000-lb. class."
Features are also evolving to meet customer requirements. "There have been increases in horsepower and lifting ability across the range over the last decade, but the biggest changes in this class would be features and comfort," says Curtis Goettel, marketing and dealer development manager, Hyundai Construction Equipment Americas, Inc. "It used to be that the utility class was a simple, straightforward machine with little or no options. Nowadays, you can find almost every option that is available on the big wheel loaders."
Sized Just Right
Mid-size loaders offer some distinct advantages compared to their smaller and larger counterparts.
"Most loaders that are smaller than the utility loader do not have the lift or tipping load capacity to handle many of the materials that need to be moved on a construction site, nor do they have the dump height to load a standard dump truck," Batchelor points out. "Large wheel loaders do not have the versatility that a utility loader can offer. There is not a great variety of attachments available for large loaders, and many construction sites do not have the space necessary to safely operate a large piece of equipment."
Goettel agrees, adding, "The main advantages over small wheel loaders come in capacity, strength, durability and features. A utility size wheel loader is essentially built the same way as a large unit, just on a reduced scale. Therefore, it can do almost anything a larger unit can, and will last on the same scale.
"The only downside vs. a larger unit comes in capacity," he continues. "When moving or loading large volumes of material, it will take 'X' more trips than it would with a larger machine."
Yet, when evaluating models in this size class, maneuverability, cost and suitability to the job requirements are generally the issue, not capacity, says KCMA. If a utility loader can do the job, there is no reason to use a larger machine.
"With a lift capacity and tipping load in that 15,000- to 20,000-lb. range, you can move a lot of material for a machine that size," Stark asserts. "You can utilize the machine a lot better and still get into confined spaces."
Big Machine Features in a Smaller Package
Loaders in the utility size class offer not only more capacity but more features vs. smaller models.
"Nearly all of the same operator comfort features available in larger wheel loaders are available to operators in lower horsepower models such as the Doosan DL200-3, DL220-3 and DL250-3," says Stark. This includes enhanced visibility, low cabin sound levels, heating and air conditioning system, tilting/telescoping steering column, available storage space and air ride suspension seat.
The Load Isolation System (LIS), Doosan's version of ride control, is also an available option. "Once you get above a certain speed, it turns on automatically and puts the boom into a float mode," says Stark. Accumulators built into the hydraulic system cushion the lift arm during travel over uneven surfaces, absorbing shock loads. "The operator is more comfortable, you have better control of the machine over rough terrain and productivity goes up by allowing the operator to run at higher speeds and by reducing the amount of material lost during travel."
In addition to features such as ride control, mid-size loaders are often available with auto reversing fans, hydraulic quick couplers and third spool hydraulics, says KCMA.
Both Liebherr and Hyundai have elected to maintain the same features in their utility class models as found on their larger loaders. Kawasaki wheel loaders also come standard with larger production loader features.
"As far as the Liebherr loader is concerned, the standard equipment on our large loaders is the same standard equipment that you will find on our mid-sized loaders," says Batchelor. "Liebherr uses the same display, control features, operator comfort features, propulsion and work equipment systems, as well as safety features on all of its loaders." The company also offers the same options for auxiliary hydraulic circuits and attachments across its entire product line.
Hyundai has made ride control, backup cameras and an integrated touch screen monitor standard on all of its models. "Operating data is instantaneously communicated to the monitor/cluster and periodically sent to our proprietary telematics system (Hi-Mate)," says Goettel. The web-based telematics system allows the user to track machine location, running hours, fuel consumption, working time and maintenance information.
"Hyundai also has an integrated weighing system (scale) on all models," Goettel notes. "This gives the operator (and owner via Hi-Mate) the ability to accurately capture the weight of material moved in each load, as well as the daily total."
The company, as well as a number of other equipment OEMs, offers telematics capability as a standard factory installed system on models in this size class. But once you get below the mid-size range, it becomes more cost prohibitive to offer it as a standard feature.
Attachments Expand Applications
Versatility is perhaps the biggest reason behind the popularity of utility class wheel loaders. Attachment capability has dramatically expanded their roles on most jobsites.
"The utility loader is being used to fulfill a multitude of duties on today's construction sites," says Batchelor. "The loaders are still used in a traditional capacity — to excavate and move earth through the use of a bucket — but the loaders can also be used to handle all types of construction material through the use of forks, crane booms, grapple forks and so on."
The increase in available attachments expands the realm of possibilities. "This increase has allowed our customers to purchase one piece of heavy equipment that can perform the same duties that required three or four pieces of equipment a few years ago," says Batchelor. "This can help our customers increase profits by reducing the amount of money that they spend on purchasing and maintaining equipment, as well as increasing utilization."
"Utility class" isn't defined by having the ability to use attachments, but also the application of the machine, says Goettel. "The ever-growing list of attachments has them doing more and more jobs on construction sites," he explains. "With forks and grapples, they are used for moving everything from pallets to pipe. Booms can be attached for lifting and lowering pipes and boxes into holes. Four-way buckets are very handy on the jobsite and can be used as a bucket, a grapple or for grading."
Enhancing this versatility is available loader linkage options. Many manufacturers offer both Z-bar and tool carrier linkage configurations on mid-size models.
For example, Hyundai's three smallest wheel loaders (HL730, HL740 and HL757) offer an optional Tool Master (TM) configuration. "The TM option equips the machine with a quick coupler, remote hydraulics and electric harness, as well as a reconfigured MCU programmed to work with attachments," says Goettel. "It also changes the boom from the standard Z-bar to a parallel lift style that is better suited for use with attachments and forks."
Doosan also offers a tool carrier configuration on its DL200-3 and DL250-3 loaders. "The system provides good visibility down the center of the lift arms, which allows the operator to see the ground, truck or work area in front of the machine when placing loads," says Stark. "Another advantage of the parallel lift linkage is that it keeps the work tool parallel to the ground as it is lifted — an advantage when lifting pallets and other loads that need to stay level."
Both loader configurations can be equipped with a hydraulic quick coupler to quickly switch out a multitude of attachments within seconds, often without requiring the operator to leave the cab.
Combined with the other benefits utility loaders have to offer, such capabilities make a jobsite or project more versatile, reduces the amount of equipment required and can reduce manpower and labor costs, says KCMA. This ultimately means more profit back in your pocket.