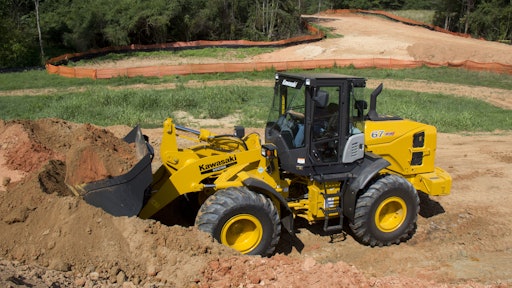 Emissions regulations have brought more to wheel loaders than cleaner burning engines. They have resulted in advances in electronics that facilitate greater communication and integration between operating systems, enabling the machines to do more with increased efficiency. Many manufacturers have taken advantage to develop advanced electronic controls and features that help boost the productivity, reliability and fuel efficiency of their mid- and full-size models even further.
Yet, such features have the potential to add cost and/or design complexity. Efficiency gains can often offset any associated owning and operating cost increase in the right applications, but the ROI is not clear-cut in all circumstances. As such, manufacturers are taking differing approaches to tailor wheel loader technology to specific customer needs. Following is a look at the approaches of four key industry suppliers.
Capturing Vital Machine Data
"As wheel loader technology evolves, some contractors believe they face a choice between affordable, 'low frills' designs and more expensive machines offering a full range of the latest technological improvements," notes Steve DePriest, product specialist, Hyundai Construction Equipment Americas. "We offer machines incorporating technologies that enhance productivity, serviceability and operator comfort and convenience at prices that most contractors find very competitive."
Hyundai has enhanced the electronic controls on its loaders as a whole to complement the advanced electronics needed for engine emissions compliance. "Many of our customers have learned about the Tier 3 and Tier 4 emissions levels through the trucking industry," says DePriest. "So the advanced electronics of the diesel engines are being accepted in the marketplace as requirements, rather than as optional equipment."
Hyundai's objective is to ensure its machines are as user friendly as possible while delivering added sophistication. "One major driver for more sophisticated technology is the need for information," says DePriest. "To satisfy the needs of both customers and Hyundai to monitor machine performance at all times, [we equip] all of our construction machines with our proprietary Hi-mate remote monitoring system."
Hi-mate provides contractors and dealer service personnel with access to vital machine service and diagnostic information via any computer or smartphone with Internet access. "Users can pinpoint machine location using digital mapping and set machine work boundaries. This can reduce the need for multiple service calls," DePriest explains. "Hi-mate saves time and money for the owner by promoting preventive maintenance and reducing machine downtime."
The system notifies the operator when preventive maintenance is needed, and continually runs diagnostics to identify and address any issues in the machine. "If the customer follows the recommended preventive maintenance and responds immediately to any warning lights, repair costs should be minimized," says DePriest. "We have customers who report experiencing uptime of 98% over the life of their Hyundai fleet."
While the machine is capturing this diagnostic data, the contractor is able to follow its work history, including weight of materials moved, key on/off, location, engine mode, etc.
Advances in design also extend to the operator. "We have found if the machine operator is making the buying decision, then more of the comfort options typically are chosen," DePriest notes. "In fact, most of our machines are sold fully loaded, including features such as rearview camera, ride control and weighing systems."
Focus on "Smart Machines"
More sophisticated electronics have led to improvements in self-diagnostics, telematics and overall communication within KCMA's new Z7 generation Kawasaki-KCM wheel loaders, as well, allowing dealers and fleet owners to better manage the maintenance and overall health of the machines. Telematics, in particular, are delivering benefits by providing remote access to key operating data and informing fleet managers of immediate issues. The technology also provides a database of operational data over time to show trends and patterns that can be beneficial in managing the fleet.
In addition, KCMA is using electronics to control the hydraulics, powertrain and safety features in its loaders, incorporating it into an overall package called Intellitech. This package encompasses a number of automated control features.
For example, the Intellidig feature uses sensors to tell the engine control unit (ECU) to reduce power to the wheels (rimpull) at the point where wheel slippage would normally occur to reduce tire spin. By reducing wheel slippage or spin, the operator can extend the hours achieved from a set of tires. With tires accounting for about 20% of overall wheel loader owning and operating costs, this can result in substantial savings.
One of the safety features included in the package is Flexshift, which prevents the loader from upshifting into a higher gear when the boom arms are raised, providing maximum operator control. Activated automatically when the operator begins to raise the lift arms while traveling, it tells the transmission to stay in the current gear and maintain a set speed while approaching a truck or hopper.
Features such as these are intended to take the decision making out of the operator's hands, and allow an experienced operator to customize the loader settings to the environment or application, according to KCMA. It also results in "smart machines" that are constantly "learning" the habits of the operator and adapting to ground conditions for optimal fuel efficiency and production.
Constant communication between the hydraulic system and engine enable maximum fuel efficiency, either through increasing hydraulic pressure — which takes the load off of the engine — or by using more horsepower to get through a tough digging situation, says KCMA. For every gallon of fuel saved, the company estimates a $35,000 or $40,000 fuel savings over a 10,000-hour machine life.
While electronic controls have been added in many areas, KCMA chose not to include the hydraulic or steering controls. The company acknowledges that electronics in these areas have some design value and allow for certain manufacturing and design benefits. However, it feels the reliability and controllability of hydraulic/hydraulic controls in these areas provide more value to its customers.
Tailored to the Market
Edward Wagner, director of New Technology, LiuGong, agrees that the ability to capture and utilize a wide range of data is a significant benefit of today's electronics technology. "The electronic injection engines now have a whole set of data that is available to the vehicle's main controller," he states. "That data can be used to adjust operating parameters of various systems, such as the transmission, loader hydraulics or hydraulic fan drive."
The equipment, as a comprehensive system, can then be optimized for performance, efficiency or a balance between the two. "Better load management and semi-automation of vehicle operations can then occur transparently to the operator, while still maintaining a good, direct feel of operation," says Wagner.
The primary objective for LiuGong's New Technology group is to take this technology and make it appropriate for the specific market and application. "There are many variables involved with total life-cycle ownership of the [equipment] and its productivity that must be considered when choosing the appropriate technology," says Wagner. "For example, in some markets, direct belt-driven fans are the optimal solution. For other markets, fully electronically controlled hydraulic fans are optimal."
Customer demands, local maintenance and service capabilities and the funds available for initial purchase vs. cost of ownership all weigh into technology decisions. "That said, whenever possible, we do try to satisfy the customer requirements with the simplest possible solution. As a general rule, a more simple system is more robust, more reliable and more cost effective for our customers," Wagner states.
"For example, electronic-controlled hydraulics have more parts than the simple mechanical controls," he comments. "In applications where the machine is seeing a high number of hours in a repeatable production environment, such as skip yards or mines, the focus is on productivity. Obviously, operator comfort is a key part to productivity over the life span of the machine, so gains inside the cab can yield significant gains in both productivity and efficiency."
But there is no one-size-fits-all solution. "The appropriate technology applied to a particular [machine] for a particular market is a trade-off between the initial purchase price and the longer-term owning and operating costs," says Wagner. "Some markets and some customers simply are willing to pay more per hour to operate for the lower initial purchase price. Ultimately, this is a direct customer decision."
While productivity and performance is the deciding factor for many end users, for those working in remote areas or on difficult to reach jobsites, reliability and durability may be at a premium. "Also, being able to repair the machine at a basic machine shop or workshop is an advantage for remote applications," says Wagner. "When analyzing the balance between feature-rich and basic machines, all those considerations must be made with a premium on the fact the machine must keep running in order to create a return on investment for the owner."
Designed with Price Point in Mind
While recognizing the inherent potential, not all manufacturers have embraced the latest in electronics. "As regulations push us into more advanced electronics, it does open up the opportunity to do more with the machines," acknowledges Alan Quinn, director, SDLG North America. "What we're trying to do at SDLG is make sure that adding the extra cost with the enhanced electronics really adds value to our customers."
"If you're going to be in the machine all day working long hours, you'll want the most fuel-efficient, highest productivity and most comfortable vehicle available, which is the premium market," says Quinn. But as you get into lower hour usage, the focus typically shifts from performance to reliability and cost.
"A customer that runs 750 to 1,000 hours may not get any value from the enhanced electronics," says Quinn. "They may be performing the exact same functions but it may be a backup machine, or it may be a small gravel pit or a municipality with various needs. When you get into that hour range, it tends to be a support machine as opposed to a production machine."
SDLG offers these customers a basic machine with the functionality they need but with fewer "bells and whistles" to drive up costs. "The electronics are limited to what's required for government regulations," says Quinn. Three of the four available models come with dry brakes. "It's a much lower cost but it's not as functionally capable as wet brakes would be." They're also equipped with open-center hydraulics. "Again, it's a lower cost, very reliable hydraulic system, but it does not provide the same level of performance and multifunction capability you get with a premium machine."
What the systems do provide is the serviceability and reliability of longstanding, proven technology. "What we've seen with a lot of advanced electronics is it's actually hurting the reliability on some of the premium machines," Quinn asserts. "The simple design with proven technology ends up being very reliable. It's true that the performance is not the same. But we trade it off with the reliability and acquisition cost, and the maintenance costs tend to be lower."
This design premise makes the loaders well suited to use in harsh, corrosive environments, as well as lower hour applications. In addition, SDLG has targeted an atypical customer base for a new machine — the used equipment buyer.
"The price on a 3-, 4- or 5-year-old premium machine is about the same price as an SDLG. The big difference is the premium machine with 4 or 5 years on it is just starting to get into the real parts usage," says Quinn. "[With an SDLG], you can get a new machine with an extended warranty if you want, and you're not going to be moving into those prime parts years like you do on a used machine. With the maintenance costs, that ends up being a benefit, as well."
When choosing between a premium and a more basic design, Quinn suggests expanding the scope of your evaluation. "Performance and productivity are very attractive when you're sitting in the machine," he comments. "But the reality of how it's going to impact your business is the acquisition price, the reliability and the maintenance costs."
SDLG provides a highly standardized product at a value price. "Beyond that, we tried to make sure we understood the customer and their needs, and we came to a simple summary: If a customer walks in and is talking about how much the machine will make him, he needs to buy a premium piece of equipment because the equipment is part of his whole business structure. It's his productivity, his fuel efficiency, his uptime, etc. He thinks about his equipment as part of his total business chain," Quinn states.
"An SDLG customer walks in and talks about how much the machine is going to cost him," he continues. "It is not a productivity piece, it's a support piece. He's not worried about it being the most productive; it just has to be reliable. It's not going to be working all day, and it's not going to be used for that long, but it needs to be available when he needs it."
Companies in this article