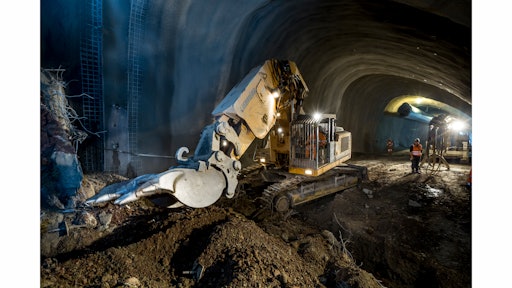 Due to various regulatory and legal controversies, the Stuttgart-Ulm rail project took over three decades to come to fruition but is now underway. The 9.5 billion Euro ($12 billion USD) infrastructure project will include the installation of 130 km (81 miles) of new rail line - much of it underground - and construction of 16 tunnels, 18 bridges and three new train stations.
The project comprises two sub-projects, the Stuttgart 21 and the Wendlingen-Ulm route. These involve the reconstruction of the Stuttgart rail junction, construction of the rapid Wendlingen-Ulm route, a comprehensive town construction project and the expansion and new construction of various railway stations. Both projects are divided into seven planning approval sections.
A total of nine Liebherr tunnel excavators are being used to complete portions of the underground drilling work. The ARGE Tunnel Cannstatt, part of the Stuttgart 21 sub-project, is currently running two Liebherr R 944 C Tunnel models and an R 924 Compact Tunnel model to construct the mainline railway in Bad Cannstatt. A third R 944 C Tunnel model is to join them later.
Video: Liebherr Specialized Excavator Tunnels Through German Railway Project

Excavators Outfitted for Tunnel Operations
The basic Liebherr R 944 C Tunnel crawler excavator is engineered for the challenging operating conditions experienced during tunnelling. The equipment features a swivel arm with double 45° swivel bearing and a 4.5 m telescopic boom with a heavy-duty design. This means, for example, that hoses and lines on the equipment are routed along the side and the hydraulic cylinders are specially positioned to protect them against falling rocks.
Liebherr offers the R 944 C Tunnel model with an operating weight of about 44 tonnes with two swivel arms of lengths of 3.07 m or 3.70 m. Due to the operating conditions on site, ARGE Tunnel Cannstatt opted for the short swivel arm version, which is suited for a tunnel height of up to 7.0 m. With this highest possible tunnel height, the excavator achieves a tunnelling path of 1.6 m. The maximum tunnelling path of 2.1 m with this version means that a tunnel height of 5.4 m can be achieved. Equipped with the short swivel arm, the excavator offers a maximum tear-out force of 164 kN and a maximum breakout force of 191 kN.
The tunnel excavators are being used for direct excavator tunnelling with an excavator bucket in most case. A hammer or a milling machine is used when harder rock is encountered. For direct tunnelling, the R 944C tunnel excavator is equipped with standard high-pressure hydraulics to ensure sufficient hydraulic output.
The R 944 C Tunnel is powered by a six-cylinder inline Tier 3-compliant diesel engine with turbocharger and intercooler. It delivers 258 hp at 1,800 rpm. ARGE Tunnel Cannstatt also chose to have the optional diesel particulate filter installed.
The special heavy-duty, ergonomically designed cab comes standard with protective devices in accordance with FOPS, FGPS and ROPS. The R 944 C tunnel excavators used in the Stuttgart 21 project are also equipped with rear view video monitoring.
Loaders Add to Tunnel Arsenal
In addition to the tunnel excavators, the fleet deployed by ARGE Tunnel Cannstatt includes three Liebherr type L 556 Tunnel wheel loaders and an L 566 Tunnel wheel loader. Working on the ARGE tunnel intermediate heading are four additional R 944 Tunnel models supported by four L 580 Tunnel wheel loaders. The ARGE Atcost also has an R 944 Tunnel in use. Various other tunnel excavators and wheel loaders are deployed on the ARGE Feuerbach tunnel.
On completion of the project, the tunnel excavators will have created about two-thirds of the overall 64 km of newly formed tunnel and passage routes in shotcrete design.
Commissioning of the new railway is planned for December 2021. Once completed, it will be able to accommodate an estimated 1 billion passengers daily, substantially reduce traffic along major motorways and allow for the revitalization and development of roughly 100 hectares (247 acres) of above-ground rail lines that currently split central Stuttgart.
Companies in this article