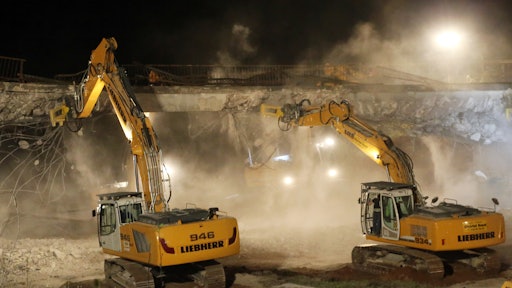 Given the greater complexity of the systems found in today's emissions-compliant equipment — including sophisticated aftertreatment systems, advanced electronics and tight-tolerance hydraulic components — it begs the question: Can today's heavy equipment still stand up under the extreme applications and conditions it may encounter?
Suppliers are confident it can and will. "Most construction equipment manufacturers understand the harsh conditions that their machines are asked to operate under," says Matt McLean, product manager, GPE products, Volvo Construction Equipment. "And as the powertrain and hydraulic systems have gotten more high tech, all the manufacturers have responded by upgrading the components to keep the systems running, with the end result that the modern machine is better suited to work in extreme environments."
Rigorous testing is also used to ensure equipment and components can provide the reliability and durability required. "Machines are being tested for high-impact conditions in both a lab setting and in-field applications to ensure the highest quality results are being met," says Nick Rogers, product specialist - wheel loaders, Liebherr Construction Equipment Co. "With the advancement of electronics and hydraulics brings precise equipment monitoring and productivity."
Maintaining Their Integrity
Equipment manufacturers have concentrated design efforts to optimize the integrity of critical components inside the machine. Electronics are an area in which manufacturers are apt to pay specific attention.
"As construction machines become ever more electronic and computerized, it's crucially important to locate electronic systems in sealed, protected areas of the machine to ensure their performance in hostile environments," says Corey Rogers, marketing manager, Hyundai Construction Equipment Americas. "Cabs are sealed and have better filtration systems to protect components and switches inside the cab. The use of sealed, heat-resistant wiring also helps it to hold up better in severe conditions."
Komatsu America Corp. maintains specific requirements for vibration, impact and shake when putting together the functional requirements for new products, says Kurt Moncini, product manager, large excavators. "We pay particular attention to sealing from water, dust and the elements and vibration isolation," he adds, "so that critical circuits and electrical components within, say, a controller are well protected."
Most modern wiring harnesses spec'd by manufacturers feature a mesh or a hard conduit to protect against environmental exposure. "They also have joints that are typically water tight or at least dust tight. And usually, they put weatherproof ends on them," McLean notes.
Hydraulic systems are also crucial to equipment operation. However, pumps and other system components have historically been designed with durability in mind. "When we design machines, most of our hydraulic components come from a long lineage of working in tough construction environments," Moncini comments.
Some manufacturers, including Komatsu, are vertically integrated, which means they design and utilize their own engines, transmissions, hydraulic pumps and other components rather than sourcing from third-party suppliers. "It allows us to make sure all of our components will work together," says Rob Warden, senior product manager, wheeled products, Komatsu. "That ensures that it's going to survive in very rough or harsh conditions."
Consequently, the focus has turned to how to prevent contaminant ingress into hydraulic systems operating in high-risk environments. "Improved cylinder seal designs provide additional hydraulic system protection from environmental contaminants," says Corey Rogers. "Better filtration with reduced micron allowances — for example, in hydraulic return filters and case drain filters — reduces contamination and protects pumps and hydraulics."
The protection of hoses and fittings is another concern. "There has been a nearly industry-wide shift from JIC hydraulic fittings to O-ring face seals. This switch enabled the hydraulic circuits to handle higher vibrations without loosening," McLean points out. Hose suppliers have also developed products designed to survive in brutal work environments and extreme temperatures.
The need to protect hoses and electrical wiring has caused manufacturers to look at how they are mounted and routed, as well. "We try to make sure hoses and wire harnesses are hard mounted to the vehicle structures. That will prevent friction-related wear of these components," says McLean. Clean layouts are also essential to minimize contact and facilitate easier repair or replacement during service.
Keeping Their Cool
Maintaining optimal operating temperatures within the machine is always critical, but never more so than when working in extreme applications or harsh conditions. Fortunately, the electronics in today's machines provide more control over cooling system performance.
"[Electronics] control all the systems in the machines, giving operators the ability to program tasks outside of their normal working parameters," says Marcus Barnes, product specialist, Earthmoving Excavators, Liebherr. "For example, the hydrostatic fan in the Liebherr excavators can be programmed to run at a higher rpm than normally needed when working in high ambient outside temperatures."
In addition, reversible cooling fans have become almost commonplace as a standard or optional feature on loaders, and excavators in some cases. A reversible fan drive can be programmed to periodically switch the direction of the fan to purge dirt and debris from the cooling area.
"If you're operating in conditions that are going to be dusty or filled with small debris, reversing the cooling fan at set intervals allows you to continually clean out the cooling package during the day," says McLean. "This will make sure your engine coolant and hydraulic oil stay within the optimum temperature for operation."
How components are placed on a machine can also influence cooling efficiency. "Because of the hydrostatic driveline design, Liebherr is able to place the cooling components in the cleanest area of the wheel loader — right behind the operator cab," says Nick Rogers. "By doing this, the air being pulled into the machine is cleaner, thereby significantly reducing the possibility of debris contamination and the time it takes to properly maintain this area of the loader."
Liebherr also installs larger than industry standard hydraulic tanks on its excavator. "[This ensures] our machines have enough cooling capacity when working in high ambient temperatures or other extreme applications where the excavator is put under constant heavy loads," Barnes states. "The radiators are also generously sized and arranged side by side to ensure a constant, uniform cooling and to help in preventing 'fluff material' from building up between the radiators. The AC condenser is also capable of swinging out without the need to use any additional tools."
Beefed Up Exterior
Of course, manufacturer attention has not been solely on internal components. "From the general point of view, there has been an increased focus on the structures of the machines," says McLean. "Volvo, over time, has focused on using high-strength steels, robotic welding and ultrasonic testing in the manufacturing process to the point that we're willing to stand behind machines with a lifetime frame and structure warranty."
Other manufacturers have also beefed up equipment structures. "Hyundai machines are built for heavy-duty work in hostile conditions. We consider our standard configurations 'loaded' for the toughest applications," Corey Rogers states. "For example, Hyundai excavators feature a forged boom foot for heavy-duty performance and a baffle reinforcement inside the boom to withstand extreme torsional side stresses." The company warranties heavy structural components in its excavators and wheel loaders for five years/5,000 hours.
Liebherr excavators have also been designed with the idea they will be used in a harder application than most dirt machines are likely to encounter, says Barnes. "All crawler excavators' attachments come equipped with steel castings in the boom foot, boom end and stick end to help reduce stress on the working attachment when working in hard applications," he notes. "Liebherr goes even a step further and pins the boom cylinders to the boom with two separate pins that are enclosed in a steel-casted bell housing. This also leads to less stress on the working attachment when working in a hard application."
The undercarriage on tracked machines must be capable of adapting to tough conditions, as well. "Fully sealed undercarriage components provide the first line of defense against corrosion in harsh working environments," says Corey Rogers. "At Hyundai, we use sealed undercarriage components and long-life pins and bushings throughout the machines to prepare them for extreme conditions."
Non-corrosive, long-life pins and bushings, coupled with synthetic shims, maximize durability and performance while minimizing corrosion in hostile environments, he adds.
Customized to the Task
Komatsu tailors its base machines — designed to meet the needs of a global customer base — to specific applications and conditions. For example, it worked with North American customers in the forestry industry to identify their unique requirements and specifications for log loaders. "Then we modified the [excavators] in our Chattanooga operations with bigger, wider, tougher undercarriages, different main structures, better guarding, walkways and different hydraulic systems that meet very specific logging applications," says Moncini.
For applications involving a high degree of airborne particulates, such as a transfer station in a waste handling operation, filters may be added to protect the operator environment, and different types of fans, fan drives, coolers, seals, etc. may be incorporated into the cooling system. "We would also look at screen packages to keep that airborne debris from going through the cooling package. Going to a wider spacing for the radiator also allows debris to pass through," says Warden.
For rubber-tired products, Komatsu provides hydraulic-driven reversible cooling fans, plus makes add-on guarding available to protect key components. "We may be looking at under guards to keep a piece of trash or a stump from coming up and hitting the driveshaft or transmission," says Warden. "We look at the engine compartments — are they susceptible to damage? Is there a pump that could be easily damaged if a door is dented? If that's the case, we want to make sure we're reinforcing that.
"What Komatsu tries to do with all of our product lines is look at the application and come up with what we feel is a basic package that will protect our machine and still provide the performance that's required," he continues. "On top of that, we will have additional items that are more a la carte. For example, if a customer has had problems with a certain area of the machine, we may have an additional guard that can protect it, but not everybody is going to need that.
"We're looking at a lot of the things that aren't necessary for every machine out there," Warden states, "but can be added easily in the field to customize them to ensure the machine will survive in those conditions."
The goal is to develop packages that are customized to particular industries, says McLean. For example, Volvo cabs come from the factory ROPS certified. "But when you enter these special applications, we have custom guarding packages for machines working in different industries," he says. Packages may include a falling object protective structure (FOPS); special screens that prevent debris from coming into the cab; custom guarding for the boom and arm cylinders; special louvers and screens for the cooling package and components; extreme-duty doors and latches; and, for tracked machines, roller guards to protect the undercarriage.
Packages cover a range of industries. For example, Liebherr supplies a package for wheel loaders used to handle salt and fertilizer. "This package provides complete corrosion protection by coating sensitive cooling components, sealing electrical contacts and filtering engine air intake," says Nick Rogers. "Special paint is also used to further guard the machine."
The company also builds wheel loader and excavator packages to meet the needs of landfill, demolition and recycling applications, as well as for operation in corrosive environments.
Other packages are designed to address operation in extreme heat or cold. "To handle that, we've developed a number of heating and cooling packages, and we also have access to a number of special oils that will keep the machines operating at peak performance in these punishing conditions," says McLean.
Targeted packages incorporate specialized attachments specific to an industry, such as the high-reach excavator Volvo provides for structural demolition. "It has special booms that allow the equipment to reach out and grab [building] components that are perhaps even two times further than a standard excavator," says McLean.
Custom packages do add cost to a machine, but can have quick ROI in the right application. In some cases, they can eliminate the need to bring in more expensive dedicated equipment. But in nearly all cases, they can enhance uptime and reduce owning and operating costs for equipment operating in punishing circumstances.
"It's more cost effective to put that guarding on because the extreme conditions you're going to be operating in are going to be rough on the machine," McLean states. "In the case of demolition, if you have rebar and things like that getting into key components, that will shut your machine down and stop your productivity in a second. So it is worthwhile for customers to make sure that they have a machine that's going to last."
Companies in this article