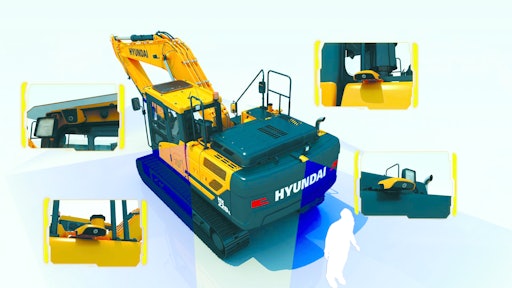 The automotive industry leads the way in object detection and collision mitigation systems with integrated camera and radar technology. Eliminating collisions due to natural blind spots has been a high priority in recent years and the resulting collision mitigation systems were rapidly adopted for use in the trucking industry. Now this technology is proliferating in the heavy construction market.
"This technology is mainstream in the automobile world and I see it becoming more mainstream on heavy equipment very soon," says Sean Martell, North America mining and construction sales manager, PRECO Electronics.
[Video] How Construction Benefits from Explosive Growth in Autonomous Vehicles
"To reduce accidents, object detection must become mainstream and will as the quality of products and their ability to address different risk scenarios improves," says Henry Morgan, director and CEO, Brigade Electronics. "Systems will definitely become more intelligent and reliable... Better camera detection of moving objects/people/cyclists and linking of cameras to detection devices, as well as RFID and CANbus, will result in effective collision avoidance."
Large earthmovers inherently have blind spots, which vary depending on equipment type. To limit risks, camera technology has been widely adopted on many machines. The most basic are backup cameras. Then there are systems with multiple cameras that allow operators to scroll between viewing screens. The most advanced multi-camera systems offer a full 360° view around the machine.
Installation of camera systems doesn't require a lot of effort. "Camera systems are easy to install — even 360° camera systems that provide a bird's eye view all around the machine," says Morgan. "[Camera systems] enable machine operators to see areas of risk, but they are not a standalone solution. There are so many demands on machine operators that a well-designed detection system is essential to help operators contend with constantly changing risks."
Prevent Operator Overload
The problem is the attention required from the operator. "Cameras and mirrors are passive technology and are only helpful if an operator is looking into them," says Martell. "Active radar technology detects hazards (humans and objects) inside the defined danger zones and actively alerts the operator that a hazard is present. This technology also provides the operator with a proximity alert that identifies the distance the hazard is from the sensor, both moving and non-moving. Integrating an active radar system with a passive camera/monitor system provides an operator with a more complete safety solution."
"New technologies do have the power to significantly improve site safety," agrees Matt McLean, product manager, Volvo Construction Equipment. "But no operator should use only one safety feature in lieu of the others. Cameras, mirrors and object detection technologies are designed to be used together. However, new technologies alone do possess the power to significantly improve site safety."
Being in the automotive market, Hyundai is not a newcomer to the benefits of collision avoidance systems. "We are very confident that our All-Around View Monitoring System (AAVM) and similar systems will become mainstream technologies, and it won't take very long," says Corey Rogers, marketing manager, Hyundai Construction Equipment Americas. "Equipment owners and operators see the value and they're starting to demand this capability. We're seeing greater demand in certain regions — like the West Coast, Northeast and Canada — and in industries such as oil and gas. But the demand will keep growing across all geographies and industries. New regulations may also have a role in accelerating the growth of view monitoring and object detect systems."
Brigade Electronics offers BACKSENSE for the aftermarket. It is comprised of an 8.5" x 5" radar sensor connected to an in-cab audio-visual display that uses LED distance indicators. The unit emits a tone that increases in pulse rate the closer an object is to the external sensor. It uses Frequency Modulated Continuous Wave (FMCW) radar technology, which has a longer range than infra-red and ultrasonic waves and is able to travel through snow, rain, mud, dirt and even plastic.
PRECO Sentry is also available for the aftermarket. It has a fully adjustable detection zone, with the ability to detect objects from the face of the radar up to 98 ft., and the width of the detection zone is adjustable to fit almost all vehicle types. Sentry accurately identifies the location and velocity of up to 16 people or objects simultaneously. It is also designed to withstand the harsh environments encountered by heavy-duty equipment. Built-in fail-safe alerts notify the operator of radar blockage or communication issues.
[VIDEO] Preco's Sentry System Sets Perimeter to Protect Equipment
Cutting Edge Solutions
Volvo's E-Series crawler excavators come standard with a rear view camera, side view camera and 8-in. high-resolution display. They also offer an optional Smart View feature, which provides an aerial, bird's eye view of the machine and its 360° surroundings. "Rear view cameras are also standard on all our GPE-sized wheel loaders and articulated haulers," says McLean.
 "Additionally, our H-Series wheel loaders are available with a radar detect system that works with the standard rear view and optional forward-facing camera to alert the operator of any obstacles in close proximity," he says. "Our latest innovations in regard to object detection and visibility, however, come in the form of our new in-cab interface, Volvo Co-Pilot."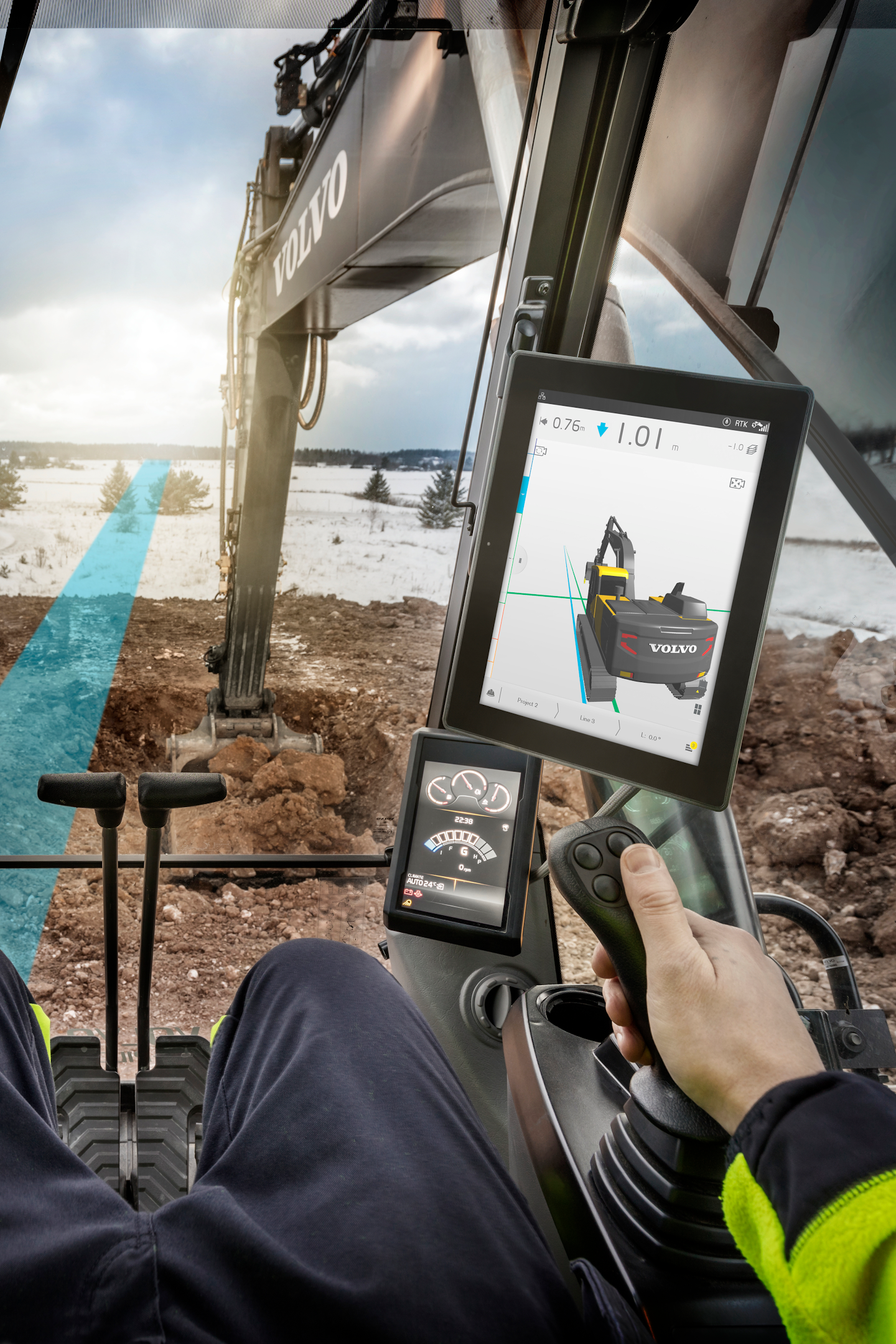 Volvo's Dig Assist is a machine control solution that provides object detection capabilities. Co-Pilot is a 10-in. touchscreen interface with a suite of machine-specific applications that provide the operator with visibility to a host of safety- and productivity-enhancing information, including machine position and real-time job progress. "These applications currently include Dig Assist for excavators, Load Assist for wheel loaders, Compact Assist for soil and asphalt compactors, and soon we'll offer Haul Assist for articulated haulers," says McLean.
Intelligent Machine Solutions Drive Revamped Volvo CE Services Portfolio
Dig Assist is a machine control solution that provides the operator with greater visibility to both the surroundings and job progress. "Utilizing the Co-Pilot screen, the operator can see real-time position of the boom, arm and bucket, all in relation to parameters set specifically for the task at hand, alerting the operator when target grade or depth have been reached," McLean explains. "Dig Assist also allows for setting a height alarm to help the operator avoid power lines or other obstacles.
[VIDEO] Overview of Volvo Dig Assist for Crawler Excavators
The operator has the ability to simultaneously monitor up to four views of the machine, including side, front, top and 3D views. The system can be outfitted with Smart View, which provides a 360° aerial view of the machine and its surroundings.
Dig Assist reduces the need for staff working in close proximity to the excavator. "By being able to see depth and grade in real time from the cab, Dig Assist reduces the need for manual depth checks conducted by someone in the trench," says McLean. "Similarly, by providing the ability to use in-field design and quick measure functionality directly from the cab, the need for on-site surveyors or engineers may be greatly reduced."
Not all Technologies Are created equal
Not all object detection systems are equal in terms of performance. Consider ultrasonic technology, for example. "The problem with ultrasonic technologies is that they are short range and fail if covered by dirt, mud, snow or ice," says Morgan.
Radar technology offers a more robust solution. "Pulse and FMCW radar are far more accurate in adverse weather conditions than ultrasonic or laser technology," says Martell. "Radar is capable of penetrating hazards through... severe conditions that the other two technologies are not capable of doing.
"Radar is also much more robust," he adds, "because the technology is solid-state electronics, and therefore does not have moving parts inside the sensor like that of ultrasonic sensors."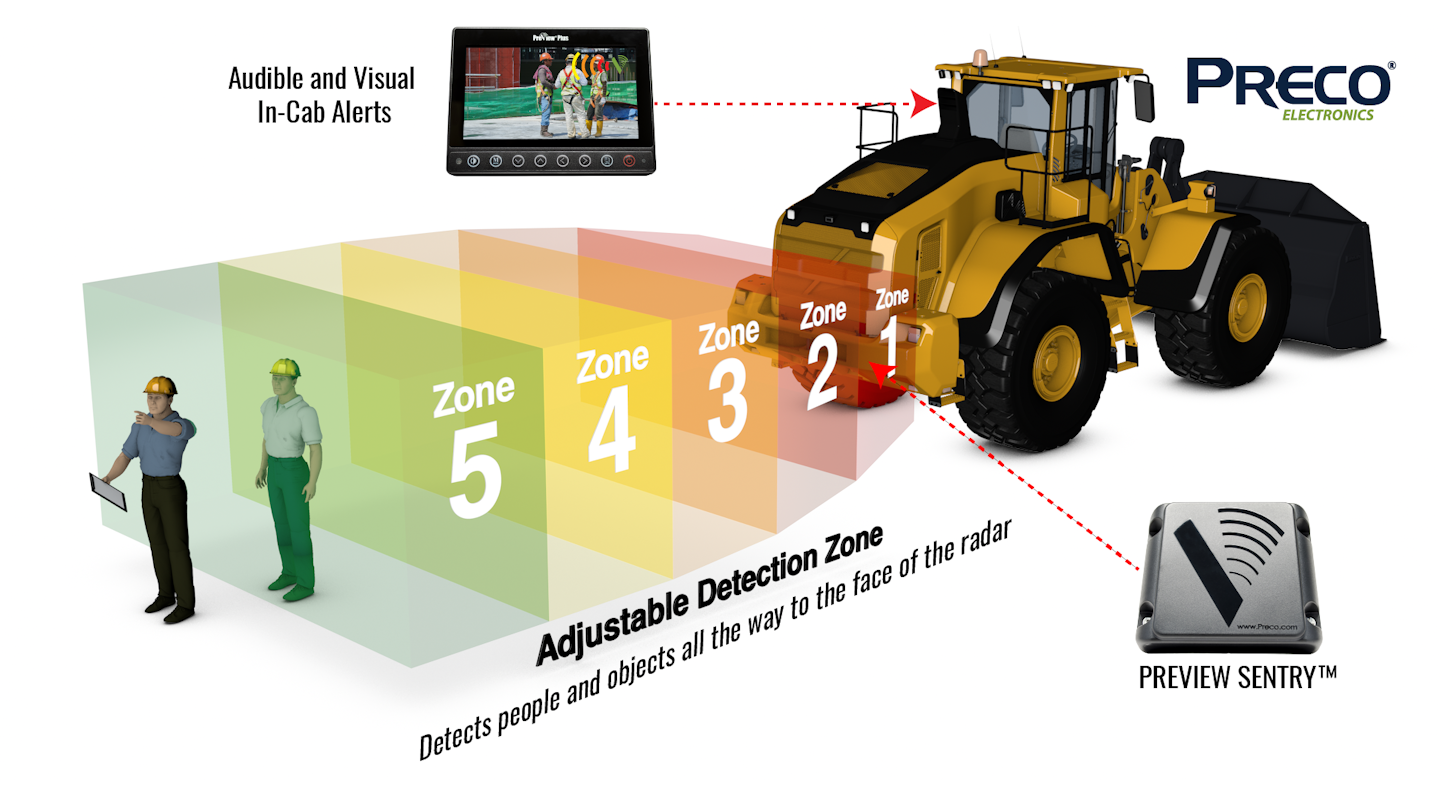 PRECO Sentry has a fully adjustable detection zone with the ability to detect objects from the face of the radar up to 98 ft. The width of the detection zone is adjustable to fit almost all vehicle types.Compare radar systems before making a choice. "Differentiators among today's radar solutions are determined by how flexible the solution is, the cost of installation and the speed which it can be implemented," says Martell. "Another unique feature that is often overlooked is the radar's ease of use. A well-designed radar solution improves the efficiency and productivity of the driver for their respective industry."
Make sure the radar can measure potential hazards effectively. "Effectiveness depends on radar resolution," says Morgan. "Generally, a radar system for mobile equipment can detect objects with a resolution of between about 1 meter down to 10 cm. Low-end systems tend to have a short range and poorer resolution with perhaps three pre-defined zones (red, amber and green) that can only discern distance from the radar head."
High-end systems, on the other hand, can detect both distance and direction, typically have a range of 98 ft. (30 meters) and are highly programmable. "They allow operators to set variable detection ranges and widths, up to five zones each specified with depth and set blind zones, so items like the vehicle tires can be ignored," says Morgan. "These systems can also be calibrated so 'zero' is at a specified distance from the radar head, as the radar can't always be installed at the rear-most edge of the vehicle. LEDs for each zone are always active, while audible alerts for the outer zones can be silenced if required to avoid operator annoyance. A trigger output (that creates the alert warning) is programmable to an independent specific distance to activate an additional alert or trigger an event for a data recorder."
Mining Leads the Way
The mining industry was an early adopter of object detection systems. "This technology is being used extensively in underground mining and is growing in above-ground applications and is proven to be effective," says Martell. "The success of object detection systems depends on the jobsite and the application. What works at one site won't necessarily work at another. It is important for safety professionals to do their due diligence to determine what system is best suited for their needs."
The key is operator awareness. "Komatsu believes the operator is in the best position to evaluate and respond to the risks and operating conditions around the vehicle," says Don Lindell, senior product manager, electric drive trucks, Komatsu America Corp. "The most effective systems use multiple layers of coverage that ensure redundancy and provide operator confidence. Often, this uses a mixture of active and passive tools."
Komatsu offers the KomVision system for off-highway mining trucks. "This system synthesizes radar and camera inputs into a single display that provides the operator with a 360° view around the machine, as well as warnings about objects surrounding the vehicle," says Lindell. "Even more advanced technology is deployed on the Komatsu FrontRunner Autonomous Haulage System, and is used for observing road conditions for autonomous trucks as they operate in a mine."
This is not as easy as it may first appear. "Object detection in the mining environment is far more difficult than most people initially expect," says Lindell. "The basic concept is easy to grasp, but the challenges of actual road conditions, environmental impact, object size and reflectivity and other factors make the reality a computational challenge. The autonomous system uses a combination of radar and lidar that provides the multiple layers of short- and mid-range coverage necessary for object differentiation as well as road condition monitoring."
Komatsu Unveils Dedicated Autonomous Haul Truck at MINExpo
The technology continues to rapidly evolve. "At this time, these systems are surprisingly accurate and newer technologies will bring even more capabilities," says Lindell. "The real challenge is the continued development required as technology changes. The rate of change is so fast in this area that it requires significant investment to keep on top of the opportunities."
OEMs are in a unique position to integrate this technology into larger mining equipment and, perhaps someday, larger construction equipment.
"In order to protect [equipment] from road damage and to best leverage their capabilities, these systems require an integrated machine design," says Lindell. "It's easy for aftermarket suppliers to bolt on technology... but it often fails after a short time or doesn't live up to its potential. Additionally, because of the short life cycle of radar technology, the OEM needs an aggressive development plan that includes planning for component obsolescence. For high-value assets like mining equipment, factory-authorized solutions are the best way to ensure high-quality performance over the long run."