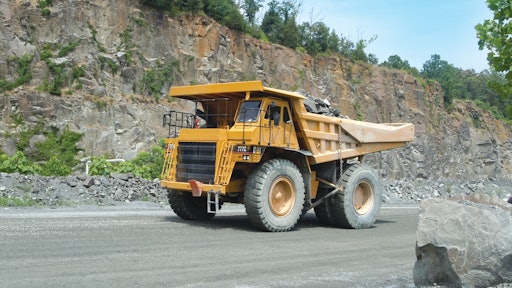 Luck Stone Corp. is one of many companies changing its ways to soften its impact on the environment. Based in Richmond, Va., it is one of the largest family owned and operated aggregates companies in the U.S., and one of the nation's largest producers of crushed stone. The company is also a leading architectural stone and tennis court supplier with operations in Virginia, North Carolina and Maryland.
"Our focus is to leave the environment in a better state than how we found it," says Paula Long, Community Relations Representative at Luck Stone. "We are always looking for more environmentally-friendly ways to operate and ways to be sustainable in the future."
It's a lesson that many aggregate suppliers are learning, as development creeps closer to quarries and the construction work they supply carries on among growing populations.
Caterpillar is increasingly addressing diesel emissions from aging machines with long frame lives using its Cat Emissions Repower. Luck Stone is a perfect candidate to employ the option.
Same machine; cleaner engine
A repowered Cat 777C haul truck is already reducing Luck Stone's carbon footprint at the company's Leesburg Plant in Ashburn, Va. On May 25, 2010, the machine's existing engine was removed (with 28,715 original hours) and replaced with a new engine system implementing the latest Caterpillar Tier 2 Technology.
"It's a better truck now than what it was before the repower," says Luck Stone Machine Operator, Charlie Weidman. "I think it'll last a long time."
"We saw an opportunity to update our 777C truck without having to buy a new one," explains Butch Rakes, Mobile Equipment Manager at Luck Stone. "We still have a really good piece of equipment, and now we have a new emissions-friendly engine. Many customers do not deem it necessary to replace a piece of equipment to reduce emissions, and neither do we. Caterpillar, and our Cat dealer, Alban Cat, found a way to make reducing emissions economically beneficial to us."
A Cat Emissions Repower includes removal of the existing diesel engine and replacing it with a new or remanufactured lower-emissions Cat engine (see photo timeline). Repower solutions are available for many classes of Cat diesel engines, and where appropriate, include ACERT Technology. ACERT not only lowers emissions, it also enhances overall engine performance.
In order to save downtime, an engine repower may be performed at the same time as another major replacement or overhaul. Caterpillar has developed parts kits and standard procedures specific to various machine and engine models to make dealer installations more efficient.
Luck Stone has enjoyed reduced noise from the repowered engine as well as improved performance and reduced smoke, or particulate matter, which had been apparent operating under load. The repower engine is capable of up to 74% reduction of particulate matter.
Repowers more fuel efficient
The new engine is also lighter and results in a more fuel-efficient machine, according to Rakes. The engine's performance is matched to the existing powertrain. Other enhancements include the Next Generation Modular Radiator, with wider fin spacing for easier cleaning, and the optional Cat Electronic Display.
"Fuel economy is very important," stresses Luck Stone Plant Manager, Lewis Murphy. "It's critical that we maximize fuel efficiency." Luck Stone has measured an 8% efficiency increase, which translates to just under a gallon an hour savings. "It's significant," he adds. These savings contribute to a total of more than 20 tons of emissions reduction annually.
Luck Stone, and other repower users, expect the repower to deliver savings throughout the life of the repowered machine. In addition to the fuel savings, the company has also increased the oil-change interval with no increase in wear on the newer engine, improving the truck's uptime and reducing maintenance costs.
Luck Stone expects to get increased resale value from the truck when they replace it.
Cat has completed over 5,500 repowers. For more information about Cat Emissions Repower Solutions, call your local Cat dealer or visit www.cat.com/EmissionsSolutions.