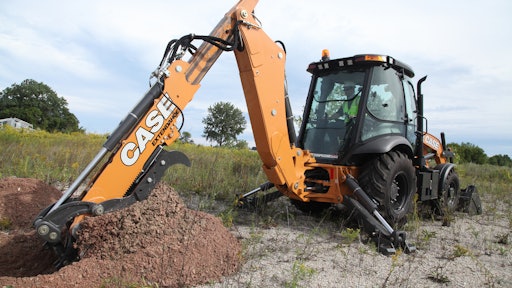 More recent advancements in backhoe-loader development center on the hydraulic systems. "Case has been the first to introduce many of the newer features and functionality into backhoe-loaders that leverage hydraulics and control capabilities to simplify operation," Ed Brenton, product marketing manager, Case Construction Equipment, asserts. Such features include:  
Pro Control, which allows for more precise boom swing and eliminates the time and effort  in correcting overswing; Power Lift, which channels hydraulic power  to the boom for a period of time to increase  lifting capabilities;  and Power Boost, which provides a momentary boost of increased hydraulic power — without  decreasing engine rpm (so as not to affect  speed/cycle times)— when the operator pushes  a button on the left-hand backhoe joystick. 
"[The Power Boost] feature is ideal for digging through tough conditions, including hard clay, rock and frost," Brenton adds.
Many companies also offer push-button hydraulic power boost features to temporarily increase hydraulic lifting capacities. For instance, Deere & Company innovated a Lift Mode to assist with lifting and craning objects on the jobsite.
"Rear backhoe lifting and craning activities on the John Deere machines can be boosted by Lift Mode," says Brian Hennings, product marketing manager, backhoes and tractor loaders, John Deere Construction and Forestry. "At the push of a button, the 310SL HL, 410L and 710L can enable operators to increase lift capacity by 10% to 15% when needed, minimizing the need to reposition or reconnect to a different machine."
Load-sensing hydraulic systems have continued to increase overall machine efficiency while increasing performance. Caterpillar believes one of its most notable achievements has been the continued development and tuning of its load-sensing hydraulic infrastructure coupled with post pressure-compensated control valves. "We refer to it as flow sharing hydraulics," says Dustin Adams, product application specialist, Caterpillar. "It provides superior control to our operators and allows them to multifunction the loader or backhoe implements without loss of power to the command functions."
Electrohydraulic advancements have also increased the flexibility of the control systems. "We have just introduced a new hydraulic infrastructure that enables seat-mounted controls on the new 440 and 450," says Adams. "The seat-mounted controls allow the operator to quickly switch from loader to backhoe operation without having to adjust the controls, thus reducing operator motions and improving efficiency and ergonomics."
Hydraulic systems can now be tailored to the applications. "The infrastructure enables programmable features such as operator control modes (response and modulation), loader kickout, return to dig and parallel lift," notes Adams. "We have seen advances in technology on other Cat products such as small wheel loaders, skid-steer loaders and compact track loaders, and are now leveraging that technology on backhoe-loaders."
Advanced operator controls have made it easier for operators to run the machines in a multitude of operations. John Deere enables control of attachments from inside the cab. "An operator can quickly switch out various rear hydraulic attachments such as breakers, augers and plate compactors and select the proper gpm (gallons per minute) flow from the monitor inside the cab, all of which improves machine versatility and efficiency," says Hennings.
Case has overhauled much of the control performance/functionality of its joysticks to be more intuitive and less strenuous for the operator, says Brenton. These changes include three new switches on the loader joystick to simplify operation. A declutch trigger on the back of the joystick allows for simple operation while performing continuous/repetitive operations, such as loading trucks. A roller/rocker switch with a detent position can be locked in the forward position for use with attachments such as brooms and snowblowers. A F-N-R switch allows for quick and easy directional changes without ever taking a hand off the joystick. On the backhoe pilot control joysticks, new backhoe control roller switches have been added for auxiliary and Extendahoe control to allow for more intuitive control and improved metering.