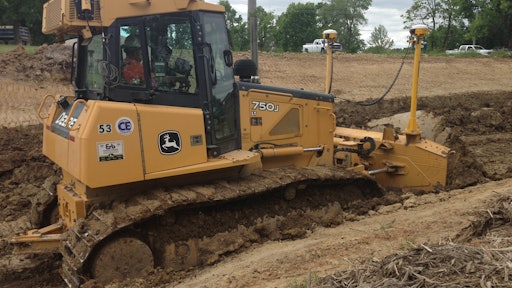 The state-of-the-art $5 million Ste. Genevieve County Memorial Hospital's new Bloomsdale Women's Health and Primary Care Center in Bloomsdale, MO, has been a dramatic addition to women's diagnostic and health care services for the region. St. Louis-based McGrath & Associates was the general contractor responsible for juggling the efforts of approximately 30 subcontractors, including CE Contracting, Inc., Ste. Genevieve, MO.
CE Contracting was responsible for site prep on the 3-acre site, as well as utility and concrete work. The small site was formerly open-field farmland and is located on the east side of Interstate 55 at Highway Y, just off the I-55 exit.
"The site work included excavation, cut and fill and compaction," says Ben Weiler, PE and vice president, CE Contracting. "We were also responsible for utilities, which were water lines, sanitary sewer lines, storm sewer lines and catch basins, and pipe to the ditch area. Plus, we had 20,000 sq. yds. of concrete paving, which includes an offsite street of about 1,000 ft. long coming into the site, and then the concrete paving around the building footprint."
The new health care facility was on a fast-track schedule, with the ribbon cutting set for 11 months after the start date. CE Contracting knew it would have to be efficient to complete everything on spec and on time. "We had to complete the site prep quickly and accurately since so many contractors were waiting for us," says Derek Drury, president of CE Contracting. "We knew from the start that we'd be using Trimble for machine control, site positioning needs and for creating a 3D site plan."
A Combination of Software and Systems
Although the Bloomsdale Women's Health and Primary Care Center site was small compared to most of CE Contracting's projects, there were challenges.
The Bloomsdale site sits on a natural hillside, with the structure and parking lot sitting below the street entrance. The entry drive is narrow and splits two adjoining pieces of property. The elevation drop that the road needed to descend to the parking had to be finessed in a way that respected the adjacent property.
"It would have been significantly more time consuming to create the entrance and grade the descent without the benefit of machine grade control," states Weiler. "I wouldn't want to consider doing it without the technology."
Another challenge CE Contracting faced was the soil condition. There was approximately 1,000 cu. yds. of high plastic clay that needed to be remediated for the structural site. "We were able to obtain low plastic replacement soil from a nearby property and supplement the quantity shortfall with crushed stone from a local quarry," says Weiler. "Local sourcing helped us stay on deadline."
To create the 3D digital site plan, CE Contracting used Business Center – HCE data preparation and takeoff software from Trimble. "I like Business Center - HCE because it's geared to the construction contractor and can import various file formats we receive from owners and engineers," Weiler says. "With the support of our local Trimble dealer, it's been user friendly, easy to learn and seamlessly communicates with our machine control systems at the Bloomsdale site."
CE Contracting used a Trimble GCS900 grade control system with dual GNSS an-tennas on its John Deere 750K crawler dozer to grade the site. "This particular project serves as a great example of how GPS technologies can be beneficial on even the smallest of jobsites, especially a building site," Drury states. "With a 21,000-sq.-ft. building centering the jobsite, it can get cumbersome to use a total station due to the lack of line of sight. With GPS, we were able to establish real-time 3D grade with virtually zero downtime and eliminating time-consuming repeated instrument setups. We were able to put the site very close to target grade with the GCS900 system on our 750 dozer."
Using the handheld Trimble controller, the contractor was able to quickly adapt to a Trimble robotic total station in order to place curb stakes and tweak the final grade.
Making History
 CE Contracting was able to use the Missouri Department of Transportation (Mo-DOT) VRS (Virtual Reference Station) Network for much of the project. The MoDOT VRS Network provided high-accuracy, real-time kinematic (RTK) GNSS positioning for the wider area and eliminated the need to set up a base station. The MoDOT VRS Network serves the entire state of Missouri.
Drury estimates that the machine control technology has yielded tangible benefits on this project in terms of 20% cost savings and 20% time savings. Both of these benefits were considered crucial in light of the tight timetable.
For CE Contracting, there was a lot at stake. The Bloomsdale Women's Health and Primary Care Center site is just a few miles away from CE Contracting's headquarters. "Both Ben and I live in Bloomsdale, so there's a sense of community pride in making sure our job is done right," Drury states.
There is also a family history to uphold. "My dad worked for my grandfather, who founded a construction company in 1946. Growing up, when driving around Bloomsdale, my father would point out various landmarks and say, 'You know, I put in that sewer,' or 'We graded that site for that building.' There's a lot of pride in being a part of that," Drury comments. "I'm looking forward to driving past [the health center] site and being able to say to my kids, 'CE Contracting did all that grading for that health center. We poured that concrete.' There's a lot of pride in being able to do that in your hometown."