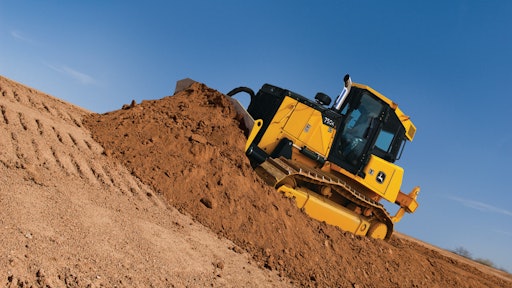 John Deere has upgraded its 550K, 650K, 700K and 750K crawler dozers to the new K Series with new, more powerful PowerTech engines across the line that satisfy EPA Tier 4 Interim emissions requirements. With increases in overall weight for all, the new hydrostatic-drive tractors promise improved productivity.
The K-Series uses cooled exhaust-gas recirculation (EGR) with exhaust filters to meet 2012 EPA emissions regulations. The diesel particulate filters (DPF) are cleaned automatically during routine operation. A hydraulically driven cool-on-demand fan operates only as needed, decreases noise levels, and cuts fuel consumption.
A fan-reversing feature to blow debris from the coolers is standard for the 750K and optional for the 550K, 650K, and 700K. The 700K and 750K come equipped with John Deere's exclusive V-Cool package, which isolates coolers from dust and engine heat to increase cooling efficiency and durability.
The display in the cab provides real time values for every temperature, pressure, and speed sensor on the machine. K-Series dozers constantly monitor their own transmission temperature, and the monitor has a special warning light to alert operators when the transmission is too cold or too hot for normal operation.
750K: 155 - 165 hp PowerTech 6.8L engine; base weight 34,377–37,595 lbs.
700K: 125 hp PowerTech 6.8L; base weight 30,225–31,240 lbs.
650K: 101 hp PowerTech 4.5L; base weight 19,599–20,624 lbs.
550K: 85 hp PowerTech 4.5L; base weight 19,290–20,272 lbs.
Request More Information
Fill out the form below to request more information about
Deere K Series Dozers