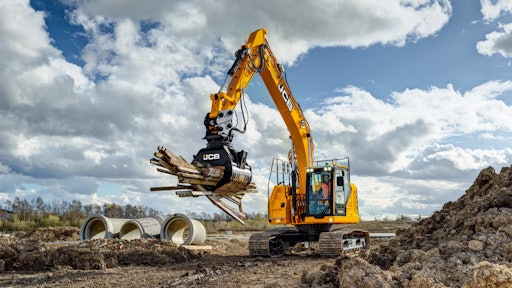 JCB
Several new excavator models are being ushered into the market in 2023 by manufacturers, many of whom launched their new machines at CONEXPO-CON/AGG in March in Las Vegas. This new league of excavators feature more power and torque with improved fuel efficiency and attachment performance, better cab comfort and longer maintenance intervals. There are new technological bells and whistles, too, such as improved grade control and obstacle detection. We sat down with a few of the manufacturers to take a closer look at what these new models have to offer.
At CONEXPO, Volvo Construction Equipment (Volvo CE) unveiled its most recent crawler excavator, the EC500. A 50-ton crawler excavator and a successor to the EC480E, the EC500 will be produced later this year.
Built for even the toughest applications, including aggregates, demolition and quarrying, the excavator, when compared to the EC480E, offers construction professionals an upgraded cabin design. Due to the upgrades, the cabin features a high-definition Co-Pilot screen, a keyless engine start, a tiltable console box, wired and wireless smartphone charging, and a new work mode switch.
Alongside the EC500, professionals will be able to utilize Volvo Smart View with Obstacle Detection, too. Delivering a 360-degree view as a result of its enhanced camera system, the radar detection offering provides operators automatic alerts whenever the EC500 approaches obstacles. While doing so, it will identify and classify each obstacle either as an object or a human, enabling operators to adjust accordingly. Aside from these alerts, the excavator has two other significant safety features: a top handrail, which is foldable for transportation, and three-point access guard rails.
"The EC500 is also set up with a range of machine options to help operators complete their tasks faster, easier and more safely, while boosting their performance and productivity, too," said Sejong Ko, product manager, large-size excavators, Volvo CE. "These include the Operator Coaching app and the Dig Assist and Lift Assist machine control systems. Volvo Active Control, a semi-automated grading system and part of the Dig Assist suite of tools, will be available for the first time on an excavator of this size, as well."
In addition, the EC500 will offer on-board weighing, an option that will provide operators real-time insights, concerning their bucket's loads. To ensure they have optimal loads, operators can establish limits for each hauler and truck type. From there, the on-board weighing system will count every bucket that's unloaded in a pre-defined truck loading zone, as the total tonnage that's moved is also recorded for each shift or day.
Featuring new electric joysticks, which offer operators a higher amount of control over its hydraulic system than other excavators did, the EC500 has hydraulic pumps that can either operate together or disconnect virtually. As a result, operators can control the excavator's boom without negatively impacting its track speed, leading to smooth rides and further safety. At the same time, fuel efficiency will improve, cycle times will decline and controllability will increase.
"Furthermore, the EC500's Comfort Drive Control allows operators to move forward and backward, while also steering with two proportional switches on the joysticks," Ko added. "And each operator can set up their own hydraulic settings, based on their preferences and the application, and save them in the monitor so that they can be easily and quickly accessed for future sessions."
Offering a rise in cooling capacity, when compared to other previously released excavators, the EC500 can handle even the most extreme weather conditions, along with long service intervals—as high as 2,000 to 3,000 hours—for its hydraulic oil and filter. Consequently, operators will save money long term, as the excavator will have a higher uptime, along with fewer maintenance requirements. Of equal importance, these updates will positively impact the environment, too.
E Series Offers Efficiency and Ergonomics
In the past, CASE Construction Equipment excavators have been known for their responsiveness, power and speed—three assets that have been taken "to the next level with the new E Series excavators," according to Diego Butzke, product manager.
"We're really focused on the operator with these new units, building out a massive new operator interface and an ergonomic workstation, which provides each operator more precise control as they operate their excavator," Butzke emphasized. "Offering excellent fuel efficiency, each excavator has a low, predictable total cost of ownership for the first three years in which it's owned, too, due to the CASE ProCare heavy machine support program."
As a result of the excavators' large operator interfaces, which are highly intuitive and easy to navigate, operators will be able to simplify their operations and increase their confidence, even as they use their excavators in challenging areas. And they'll have more awareness whenever they operate their excavators in these types of areas, due to the excavators' massive side, rear and Max View camera angles.
When compared to the manufacturer's previously released D Series of excavators, the E Series provides faster cycle times, more responsive hydraulics and new working modes, which enable operators to determine exactly how they want their excavators to perform, particularly with regards to how powerful they need them to be. Additionally, unlike in the past, operators can specify their hydraulic priorities, concerning different boom and stick flows, leading to the exact type of machine responsiveness they need.
"We've also enhanced the ability to dial in attachment performance, enabling the E Series excavators to become extremely versatile platforms for all kinds of attachments, from breakers, to claws, to compactors," Butzke said. "And we've really doubled down on the excavators' collaborative fleet management capabilities, resulting in further peace of mind for equipment owners."
As an example, each E Series excavator has a SiteConnect Module that increases its connectivity abilities, enables collaborative fleet management and decreases downtime risks. It also has a SiteManager App, which allows operators to provide CASE Construction Equipment dealer service technicians remote access for diagnostics and software updates so that they can become fully operational in a timely manner.
Furthermore, each E Series excavator can be monitored by the manufacturer's CASE Uptime Center, leading to high visibility into operating conditions so that operators can identify issues before they become more significant.
"E Series excavators have new FPT Industrial engine technology that delivers improved power, response, torque and emissions simplicity, in comparison to the D Series excavators' engines," Butzke said. "These benefits are noticed throughout the E Series product lineup, but they're really evident in a workhorse machine like the CX300E, in which we've noticed a 25 percent increase in power and an 18 percent increase in torque."
Offering longer service intervals than the D Series, leading to less downtime, which is generally associated with maintenance, the E Series excavators are also more fuel efficient, due to operating mode enhancements, along with other efficiencies.
"If an operator is familiar with the D Series, they'll notice that the E Series provides a very similar experience, as it has extremely fast responsiveness, smooth operation and, again, excellent fuel efficiency," Butzke added. "In addition, the E Series offers a low total cost of ownership, along with reliable, straightforward service."
Tracked and Tail Swing Excavators for Challenging Jobsites
Providing a wide range of standard, full-sized excavators, as well as compact or mini excavators, JCB North America increased its lineup with two new offerings last year: the 50Z-1 Compact Excavator and the 245XR.
Developed to offer longer dig end geometry, leading to an increase in dig depth, reach and dump height, the 50Z-1, a mini, tracked excavator, continues the manufacturer's 50-year-long tradition of creating tracked excavators. Cost effective, easy to utilize and highly efficient, the excavator can be used on highly challenging jobsites, as it's comprised of 100 percent steel. Utilizing a 48.3 hp engine, the excavator, which has an 11,089-pound operating weight, provides 500-hour greasing intervals, along with sectioned hydraulic hoses that have bulkheads, which are easy to access.
"Highly comfortable, due to its spacious interior, the 50Z-1 has a dig depth of up to 11 feet and 11 inches," said Javier Marin, product manager, heavy excavators and wheel loaders, JCB North America. "It also offers a dump height of up to 13 feet and 5 inches, along with zero tail swing.'
Meanwhile, the 245XR, a 28-ton reduced tail swing excavator, provides operators considerable space, high power and comfort—all within a compact unit. Created over a period of 4 years, as extensive electrical, electronic and hydraulic development were required, the 245XR underwent hot and cold climate tests, ranging from -22℉ to 131℉, along with machine shaker rig testing, which duplicated 15,000 hours of tracking and vibrations.
Featuring the manufacturer's DIESELMAX 173 hp engine, which has been used in 70 different machines thus far, the 245XR has an operating weight of 61,749 pounds, a bucket capacity of 1.63 cubic yards and a dig depth of 21 feet and 9 inches, at most. Additionally, it has various hydraulic components that deliver efficient, accurate control for any task that users need to conduct.
"Furthermore, it offers customizable, electro-proportional controls, which enable operators to establish their own preference, regarding their attachments' control and speed," Marin said. "And, for further efficiency, the 245XR also has the latest generation valve block that's available."
Due to its reduced tail swing—a radius of 5 feet and 9 inches, a decline of 40 percent, in comparison to the previously released 220X—the excavator can be safely used in tight, high traffic areas, as well as against buildings and road barriers.
"Our excavators provide cutting-edge technology that's backed by years of research and development to ensure operators receive the best products possible," Marin stated. "In fact, thousands of hours are spent on testing to make sure our excavators hold up to the demands put on them."
Moreover, JCB North America has an ever-increasing dealer network that enables operators to properly service their excavators if any issues ever arise.
"Each of our excavators may have their own unique characteristics, yet they all have one similarity: the same amount of attention, concerning details, are given to each of them, ensuring their long-term efficiency," Marin stressed. "As a matter of fact, operators will notice many similarities across our entire excavator portfolio since JCB's technologies benefit each of its excavators, no matter how small or large they are."
Transitioning To Performance Tiering
Over the past year, John Deere Construction & Forestry has been transitioning its excavators, model by model, to performance tiering.
For instance, it's offering P-Tier models, which are highly comfortable, efficient and technologically driven. Available in various options, ranging from the 130 to the 470, P-Tier models have standard LED work lights, along with an optional right, rear and left camera system. Providing additional LED surround lighting, the system, in turn, offers operators 270-degree visibility, which is integrated into each camera's main monitor.
In the meantime, the 210 to 380 models utilize electronic cooling fans, leading to 7 percent higher fuel economy, when compared to the manufacturer's rugged G-Series excavators. They also have central lubrication at their arm tips, along with enhanced pin and bushing designs, which simplify their greasing maintenance requirements, resulting in front joint life improvements, as well.
And, finally, four of the P-Tier models—the 210, 350, 380 and 470—have optional SmartGrade precision technology, too, enabling operators to run them without any limitations whatsoever, as well as within any position. Consequently, they can lean their excavators' front wheels, control their articulation and pitch their blades effortlessly, all while maintaining a high amount of accuracy.
"Our prior G-Series excavators built a foundation of performance and reliability, backed by our dealership network for sales, service and support," said Justin Steger, solutions marketing manager, John Deere. "We took that foundation and built upon it, as the P-Tier has various features that meet operators' needs and offer value to their businesses."
Preventing Thefts, Via GPS And Telematics
Available with the 50Z-1 Compact Excavator and the 245XR, JCB LiveLink enables operators to effortlessly monitor their excavators and the amount of hours in which they're used, while also providing them alerts for routine maintenance or critical issues that need to be addressed as soon as possible.
Utilizing GPS, in order to know exactly where each of their excavators are operating, JCB LiveLink allows operators to establish operating areas so that they're alerted whenever their excavators leave their work areas. And they can receive immediate notifications if their excavators are ever turned on outside of the working hours they've determined.
"Every JCB excavator is also stamped with numerous serial numbers to assist law enforcement with recovery if they're ever lost or stolen," Marin said.
On the other hand, CASE Construction Equipment's excavators enable operators to lock and store codes to prevent unauthorized usage, while CASE SiteWatch telematics can be used to enhance the security of operators' excavators, as well. To do so, the telematics set alerts for engine starts during off hours, and they can track excavators' locations if operators believe they're being used at unauthorized times or by unauthorized individuals.
Likewise, John Deere Construction & Forestry excavator users can utilize JD telematics to connect their excavators to an Operations Center account, resulting in a convenient, remote view of their excavators' locations.
"Operators will also receive utilization data, along with alerts, which help them maximize each of their excavator's efficiency and productivity," Steger explained.
At the same time, Volvo CE enables its operators to enter a code through a keypad that's available on each excavator. By entering this code, operators can start their excavators, ensure they can't be moved and, in turn, reduce the risk of theft. Every code can be changed whenever operators need a new one too, via the manufacturer's machine management system.
In addition, the manufacturer offers an integrated engine lock, which further reduces theft risks through several triggers, including machine movement and tamper detection, along with time and geofencing functionalities. Consequently, operators can immobilize and track their excavators remotely.
Email or text alerts are also submitted to operators whenever preset triggers have been activated. Upon receiving these alerts, excavators can then be shut off, leading to its immobilization.
"Each excavator can be easily immobilized or remobilized through the CareTrack web portal or by using the excavator itself," Ko said. "A back-up battery is integrated in our anti-theft hardware too, which ensures active tracking is possible even if the main power is cut or the ignition is off."
The Positive Influence Of Recent Excavators
So far, 50Z-1 Compact Excavator and 245XR operators have noticed savings, with regard to their fuel consumption. Just as importantly, they've also diminished their downtime and increased their productivity on a short- and long-term basis.
"Additionally, due to JCB's wide range of excavator sizes, aside from the 50Z-1 Compact Excavator and the 245XR, operators now have the confidence they need to ensure they'll have the correct excavator for whichever job they have to complete," Marin stated.
On the market since July 2022, CASE Construction Equipment's E Series excavators are becoming increasingly popular, as a result of their comfortability, ease of operation and performance.
"The level of calmness that's often associated with the support of CASE ProCare must not be overlooked either," Butzke stressed.
Similarly, operators have shared feedback about Deere's P-Tier excavators. In particular, they've been pleased with the excavators' monitors, which are effortless to navigate, and heated and cooled seats, each of which weren't provided with the manufacturer's G-Series excavators.
"By adding grade control technology to more models, John Deere is also enabling operators to experience the value and efficiency of getting to grade faster and more accurately, while eliminating costly rework, as well," Steger said.
The impact of Volvo CE's EC500, meanwhile, has yet to be fully seen. The manufacturer anticipates that many operators will utilize it as a tool carrier, in addition to usual excavator functions. And since its platform uses the latest technology, which can be set up in different ways, depending on each operator's jobs and particular needs, the excavator offers users higher productivity and fuel efficiency than previously released excavators, too.
"Our goal with all excavators is to ensure owners' and operators' jobs become easier, safer and more productive," Ko concluded. "With the EC500, we'll continue to achieve this goal well into the future."
Companies in this article