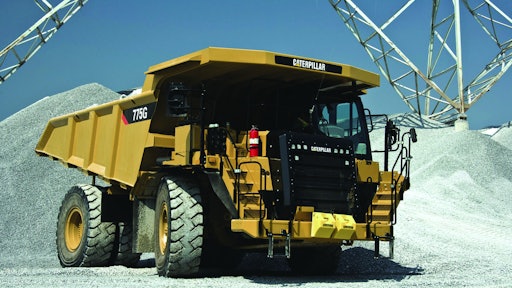 More than a dozen new Caterpillar machines, including the new the CT660 Cat vocational truck, will make their North American debut at CONEXPO-CON/AGG 2011 in three different exhibit areas totaling 60,000 square feet of floor space. To be sold and serviced by North American Cat dealers, the CT660 will be shown in a variety of configurations and in Caterpillar's North Hall and Gold Lot exhibits.
A new G Series 775 off-highway truck will garner a spotlight as it is the first Cat machine to go into production with a Tier 4 Final emissions solution. Many of the other new machines, such as the wholly redesigned H Series 627 wheel tractor-scraper, will showcase integrated Tier 4 Interim emissions-compliance solutions.
The Cat K Series midsize wheel loaders—ranging from the 950K to 980K—also will be introduced at CONEXPO-CON/AGG. According to Caterpillar, performance and fuel efficiency are improved on all five of the loaders. Cat E Series hydraulic excavators also will make their North American debut. The 336E, for example, features more net power than its predecessor for faster digging and loading. The upgraded M2 Series all-wheel-drive motor , with a wider variable horsepower range, will also be shown. Adjustable engine speed control is said to improve the AP1055E asphalt paver's fuel economy.
Caterpillar will also present a new telematics solution that builds on Cat Product Link. Additional hardware options enabled with cellular technology and a new user friendly web-based application with enhanced features and new capabilities are intended to improve fleet-management effectiveness. Center-stage presentations in the North Hall will demonstrate how the new system works.
The Caterpillar display in the North Hall, exhibit space N1913, shows machines for site development, road building and paving, underground utilities construction and quarry and aggregates operations. Cat Rental Store services also share the North Hall exhibit. The exhibit in the Gold Lot at G130 includes small machines for general construction and specialty trades and features displays representing the Caterpillar commitment to building machines that benefit current and future generations. The South Hall exhibit, S16329, features engines from Caterpillar Industrial Power Systems and Perkins. The Caterpillar OEM Solutions display is nearby at S16343 and features components for OEM applications.
Look for live and video presentations in the North Hall, including a visit from Mike Rowe, the star and originator of the Dirty Jobs television program. For the latest information about the Caterpillar exhibits, go to www.cat.com/conexpo.