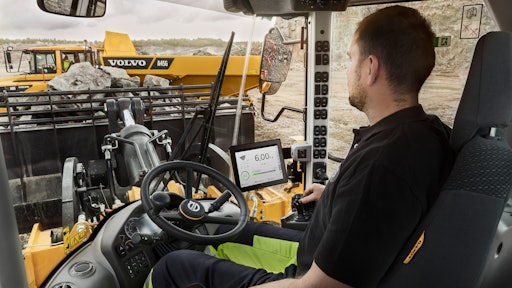 Volvo Construction Equipment
Many manufacturers are integrating payload information systems to keep operators better informed. "Volvo's latest update to our Load Assist solution gives operators real-time information on bucket payload, helping them improve their accuracy and productivity by achieving the perfect payload every time," says Eric Yeomans, product manager, wheel loaders, Volvo Construction Equipment.
"Load Assist is beneficial for operators of all levels of experience, but for newcomers it can be particularly valuable in helping them boost their productivity and accuracy," says Yeomans. "Load Assist gives operators real-time information on every bucket's load within +/- 1% accuracy, with information displayed on our 10-in. touchscreen Volvo Co-Pilot display."
"We have worked hard to integrate payload scales on our equipment," notes Jason Hagedorn, product application specialist for medium wheel loaders, Caterpillar. "It is imperative for customers to maximize payload from a revenue perspective, yet ensure trucks are not overloaded, which has many safety implications if the truck were to leave the yard in this condition. The Caterpillar Production Measurement (CPM) payload scale is deeply integrated into machine systems from a linkage position, hydraulic pressure and temperature compensation perspective, which enables industry leading accuracy while saving valuable time, fuel and cylinder wear due to low lift weight and dynamic tip-off capabilities. Additionally, this builds operator confidence on what he is actually moving with the machine.