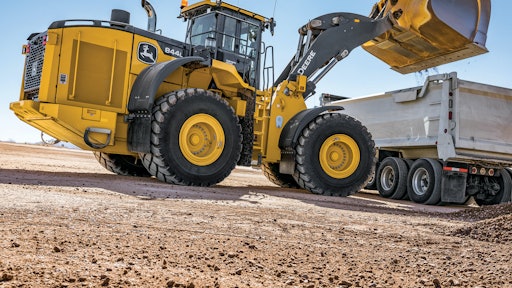 John Deere
Many variables including loader size, bucket size, lift height, truck size, jobsite layout and underfoot conditions can impact the productivity of a material loading operation.
"Improperly sizing a loader (loading tool) to a truck (hauling unit/target) can be detrimental in obtaining efficiency of a jobsite," notes Scott Schmidtgall, product application specialist for medium wheel loaders, North America, Caterpillar. Many items must be considered to make a decision on what bucket size and loading height constraints need to be met. "Know what your current actual production targets are as well as what the future production is intended to be. Material density, production targets, peak times, realistic idle times all come to mind very quickly as areas that cause pain if they aren't understood well."
Define production requirements for the operation. Once that is established, then match machine size and bucket size in relation to the material being handled and the necessary discharge height. "Matching the machine and bucket with the production requirements and considering the working schedules of the operation will help put the right machine on the site," says Nick Rogers, product specialist/inside sales coordinator, Liebherr USA, Co. Construction Equipment Division.
"Ensuring the loader is properly sized for the application and equipped with the appropriate bucket, ground-engaging tools and tires is an important first step for optimizing loading efficiency," says Grant Van Tine, product marketing manager, wheel loaders, John Deere Construction.
"By understanding the correct pass matching between your truck and loader, you'll get the most amount of material loaded in the shortest period of time," says Chris Connolly, product manager, wheel loaders, Volvo Construction Equipment. "This is especially critical in high-productivity applications like a quarry or plant."
Yet, there is more to sizing a machine than simply productivity. "The loader must be able to handle the volume of the material, both in terms of power and stability," says Connolly. "If the machine doesn't feel stable while lifting or traveling with a loaded bucket, it is not only dangerous, but can also shorten the service life of the machine significantly. This can also have a major impact on the confidence level of the machine operator."
Typically, a wheel loader is sized based on the common truck size and traffic at the site. If trucks are not lined up and waiting throughout the day, you may be able to use a smaller loader.
"There are several factors that need to be considered including weight capacity of the truck, the materials that will be loaded, and their densities," says Van Tine. "Often, there is a desired number of passes to load trucks (two to three, for example). From that, customers will choose a loader that can handle the bucket size needed for their materials and meet the loading height requirements of the trucks.
"In some applications, height is the most important factor when sizing a loader," he adds. Some manufacturers offer high-lift models specifically to address these applications.
One often overlooked factor is the correct tire pressure for the application. "Tire pressure impacts traction, stability, fuel consumption and productivity, in addition to wear," says Van Tine. "John Deere offers an optional tire pressure monitoring system on 644L to 844L wheel loaders that is fully integrated with JDLink telematics, enabling contractors to monitor tire pressure remotely."
Operating Tips
Experienced operators yield maximum efficiency. "The equipment operator's experience, operating technique and operating knowledge all influence fuel consumption, productivity and resulting fuel efficiency," says Schmidtgall. "One study indicates efficiency can vary up to 40% between different operators on the same equipment in the same application."
Some loading techniques have proven more effective than others. "Practice loading the bucket by engaging material at the bottom and then slowly and effectively curling the bucket and lifting the boom arms simultaneously until you have reached the top of the pile," Rogers advises. "This method is much more efficient than working the machine into the bottom of stockpiled material to load the bucket. Trying to operate this way will only burn more fuel, be potentially damaging to the working equipment (buckets, pins, boom arms, cylinders, etc.), and increase potential for wheel spin and consequently tire wear."
Operator technique when entering the pile has a huge impact on not only loading efficiency, but also operating costs. "Operators should limit tire spin in loose materials to prevent premature tire wear," says Van Tine. "This is a common hurdle that less experienced operators must overcome." Features like spin control limit tire spin in loose conditions when crowding a pile. "Differential lock can be used when additional tractive effort is needed to provide full power to the wheel with traction."
Rimpull control is another useful feature that allows the operator to adjust the power being sent to the wheels to compensate for ground conditions. "This reduces wheel spin and slippage, thereby reducing tire wear and improving productivity while lowering total cost of ownership," says Connolly.
Volvo offers several technologies that can ease the effort required to load. "The first is adjustable lever sensitivity, which allows the operator to choose the response level of the hydraulic levers to suit their operating style," says Connolly. Volvo wheel loaders have three response modes: soft, active and normal. Soft is meant for a slower or more precise task; active works for fast-response, demanding productivity requirements; and normal is in between.
"Operator technique is critical when entering the pile, but please realize this is not where one single technology overshadows all the others," says Schmidtgall. "There are many technologies that come together at this location of the pile dig — and even beyond into the whole tractor cycle for a holistic approach to efficient loading."
Set up for maximum efficiency
Make sure you set the jobsite up for maximum efficiency.
"Having the truck positioned at a 45˚ offset to the pile and within about two bucket widths is a good target," says Schmidtgall. "Caterpillar's ground-up design of machine geometry, kinematics, power, breakout force, implement speed as well as steering responsiveness are designed to get the truck loading process done efficiently in a 30-second cycle. This means the power to dig, load, travel and lift controllably to a dump height prior to the target and then dump safely and back away for a repeat.
"Dedicated steering and implement pumps allow us to have enough speed and control to provide the operator what he needs, when he needs it — even getting to 20-second cycles can be doable," he continues. "But efficiencies start to wane at this point, meaning things like operator fatigue, tire life, fuel efficiency, etc., begin to be sacrificed."
Y-pattern (also known as V-pattern) loading is typically the most efficient way to load trucks with a wheel loader. "The truck should be positioned at a 30˚ to 45˚ angle with tires just off the edge of the pile," says Van Tine. "Keeping the V-pattern tight and limiting travel of the loader is key to reducing cycle times, fuel consumption and tire wear. Ideally, there should be just enough travel distance to the truck to allow the loader operator time to raise the boom to the dump height position just before approaching the truck. This ensures there is no loss in momentum and provides the fastest cycle times."
"The trick as a loader operator is keeping the trucks in a consistent position as to not make the Y-cycle too big or too small," says Connolly. "It is possible to be too close to the truck and pile, which makes maneuvering at an efficient speed difficult. This can also force the operator to have to steer more than necessary, which will slow the cycle time."
"After filling a truck, operators should keep the bucket loaded in preparation for the next truck," adds Van Tine.
Advancements increase efficiency
Skilled, experienced operators have become more difficult to find. "However, with the latest advancements in wheel loader technology and proper training on features and settings, contractors can get the most out of their operators and machines to maximize loading efficiency," says Van Tine.
Many manufacturers include productivity-enhancing features such as return-to-dig and adjustable loader kickout height adjustments. "Use the functions on the machine designed to improve cycle times — that's why they are there," says Connolly. "Two good examples include bucket and boom kickout and return-to-dig. The boom kickout is especially helpful if the operator is loading a truck at the same height for an extended period. On Volvo wheel loaders, the automatic boom kickout position can be set to any position between maximum reach and full lifting height, and it can be done with one stroke of the lever rather than having to hold the lever. The return-to-dig function allows the operator to set a position to which the boom will lower prior to filling the bucket at the pile."
Liebherr wheel loaders include bucket leveling and return-to-dig. "These features provide quick and easy inputs from the operators to get the working equipment back into the position to engage material for loading," notes Rogers. "These functions automate processes that would otherwise be performed manually, providing precision and efficiency."
Operator assistance systems are being developed by manufacturers to help operators improve their loading methods. "I believe these features will continue to be developed and enhanced so that operators (novice or experienced) can increase their performance on the job," says Rogers. At CONEXPO-CON/AGG 2020, Liebherr displayed multiple solutions for safety and efficiency. For example, an adaptive lighting system helps to reduce glare and distraction and increase visibility for the operator when the machine is in the loading and unloading cycles.
Joystick steering is another development that can add productivity. "Configuring a machine with and using joystick steering can be key in a production-focused application," says Schmidtgall. "Operators sit in the cab like a statue and have extended their careers past planned retirement age or have eliminated chronic neck and back pain from using conventional steering systems. Cat joystick steering is designed with safety and redundancies which eliminate the need for a steering wheel in the cab, opening up leg room and forward visibility to further aid comfort and safety, ultimately enhancing productivity.
"Caterpillar also offers auto-dig as an option," he continues. This feature allows the machine to control most of the dig cycle, which can be very helpful to novice operators. "In addition to controlling the dig cycle, the system also optimizes engine rpm and torque, which results in fuel savings for the machine."
Manufacturers, including Caterpillar, have also introduced collision avoidance technologies. Radar detect technology provides an audible and visual alarm when the machine is backing up and approaching an object. "The color touchscreen display shows colored bars to indicate distance remaining," says Schmidtgall. "The radar is speed-sensitive, meaning that if the machine is backing up too fast, the alarm will sound sooner to allow for operator reaction time. This feature can help avoid damages to machine or property and helps operators of all expertise be more confident, and therefore productive."
Caterpillar offers an intelligent Eco mode, as well, that maintains 1st gear rimpull and torque to load the bucket quickly while digging in the pile. "It simply clips out maximum acceleration in travel gears to save fuel," says Schmidtgall. "An operator in a truck loading application would see no affect to his cycle time and realize a potential 7% fuel savings."
Most manufacturers have integrated touchscreen displays in their current wheel loaders. Since Caterpillar's M-Series introduction, its mid-size loaders have included a color touchscreen display that helps operators monitor critical machine systems and also query for any button or function on the machine (how it works and its settings). "The proof this system works is that it's so intuitive that Caterpillar never had to provide specific training, but just allows operators to familiarize themselves with it and they learn quickly," says Schmidtgall.
Increase Efficiency with Onboard Scales
Scale systems reduce the guesswork. "Having a system that can provide feedback about how much payload a machine is carrying in the bucket will help the operator load trucks faster and will reduce the possibility of overloading or under-loading trucks," says Rogers.
Onboard weighing systems improve efficiency by providing real-time material weight to the operator. "This can significantly reduce both machine and truck overloading, which decreases wear on both units and avoids costly issues such as overweight fines and partial dumping," says Connolly. "The data that the [Volvo] scales provide can also be viewed remotely through the use of a cellular data connection or by push download directly from [Volvo] Co-Pilot."
"The John Deere Payload Weighing System features dynamic weighing, facilitates more accurate loading and allows material movements to be tracked," says Van Tine. "It is fully integrated with JDLink telematics, enabling customers to track and visualize payload data in the JDLink portal and JDLink Mobile."
Caterpillar offers the Caterpillar Production Measurement (CPM) payload scale feature. "This on-the-go payload system builds an operator's confidence in what he is doing and provides him the information he needs at the time he needs it to do his job more accurately, faster and within acceptable parameters," says Schmidtgall. "CPM has a unique feature that allows the operator to use a low-level tip-off, a resource that allows operators to use an estimated weight and tip-off material in an efficient fuel- and time-saving manner vs. a traditional scale."
The Liebherr integrated weighing system with Truck Payload Assist is an optional system that provides on-the-fly information about the payload in the bucket and also allows for the operator to set payload targets for loading trucks.
"Once the target weight is set, the operators can begin loading the bucket and the assistance system will count down how much material is left to hit the target weight," says Rogers. "All of this information can be viewed via the integrated touchscreen display."