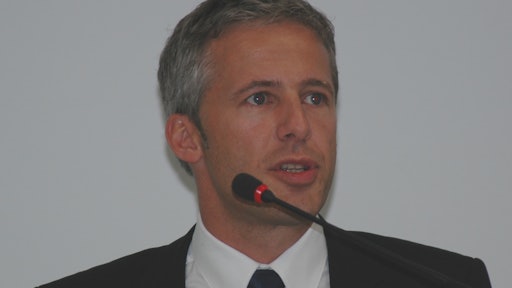 At a press conference at its Brazilian manufacturing site in Guarantingueta, Stefan Heissler, member of the board of directors of Liebherr-International AG, parent company of Liebherr Group, brought international construction editors up to date on Liebherr Group developments.
Established in 1949 by Dr. Hans Liebherr in Kirchdorf, Germany, the family business has grown to a group of more than 130 companies, including 40 production companies worldwide. The business is jointly run by Dr. h.c. Willi Liebherr, Chairman, and his sister Dr. h.c. Isolde Liebherr, Vice-Chairman of the Supervisory Board of Liebherr-International AG.
Earlier this year, Willi Liebherr and Isolde Liebherr assigned a proportion of their shares in the Liebherr Group's parent company to their children. In the future, individual divisions will be managed jointly with a representative of the third family generation. Initially, Jan Liebherr, Stéfanie Wohlfarth, Sophie Albrecht and Patricia Rüf will assume responsibility for corporate management and supervisory tasks.
Financial Performance
Liebherr is divided into 10 divisions. The four product divisions in the construction machinery and mining sectors (Earthmoving, Mining, Mobile Cranes and Construction Cranes and Mixing Technology) account for about 65% of our Group's total turnover. Other product divisions include Maritime Cranes, Aerospace and Transportation Systems, Machine Tools and Automation Systems, Domestic Appliances, Components, as well as Hotels.
Despite the ongoing weakness in the global economy in 2012, Liebherr Group reached a turnover of 4,387.0 million € in the first six months of 2012, an increase of 9.8% or 393.0 million € compared with the same period in 2011. Turnover from construction and mining machinery increased 7.7% to 2,837.4 million €.
"This increase is due to the upturn in our earthmoving, as well as in our mining division," said Heissler. "Turnover from earthmoving machinery increased by 14.4% or 134.7 million € to 1.071.0 million €. Revenues of the mining division have shown a very dynamic growth of 29.1% or 129.7 million € and reached 575.0 million € in the first half-year of 2012."
Sales revenues from mobile cranes declined, however, by 5.2% to 906.8 million €. In the construction cranes and mixing technology division, turnover reached 284.6 million €, 3.6% below 2011 figures.
The development of other divisions was positive. Turnover from these product areas increased 13.9% to 1,549.6 million €.
Liebherr Group experienced increases in all of the market regions it serves. In Western Europe, turnover rose by 9.4% to 2,025.0 million €. In Eastern Europe, sales revenues were 5.1% or 457.8 million €. The Near and Middle East saw an increase of 13.9% to 132.1 million €. In America, revenues rose by 7.3% to a total of 699.6 million €. In Africa, a steep rise of 60.2% led to a turnover of 310.7 million €. In the Far East and Australia, turnover increased by 2.2% to a total of 761.8 million €.
Full-year Outlook
"According to the latest forecasts, the growth in world production in the current year is not likely to exceed 3.3%," Heissler stated. "With this as a background, the WTO has also reduced its world trade growth forecast. In September, it expected global growth of no more than 2.5%, compared with the growth rate of 3.7% that it had anticipated last April."
The economic slow-down has resulted in a moderate outlook for 2012. "For the Liebherr Group, we forecast a turnover for 2012 in the region of 9 billion €, equivalent to an increase of almost 9% or rather more than 700 million €," said Heissler. "We currently anticipate that at the end of 2012, our more than 130 Liebherr Group companies will be employing almost 38,000 people, which is an increase of over 2,600 people or +7.5%."
Investment in the Future
Liebherr Group anticipates total investments in its operations in 2012 to be roughly 770 million €, or an increase of about 10%. These funds are being allocated to the modernization and expansion of its worldwide production facilities and to further strengthen its sales and service network. Following are some highlights:
In Biberach, Germany, an additional production site for the components division is under construction on a 150,000 m² (about 1,610,000 ft²) site. The new facilities will be used to manufacture switchgear and electric motors.
In Colmar, France, the plant for mining excavators that started production in 2010 has already reached its capacity limit. The logistic building is now being extended to an area of more than 15,000 m² (about 161,000 ft²), with plans to expand the production building to approximately 29,000 m² (312,000 ft²). Nearby, the components division has started construction of a new plant on a 50,000 m² (about 538,000 ft²) site, where Liebherr-Components Colmar SAS will operate a research and development center, as well as a factory for the production of components dedicated to the mining sector.
In Adelaide, Australia, the mining division will add a 12,000 m² (129,000 ft²) warehousing and distribution center and a 16,000 m² (172,000 ft²) remanufacturing center to its existing facilities.
In Lindenberg, Germany, Liebherr-Aerospace is expanding its production site for landing gear, flight control and actuation systems. The expansion and re-structuring will be carried out during six construction phases until 2018. The plant today covers 127,000 m² (about 1,367,000 ft²); after its completion, it will cover an area of 160,000 m² (about 1,722,000 ft²).
Developments for the BRIC nations of Russia, India and China include:
In 2011, a new factory was opened in Nizhny Novgorod, Russia, for earthmoving machinery and components, tower cranes and aerospace equipment. This factory covers 1,200,000 m² (about 12,917,000 ft²) and became operational this year.
A new production facility recently opened in Pune, India, southeast of Mumbai, and features a production hall of 8,000 m² (about 86,111 ft²). Liebherr CMCtec India Private Limited manufactured its first truck mixers, mixing plants and tower cranes this year.
In Dalian, China, the production program of Liebherr Machinery (Dalian) Co., Ltd. comprises hydraulic excavators, wheel loaders and material handlers, as well as gearboxes. The company is now adding another production hall and administrative building to its facility, which currently covers a total area of 90,000 m² (about 969,000 ft²) and a built-over area of 19,000 m² (about 205,000 ft²). The new 12,000 m² (about 129,000 ft²) hall is to be finished in the first half of 2013 and will enable Liebherr to increase its production for the Chinese and selected emerging markets.
Companies in this article