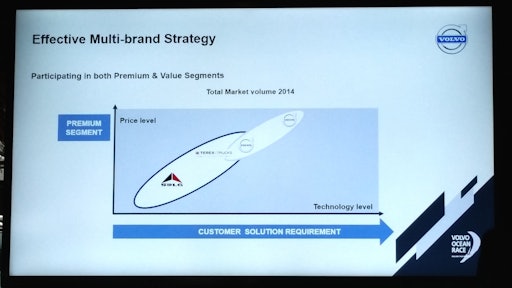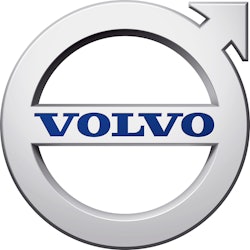 During a corporate briefing to construction journalists during the Newport, RI, stopover of the Volvo Ocean Race, Göran Lindgren, president of Region America, Volvo Construction Equipment (Volvo CE), outlined the company's approach to premium vs. value branding of specific product segments.
Although the Volvo Group's truck business already has a well-established multi-brand strategy in place, Volvo CE is relatively new to the concept, particularly in North America. It only recently began selling wheel loaders produced by Chinese manufacturer Shandong Lingong Construction Machinery Co. (SDLG) and now Terex Trucks following the acquisition of the truck line from Terex Corp. last year.
SDLG expands into North America
Volvo Construction Equipment Finalizes Terex Hauler Business Acquisition
The three brands are being strategically positioned to meet specific customer demands. "If you look at the brands we are managing, we have Volvo, which is the premium brand and then we have two value brands," said Lindgren. "SDLG is actually No. 1 in North America when you measure us against the other Chinese manufacturers, and we're growing in number of outlets, and we're also adding more wheel loaders."
Terex Trucks, which can continue to be sold under the Terex brand name for approximately five years under the purchase agreement, are also being positioned as a value brand. In both cases, the distinction is technical complexity over cost.
"You need to have a strategy. You can't just collect a lot of different brands," Lindgren noted, adding that this can lead to cannibalization of sales between brands. "One simplified way to look at this from our point of view is you will have a technology level that is lower with SDLG [and Terex Trucks], but so is the price."
This strategy is based in global market trends. "When you're looking at the world markets, [there is a] 72% to 73% trend in value products and it's a downward trend for premium," Lindgren indicated. For example, in Argentina, 80% of the wheel loader market consists of value brands and the other 20% sold are premium models. "In North America, the ratio is different."
As a global supplier, Volvo CE saw the need to meet demand on both sides of the equation. "We need to participate," Lindgren stated, "and if you want to provide your customers with a good offering, you need to provide [both products], so that is how we position ourselves."
More Supermarket Selections?
Lindgren also announced that Volvo intends to extend its "supermarket approach" for equipment delivery beyond its paver line.
The program currently enables the company's road building segment to deliver pavers within 30 calendar days of the order being placed with the dealer. Pavers are built "to stock" at the company's facilities in Pennsylvania and carried in inventory. Then, once an order is placed, the stock machine and its parts are delivered along with any custom options and components requested by the customer. This method facilitates a substantially faster delivery turnaround compared to industry average.
According to Lindgren, a similar concept is being extended to a pilot project for small wheel loaders produced at the company's Shippensburg, PA, facilities, with the intention to eventually expand the program to other equipment produced at that location. No time table has yet been assigned for full implementation for the small loader line.
Companies in this article