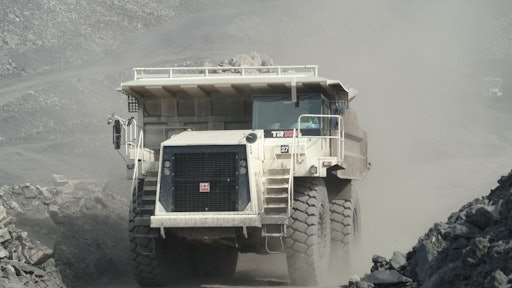 The newly named Terex Trucks is committed to its customers, products and dealers, claims the company's longstanding managing director Paul Douglas in a statement of intent almost two months since its acquisition by Volvo Construction Equipment (Volvo CE).
In his first public announcement since the company's acquisition was completed on June 1, 2014, Douglas said Terex Trucks would continue to operate as an independent business while at the same time drawing on the resources and expertise of its parent company.
"Our new 'owned but independent' status gives us the best of both worlds," said Douglas. "We retain our lean and agile organizational structure, our entrepreneurial spirit, customer focus and speed of execution – but with the added benefits that being part of a global leader in the construction equipment industry brings with it."
Douglas also used the occasion to make clear statements about the future of the company. "The Terex Trucks name will remain for the long term and we remain fully committed to our entire customer base and product range. That means both rigid and articulated haulers will play important roles in the company's future, and we will continue to support the entire field population with parts and service. We are also committed to retaining our dealer partners, our existing production footprint and our skilled and committed workforce."
Complementary product fit
Terex Trucks' new owner is also satisfied with its purchase. According to Andrew Knight, VP strategy and business development, "Volvo CE has made no secret of its longstanding wish to offer customers a rigid hauler option. Terex Trucks products are well respected in the market and there is a large field population to support its parts business. Both rigid and articulated haulers provide a strong complement to Volvo CE's product range, and since the deal closed we have had greater insight into the strengths of the business, reinforcing our view that Terex Trucks is a good strategic fit.
"Terex Trucks is a lean, agile and well-run organization and Volvo CE will apply only a 'light touch' approach to its running," continued Knight. "That said, we acquired this business with a very clear vision for the future with a strong desire to grow the business. As such we will be providing strong support in terms of resources and investment wherever it is required".
"Becoming part of Volvo CE is also well timed in terms of market outlook," concluded Douglas. "Although the mining sector – a big customer of Terex Trucks – is currently depressed, the benefits of our new investment and cooperation relationship with Volvo CE looks set to coincide with the cyclical upswing of the segment, further strengthening the acquisition rationale. Terex Trucks as part of Volvo CE provides a mutually beneficial best of both worlds for both companies."
Companies in this article