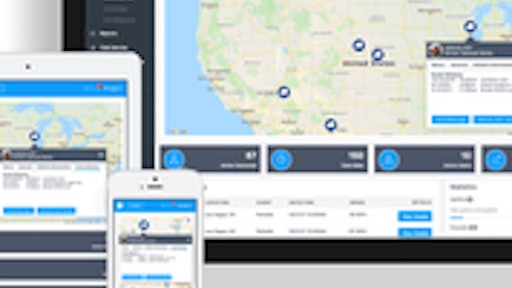 Telematics has been available in the construction industry for several years now, providing fleet owners with valuable insights into where their equipment is and how it is performing. Leading engine manufacturers have continued to develop telematics solutions to help fleets gain access to this vital machine data more easily and cost effectively than ever.
For instance, Perkins introduced a unique telematics device a little over a year ago. Although the Perkins SmartCap is somewhat limited in the variety of data it gathers, it is relatively inexpensive and easy to use. More importantly, SmartCap provides two of the most valuable bits of telematics data a fleet can benefit from: operating hours and machine location.
Hours and location help fleet managers gain a better understanding of when, where and how often a machine is being operated. It is that understanding of machine utilization that helps fleets make better machine deployment decisions. Additionally, fleets will know when a machine is being operated at a time or location it shouldn't be. That helps fleets better manage things like equipment abuse and theft.
Hours and location also help fleets get a better handle on preventive maintenance. A telematics solution that accurately counts operating hours helps remove a big burden from the fleet manager's shoulders. Hours data makes it easier to recognize — and remember — when a service is due. Location helps to quickly dispatch a technician or locate the nearest service center. All of this results in better asset management with reduced downtime and less likelihood of more catastrophic failures due to missed maintenance activities.
Hours and location are two basic pieces of data a traditional telematics system provides; "traditional" in the sense that the data is being gathered by a telematics device connected to an engine's ECM (electronic control module). The Perkins SmartCap, on the other hand, does not connect to an ECM. SmartCap is simply a replacement oil filler cap, allowing it to work on both electronic and mechanical engines. SmartCap senses engine vibrations, which helps determine when a machine is in actual operation.
Apps put essential data in the fleet owner's hands
"As we talk about SmartCap, we must also talk about the Perkins My Engine App," says Ian Bradford, parts product manager for Perkins. "This free app is the front end that the customer uses to see the SmartCap hours data. Additionally, when a phone or tablet receives that data, the app captures the GPS location of that phone or tablet and communicates that at the same time."
SmartCap communicates via Bluetooth to a mobile device running the My Engine App. Thus, that mobile device must be within roughly 30 to 60 feet of the SmartCap. Thus, any GPS location capture of the mobile device essentially captures the GPS location of the SmartCap, engine and equipment itself.
As a result of the operating hours and location data SmartCap provides, the My Engine App also provides service scheduling functionality. Reminders can be sent when a service is coming due to help fleet managers stay on top of preventive maintenance.
Perkins has made several changes to the My Engine App over the past year. One of the biggest improvements revolves around the concept of service scheduling. Upon the app's introduction last year, scheduling was based on the standard intervals for a given engine. Now customers can customize their intervals. For example, equipment operating in very dusty or harsh environments may require more frequent maintenance. Equipment operating in areas where there is a higher sulfur level in the diesel fuel may also require more frequent servicing. On the other hand, equipment only seeing limited use may be better off switching to an annual maintenance schedule as opposed to a schedule based on operating hours. Regardless, fleets can customize service schedules to their needs.
Engines can also be grouped together now. "For example, a rental company could group several Perkins engines based on location or application," Bradford says. This functionality enables fleet managers to view a large volume of engine data in more streamlined fashion. Furthermore, since machine servicings can be recorded, service histories are all stored in one place, making it much easier to manage service scheduling.
Another My Engine App improvement has to do with added functionality around user log-ins. Now several people can "share" the same engine(s). One person, perhaps the fleet manager, would be the owner of a given engine, but other people can also be allowed to view that engine's data.
Once a user registers a SmartCap and engine, the My Engine App provides quick access to things like user manuals and parts lists. New this year, the app also provides a direct link to the Perkins Web Shop, making it much easier to find and purchase any necessary parts for that given engine.
"The objective of this entire system is to enable users to better maintain, service and repair their Perkins-powered equipment," Bradford says. To reach that objective, engine manufacturers must be willing to listen to the market and adapt their solutions accordingly.
"The thing with apps is that they are constantly evolving," Bradford says. "We are doing updates every six to eight weeks. We are constantly looking for new functionality we can add."
Telematics in general is a constantly evolving area of the business, Bradford adds. "Different manufacturers are looking at different telematics solutions," he says. "This is something that will continue to change over time as new solutions are launched to the marketplace to help provide more information to equipment managers."
A deeper dive into diagnostics
As pointed out earlier, the Perkins SmartCap does not connect to an engine's ECM. "For customers looking to pull additional data from an ECM, we do offer a service tool to Perkins engine technicians," Bradford points out. "We also offer a handheld service tool that reads fault codes. That tool can be purchased through a Perkins distributor if the customer wants to get to that level of engine information."
Hatz has also made innovative strides that allow users to get to a deeper level of engine data. "With the electronic advancement needed to meet the latest emission requirements, there has also come a reckoning of engine diagnostic and prognostic advancements," says Eric Hoffman, engineering manager for Hatz Diesel North America.
With respect to the diagnostic component, much of that can be handled remotely by a technician. "Technicians can view remote equipment data in real-time directly on their computer, tablet or phone," Hoffman says. "Any fault the engine can evaluate will be detected, along with faults from other subsystems."
How is this possible? Hoffman explains that the latest telematic solutions interface with a piece of equipment's CAN (controller area network) for diagnostics, prognostics and performance tracking. Simply put, CAN allows various microcontrollers and devices on a machine to talk to one another. Thus, CAN is like a switchboard that connects various machine components such as the engine, transmission, display, hydraulic control module and programmable logic controller.
To illustrate the possibilities of an advanced telematics system, Hoffman offers the following hypothetical scenario. A user complains that a Hatz engine-powered air compressor will not start. The engine turns over, fuel is in the tank and the battery is charged. All field service technicians in the area are unavailable at the time, but a technician can remotely connect to the equipment from another location.
"When connected to an advanced telematics system, the onboard Hatz diagnostic system can be accessed to review faults and run a sequence to evaluate the possible air compressor non-start issue," Hoffman explains. "Upon evaluation, a flag is raised on the resulting high-pressure fuel circuit pressure. The remote technician can then dive deeper into this fuel subsystem. After reviewing the fuel transfer pump pressure from the remote data logger, it is determined that the low-pressure circuit is not reaching high enough pressure. The technician then orders the correct parts and schedules the repair."
Hatz is working with a telemetry provider called Omni Fleet Trax to equip Hatz liquid-cooled engines with telematics capability. Air-cooled engines could be included in the near future.
The above scenario speaks to the diagnostic component of an advanced telematics system. The prognostic component is where fleets can really benefit.
"There is automatic reporting and prognostics to help alert fleets before issues even arise," Hoffman explains. "Many engine and equipment manufacturers look at basic parameters such as engine operating temperatures. But now we're getting more advanced. We're taking that type of information and putting it into a database. Then we can see that, for example, the average coolant temperature has been rising over the past couple of months. But the other temperature data has remained constant. That might suggest a leak well in advance of a fault code showing up."
It is that kind of predictive analysis that can help fleets avert catastrophic equipment failures — as well as the catastrophic downtime that goes with them. Telematics in the construction industry can be leveraged many different ways and for many different reasons. Engine manufacturers continue to evolve existing products, as well as introduce new innovations, in order to give fleets options. Then it is up to fleets to take advantage of them.