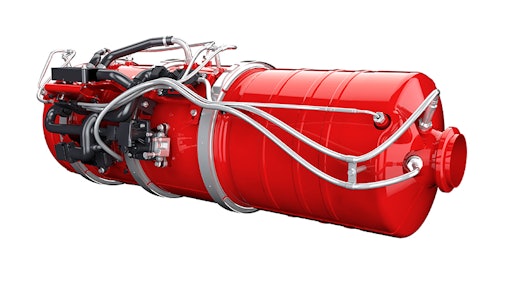 Cummins Inc.'s selection of new integral innovations for the off-highway market will provide customers with next generation technologies to meet Stage V emissions regulations. The products will also be co-certified for Tier 4 Final.
Single Module and Flex Module
Cummins Emission Solutions introduced further developments of the Single Module aftertreatment system. Already announced for 6-cylinder engines, this efficient solution that offers up to a 30% reduction in weight and up to 50% in size compared to today's Tier 4 Final solutions in this market, will be complemented with variations of this technology for equipment spanning from 74 hp to 430 hp. Offering the latest innovation in aftertreatment, this product platform delivers multiple benefits to customers, including greater reliability and robustness due to simplified packaging and optimized on-board diagnostics.

Recognizing the unique and diverse needs across the off-highway markets, Cummins Emission Solutions has also added the Flex Module, a more flexible Single Module technology package. This system will enable customers to fit the product into the challenging space claims often seen in off-highway applications.

In addition to the Flex Module, Cummins is also developing a Single Module for 4 cylinder engines, which will deliver an efficient aftertreatment solution for equipment covering 74 hp to 200 hp that needs to meet the requirements of Stage V regulations. The concept product would offer customers an option to engine-mount the aftertreatment while delivering improved NOx conversion in the Selective Catalytic Reduction (SCR) system and a greater ash capacity in the Diesel Particulate Filter (DPF) with the use of advanced catalyst technologies.

All of these new solutions have been optimized for accessibility and serviceability, leading to simplified system maintenance. The DPF's passive regeneration events result in longer maintenance intervals thus reducing the amount of service time required, ensuring less down time for the operator.
HE250WG turbocharger improves fuel economy
Cummins Turbo Technologies intorduces its HE250WG turbocharger. Designed to improve fuel economy by up to 2%, this innovation in turbocharger technology offers durability and reliability in a compact and module design. Features include an optimized bearing design, which reduces sensitivity to contamination while maintaining excellent rotor system stability, to help minimize downtime.
NanoNet Technologies
Cummins Filtration showcased the latest in NanoNet Technologies. NanoNet media is a proven protection for common rail systems, designed to be up to 13 times more effective than competitive filter products at removing and/or retaining particles. Unlike conventional filters, Nanofiber media is not affected by water in fuel and provides the structural integrity needed for high level performance. The benefits to customers are considerable, including extended service intervals, sustained high efficiency and reduced downtime and maintenance costs.
"Customers are increasingly looking for solutions to meet the requirements of Stage V emissions regulations. These new component technologies have been developed to meet customer demand whilst also offering innovation to the off-highway market, which delivers greater efficiency, flexibility and dependability," said Mark Firth, executive director, Components Engineering. "By carefully considering the needs of our customers, we have delivered technological solutions which are simpler to fit and service, reduce downtime and help to generate greater cost efficiencies, thereby supporting long-term business growth."