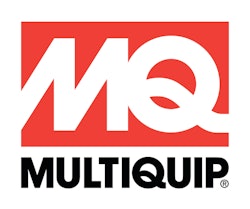 Multiquip, a diverse manufacturer and supplier of world class quality products and equipment solutions, announced that four new generator models powered by Environmental Protection Agency (EPA) compliant Tier4i engines, announced earlier this year, are now shipping.
These new MQ Power models are the DCA150SSC (150Kva), DCA180SSC (180Kva), DCA220SSC (220Kva) and DCA300SSC (300Kva). Each are equipped with a diesel particulate filter (DPF) to trap particulate matter, or soot, from the diesel engine exhaust. 
"With the DPF, the new units produce zero grams per brake horsepower-hour (gr/bhp-hr). This is a significant improvement when compared to previous models that produced between 0.07 to 0.015 gr/bhp-hr," said Torsten Erbel, vice president product management, engineering and customer support for Multiquip. 
The self-cleaning design uses a regeneration process, manual or automatic, to burn off accumulated soot once it reaches its factory set limit. The manual option allows the operator to select the best time to begin regeneration. Visual indicators and diagnostic troubleshooting are provided in the control panel to alert the operator.
The generator control panel is designed for operator convenience and ease of operation. The panel is equipped with both analog and digital controls. Analog displays provide quick readings of key performance areas such as oil pressure, water temperature, battery charging, fuel level and engine RPM, while digital displays provide clear readouts of engine and DPF performance.
The portable power generators are driven by advanced diesel engines that easily meet the more stringent 2011 Federal Environmental Protection Agency (EPA) Tier 4i standards, while providing performance and reliability.
Companies in this article