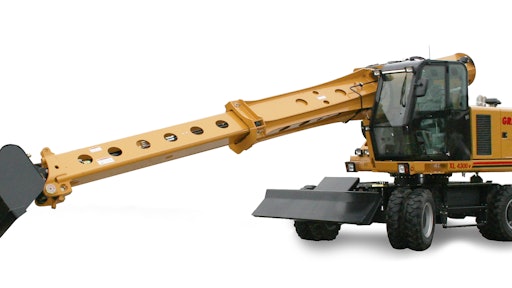 Volvo Penta has reached an agreement with Ohio-based Gradall to be the exclusive supplier of Tier 4 Final diesel engines for Gradall's Series V line of excavators. The telescopic-boom hydraulic excavators, powered by Volvo Penta 5- and 8-liter engines, will be available starting Q2 2015.
Gradall went in search of an engine supplier for its new series of excavators, looking for a partner that not only had the right technology and design for the application, but whose corporate philosophy was also a good fit with its own.
"Volvo Penta engines are ideal for us because they're robust enough to power excavators that work off-highway in tough conditions," says Mike Popovich, vice president of sales and marketing for excavators at Gradall. "Volvo is also a well-respected brand in our industry.
"Outside of our steel supplier, our engine supplier is our most crucial vendor," he continues. "We needed a vendor we would be comfortable working with and who could help us overcome any of our challenges by working with us as a team. We found that partner in Volvo Penta — their philosophy and way of working are very similar to our own. They're agile enough to make decisions quickly on our behalf; it's been refreshing to work with them."
"Our technical solutions have turned out to be a good fit for Gradall's machine lineup," says Shawn Sweet, vice president of Volvo Penta Industrial Sales. "We're confident that our products will meet the needs of their customers and the demands of the industries in which they work. Our intention is to work closely with Gradall, as we do with all of our OEMs, and provide them with precisely the products, service and expertise that they need."
The Gradall models with the new engines include: Crawlers — XL 3200 V, XL 4200 V and XL 5200 V; On/off highway — XL 3300 V, XL 4300 V and XL 5300 V. Series V excavators in crawler and on/off pavement wheeled model categories will be available early this year, while Series V highway speed wheeled excavators won't be available until late 2015.
Companies in this article